---
**Times where noted are Pacific Daylight Time; degrees where noted are rounded to the nearest whole degree.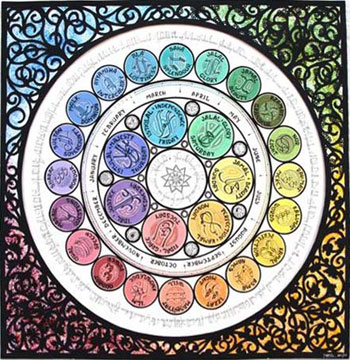 Life is a serious game and only serious people should play it. That seems to be the call of the Sun as he shakes off the niceties of socially conscious Libra on October 22nd and dives into the taboo waters of Scorpio, where his will is more likely to be intensely focused on the powerful discovery of all things hidden. Scorpio insists on all parts of our nature coming to the game: having a conscious and open connection with the good, the bad and the ugly makes us more authentic. It's all good to Scorpio. Halloween is the quintessential Scorpionic ritual that celebrates our fears and brings to the surface our deepest desires. Somehow, when strong Scorpio forces are at play, we can more easily penetrate the subconscious levels of our psyche. The Sun here brings his light into the underworld to coax intimate details lurking in dark corners out where we can see them. The willingness to share those details with another person is the epitome of intimacy – when we are able to reveal – and allow someone else to witness – where we feel most vulnerable. That is the true power of Scorpio and where the most profound healing can take place. The dark side of Scorpio results when that willingness is abated and we end up swimming in the murkiness rather than flushing it out. Scorpio, to be truly effective, needs a two-way road to hell, preferably with a large and rather full dump truck – or a treasure hauler – for the trip back.
From October 23rd to October 25th, a four-planet trine dominates the astral weather with the Sun and Moon activating the ongoing trine between Saturn and Neptune (discussed in the last AstroCast). The Sun adds his creativity to the dream machine at work when he trines Neptune at 0 degrees Scorpio/Pisces on October 23rd, offering the facility to access inspiration and a natural sense for going with the flow. The Moon's conjunction to Neptune, and trine to the Sun and Saturn in Scorpio on October 24th brings a vibrant emotional intelligence to the mix making it a great time to trust our gut. The Sun caps this period with his conjunction to Saturn on October 25th at 2 degrees Scorpio. If we didn't embrace discipline before, we may now see it as the necessary and ultimately natural tool to achieve our goals. If we attune to the galactic energies at work in this brief window of time we may be able to find the balance between the tried-and-true, step by step method of manifestation and making the jump to a new level of awareness, with a whole new set of steps to take in pursuit, perhaps, of a whole new purpose.
We'll get a thruster boost of energy to take us to that new level when Mars at 15 degrees Sagittarius opposes Jupiter at 15 degrees Gemini on October 28th. The Wild Child in us may start speaking in tongues, or at least seek out foreign people and places in a mission to gather as many experiences as possible. Hopefully, we'll have our Saturn/Neptune dream plan thoroughly mapped out so all this energy can be put to good use. Without focus and purpose our drive for understanding would inevitably be derailed by incessant sidetracks that are nothing but empty pursuits.
Archetypal themes also shift gears on October 28th when two planets change signs. Venus moves into her gracious home sign of Libra around dawn placing an emphasis on beauty, artistic expression and the art of relating in harmony. Venus here exalts Other from being an individual in and of itself into a single star that is an integral part of the whole of humanity. She finds meaning in all relationships for what they contribute to that which is bigger than the sum of their parts. The Goddess of Love in Libra seeks more than just the physical expression of affection. She is after love that transcends the body and unites Souls.
By the end of the day on October 28th, Mercury embarks on the adventure train through Sagittarius placing a premium on freedom of speech. Fueled by an enhanced ability to document and interpret his innumerable experiences, Mercury here will spout a lot of Big Ideas. What he must do to make them useful is to maintain the thread of relevance to the original subject at hand. If we go too far out into the stratosphere of thought we could lose faith in our capacity to grasp the connections that give it all meaning. Or if we place too much emphasis on taking liberties with what we say we may miss the opportunity to be heard. Let's hope charming Venus in Libra will inspire Mercury to find the right words.
Mercury's square to Neptune on October 29th at 0 degrees Sagittarius/Pisces will challenge him at the highest level to use his expanded knowledge in seeking spiritual understanding. At a base level, truth becomes a relative term that can be fashioned imaginatively to achieve a desired outcome. With the presidential election just a week away it would be wise to be wary of any last minute campaign promises or "facts" that may be strategically released around this time. If we allow our minds to tune into the acutely perceptive quality of this aspect we may be able to see above the manipulation of information for personal gain to a higher Truth where ultimately honesty with oneself is all that matters.
The Full Moon on October 29th pits the Moon in placid Taurus against the Sun in passionate Scorpio. This annual match highlights the difference between seeking our need for emotional and material stability through the development of core values, with the emphatically unstable intensity of the will to penetrate and cleanse the deepest parts of our nature in the pursuit of complete invulnerability. These diametrically opposed ways of being find their own methods to achieve what is ironically the same goal – ultimate protection. While both signs are known for their seductive charms, joining the powers of practical sensual intelligence and total immersion intimacy could bring us to the safe harbor of self-knowing.
Venus in Libra infuses the ongoing square between Uranus in Aries and Pluto in Capricorn with her feminine strength November 1st -3rd when she triggers the archetypes of revolution and transformation in a dynamic T-square configuration. While in the immediate sense she will not find the harmony she seeks with her masculine suitors in a long-running battle over control and change, she could experience some surprising shifts, which in the long run may yield a more authentic approach to relationships. Venus here is repeating the T-square she created with Uranus and Pluto when she was in Cancer back in mid-August. Now at home and at the pinnacle of her strength in Libra, Venus' voice in opposition to Uranus on November 1st and square to Pluto on November 3rd carries more weight with the big boys. The feminine archetype is augmented when the Moon, also strongest in her home sign of Cancer, moves into a cardinal grand cross with the Venus, Uranus and Pluto on November 3rd. These powerfully feminine voices working in tandem through their clearest channels could generate a more conscious and fruitful approach to the epoch-defining forces at play. As if to set the stage for something truly special to be set in motion, earlier in the day the Moon creates a grand water trine with the ongoing Saturn/Neptune trine, and thus eases our dreams into reality. Maybe women across the planet will make some noise again, only from a more empowered position than they had in the 60s. Maybe women across the planet will be inspired by the 14-year-old Pakistani girl who was shot in the head by the Taliban and now has the world captivated by her brave cry for equality in education. Maybe women across the United States will be the deciding factor in the presidential election just a few days away. Maybe women everywhere will put aside their desire to keep the peace and be awakened to their unique power to balance destructive forces, shaken out of their passiveness of late by taking the same risk as that 14-year old girl – to be heard.