---
This month may not be as fun as last month's grand  DLYS Leo Soiree. What a magnificent exercise in indulgence it was! There's nothing like eating with abandon, which is fine every once in a while. But as we've all learned, everything in life has its price. So when the suffering sets in – the hangover, the pill popping for acid reflux, that's when you'll catch the Virgo nodding in silent wisdom. As the health nuts of the zodiac, they know that meals are much more than delicious pit stops.  They're even more than just opportunities to refuel and nourish our bodies. What we eat can be more healing and affordable than medicine when we make healthy and consistent choices; consistency being so important, because our choices eventually become our habits, whether we realize it or not.   Have you ever seen someone pamper their new car?  Well, your body IS your vehicle.  In fact, it's your LIFE LONG vehicle, the shiny Lexus you get to drive every day, so it deserves the best. It deserves food that is as pure and wholesome as possible.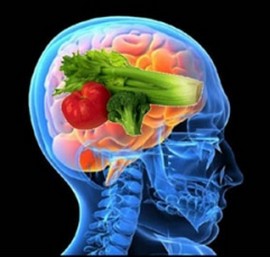 Good habits go almost unnoticed, but bad habits can be extremely hard to break, especially when they involve drive thru windows or frozen convenience meals.   Sure, it's easy to see how what we eat affects our weight.  This country has a staggeringly profitable multi-billion dollar weight loss industry heavily advertising their willingness to help you shed those extra pounds.  Many of them even offer brand name snack foods, which seem an awful lot like strategically marketed candy bars.  (Hmmm….)  The truth is often much simpler than we'd like to admit.   But we forget that what we eat affects SO much more than just our waistline.   It affects everything from our energy, circulation, elimination, libido (now I've got your attention) and even our brain power.   What could be more important than how we nourish ourselves?  Yes, it may take an effort, but the rewards (and consequences) are worthy of your attention.  Be mindful before you plan your next meal, or randomly reach for a snack.
Everyone has heard the saying that you are what you eat, which means all of it.  Whatever is sprayed on those fruits and vegetables while they grow, as well as whatever else they spray on for appearance and transport – you're ingesting that.  If you think oh, don't be so dramatic, I wash it before I eat it. Then I challenge you to spray an apple with a can of insecticide.  Would you be able to just wash it off and eat it heartily?   I doubt it. Virgos are known for their purity, so for this month (and beyond, hopefully) I encourage you to eat the purest, most unadulterated food possible.  Find the freshest produce possible – organic if you can!   I've said it before and I'll say it again – the closer you get to the source of the food, the better it will be for you.  Find local farms, or at least farmers markets.  (They're ALL over.)  Get to know your grower and find out how your food is grown.   I'll bet they'll know far more than that Ralph's clerk.    It's required by law that all ingredients must be listed on the package, so take advantage of that gift.  Inform yourself – be a label reader!  Don't you think it's important to know that you're consuming benzoate or propylene glycol?  I don't know about you, but if I can't pronounce it, I certainly don't want it flowing through my bloodstream!  Cut back on processed food and eat a close to natural as possible – whole grain, etc.  The less processed, the more nutrients.  You really don't need me to tell you, now do you?  But every reminder does help the next time you reach for those Oreos (now there is some scary label reading…)
The last and perhaps most important thing to remember is that food can be just as, if not more potent than medicine through informed and dedicated dietary choices.  Thousands of people have found relief from all kinds of ailments by changing their diets.  Think about that the next time you refill a prescription.  No matter what health issues you have, chances are there is something fresh, wholesome and natural that will assist you back to vibrancy.  Read up on SUPER FOODS!  A very knowledgable source is raw food champion David Wolfe, who has written many books on the healing power of foods, particularly Super Foods: The Food & Medicine of the Future.  The Boutenko Family (better known as The Raw Family) has a website extolling the healing effects of green smoothies.  The testimonials are incredible and inspiring.  If you do your homework, you'll learn that there are foods that help lower blood pressure or cholesterol.  Spices like cinnamon and turmeric increase circulation and help reduce inflammation.  There are all kinds of foods rich in anti-oxidants to combat free radicals and help protect against cancer.   I'm willing to wager that blueberries are a whole lot cheaper than your co-pay.  It may take a bit of research, time, patience and professional help, but this planet gave us a cornucopia of healing power at our finger tips.  Who would have guessed Mother Nature had a medical degree.
I owe a huge debt of gratitude to my mom.  Growing up junk food was pretty much absent from our house.  (OK, of that I was well aware and did NOT appreciate at the time…) But there were other things I didn't really notice.  She drove to a local dairy for fresh milk; the kind that came in those ice cold glass bottles.  She cooked tons of vegetables, many fresh from the garden.  And the bread was always a variety of dark whole grain breads so hearty they appeared to have been chopped right off a tree.   Not surprisingly, she is Virgo rising.  Without realizing it she was conditioning my taste buds to prefer a healthier style of eating via my daily meals. Hey, I still have my indulgence too (and they almost always involve red wine, chocolate and cheese).  But fortunately, they are occasional excursions and I return home to simple, healthy basics, mostly because I want to feel my best.
I know – now that I've killed your Oreo buzz, you think there's no point in eating.  SO not true.  It's only one month, so have an open mind.  Healthy eating tastes great AND more importantly makes you feel good!  Why not have both?  This month I chose some healthier versions of some less than healthy favorites.  Don't try to overhaul your diet all at once, but introduce some healthier choices a little at a time.   Be sure and try the kale chips.  I'll bet you never eat a Pringle again.  Huzzah!!
Quick and Healthy Mocha Oatmeal
Breakfast is the most important meal of the day!  That's what they say.  Here's a fiber-filled way to power up with cocoa powder (anti-oxidants!) and coffee (energy!).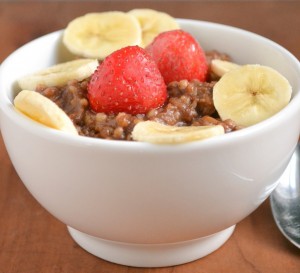 1 serving of your favorite kind of oats, cooked (I like steel cut!)
1 banana
1/4-1/3 cup fresh strawberries
1 TB cocoa powder(or slightly less depending on how sweet your banana is)
1 teaspoon instant coffee
Small splash of vanilla
2 TB+ your favorite milk (Regular, soy, almond, etc)
Place banana in the bowl and mash it up well.  Add the cocoa, coffee, vanilla and milk and mix it well.  Mix in hot, freshly cooked oatmeal.   Serve with sliced bananas or strawberries on top.
Kale Chips & Fennel Chips
How many times how you opened a bag of potato chips only to find yourself staring at a bag of crumbs?  THEN you read the calories.  Not to fret!  Here's a way to have your salty crunchy snack while eating your vegetables.  Kale is a super green, and fennel is excellent for the digestion.  Try them – these are guilt free crunchies, not to mention addictive.

Kale Chips
12 large Tuscan kale leaves, rinsed, dried, cut lengthwise in half, center ribs and stems removed
1 tablespoon olive oil
Preheat oven to 250°F. Toss kale with oil in large bowl. Sprinkle with salt and pepper. Arrange leaves in single layer on 2 large baking sheets. Bake until crisp, about 30 minutes for flat leaves and up to 33 minutes for wrinkled leaves. Transfer leaves to rack to cool.
Fennel Chips
2 fennel bulbs
1-2 teaspoons olive oil
Sprinkle of sea salt
Preheat the oven to 350 degrees.  Trim the stalks off the fennel (you can save or toss, I don't care!), and cut off the ends.  Divide each bulb in half, then peel the leaves from the core.  Toss them on a baking sheet, drizzle with olive oil and sprinkle with sea salt.
When baking chips from veggies, it's best to be conservative with the salt.  The leaves shrink as they dessicate, and the salt taste can quickly become overpowering if you were too heavy-handed.
Bake on the middle rack, stirring them occasionally, until dry.  You will probably have to remove the smaller leaves before the thickest ones are done, otherwise they will burn.  It should take about 20 minutes to a half an hour.
Ginger Basil Grapefruit Spritzer
Ginger is an excellent blood tonic and grapefruit is very alkalizing to the body.  OK, so there's soda.  It's still a refreshing drink.  Nobody's perfect.
1 grapefruit, plus additional grapefruit for garnish
2 cups ice
3 (12 oz.) cans of Hansen Ginger Soda
Handful of fresh basil
¼ cup Basil simple syrup (recipe below)
Juice one large grapefruit and segment additional grapefruit for garnish.  Fill a pitcher half way with ice.  Pour soda, fresh grapefruit juice and simple syrup and mix well.  Garnish with grapefruit slices and fresh basil
Basil Simple Syrup
1 cup sugar
1 cup water
1 cup loosely packed fresh basil
Stir together first 3 ingredients in a medium saucepan over medium-high heat.  Bring to boil, stirring occasionally, and boil 1 minute or until sugar is dissolved.  Remove from heat, and let stand 30 minutes.  Pour liquid through a wire-mesh strainer into an airtight container.  Discard basil.  Cover and chill 4 hours.
Tuscan Tuna and White Bean Sandwiches
Oh how I love a good ol' fashioned tuna sandwich!  But all the mayonnaise seems so bad for me.  Here's a mayo-less recipe packed full of even more protein and flavor.
1 (14- to 15-oz) can cannellini beans, rinsed and drained

2 garlic cloves, finely chopped
1 TB fresh lemon juice
1 TB olive oil
2 TB chopped fresh basil
1/4 teaspoon salt
1/4 teaspoon black pepper
2 (5-oz) cans Italian tuna in oil, drained (2 TB oil reserved)
2 T finely chopped fresh basil
1/4 cup pitted kalamata olives, finely chopped
1 celery rib, finely chopped
2 T finely chopped red onion
1-2 TB fresh lemon juice
1/8 teaspoon black pepper
8 slices hearty whole grain bread (3/4 inch thick)
Fresh arugula
Coarsely mash beans with a fork in a bowl, then stir in garlic, lemon juice, oil, basil, salt and pepper.  Flake tuna in a bowl with a fork, then stir in basil, olives, celery, onion, reserved oil, lemon juice and pepper until combined.  Spoon one fourth of bean mixture on 1 slice of bread, then top with one fourth of tuna salad, some arugula, and a slice of bread. Make 3 more sandwiches in same manner.  Makes 4 sandwiches.
Eggplant Almond Enchiladas
From Molly Katzen's Moosewood Cookbook
Good golly, it's MOLLY!  Katzen, that is.  I absolutely love the Moosewood Cookbooks for their interesting, fresh and flavorful takes on standards.  This is one of my favorites – a meatless enchilada recipe, with a rich and hearty texture.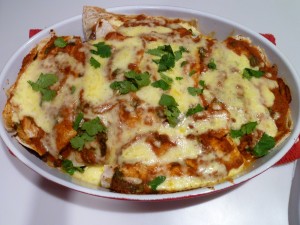 NOTE: Make the Mexican Red Sauce ahead of time.
1 tablespoon olive oil
1 cup minced onion
6 cups diced eggplant
1 teaspoon salt (possibly more, to taste)
Black pepper to taste
2 tablespoons minced garlic
1 medium-sized bell pepper (any color), minced
1 cup minced almonds, lightly toasted
1 packed cup grated jack cheese
12 corn tortillas
Mexican Red Sauce (recipe follows)
Heat the olive oil in a deep skillet or Dutch oven. Add onion, and sauté for about 5 minutes over medium heat.  Add eggplant, salt, and pepper, and mix well. Cover and cook for about 10 minutes over medium heat, stirring occasionally, until the eggplant is soft.  Add garlic and bell pepper. Stir and cook 5 minutes longer, or until the pepper is tender. Taste to correct salt.  Remove from heat; stir in almonds and cheese.
Preheat oven to 350°F. Moisten each tortilla briefly in water then place approximately 1/4 cup filling on one side and roll up. Gently place the filled enchiladas in a baking pan, and pour a full recipe of Mexican Red Sauce over the top. Bake uncovered for about 30 minutes, or until heated through. Serve hot, with beans, rice, and green salad.  Yield: 6 servings (2 enchiladas apiece)
Mexican Red Sauce
1 to 2 tablespoons olive oil
1 cup minced onion
1 Anaheim or poblano chili, minced
1/2 teaspoon salt (possibly more, to taste)
2 teaspoons ground cumin
1 tablespoon chili powder
3 tablespoons minced garlic
3 cups chopped tomatoes (canned OK)
1 cup water or tomato juice
Black pepper and cayenne to taste (optional)
Heat the olive oil in a medium-sized saucepan. Add the onion, chili, and salt, and sauté over medium heat for 5 minutes, or until the onion becomes transparent. Add cumin, chili powder and half the garlic, and sauté for about 3 minutes longer.
Add the tomatoes and water or juice. Bring to a boil, partially cover, and turn the heat down as low as possible. Simmer for 30 minutes, adding the remaining garlic, and optional black pepper and cayenne to taste during the last 5 minutes or so.
NOTE: You can leave the sauce in chunky form, or smooth it out by puréeing it in a blender or with a hand-held immersion blender. (Be careful not to splash!)
Mushroom Nuggets
Here is a delicious and healthy alternative to the "chicken nuggets" filled with beans, mushrooms and veggie protein.  They are savory, slightly cheezy, with a hint of sweetness with accents of earthy flavors. Eat them with your favorite dipping sauce, or stuff falafel-style into pitas, wraps or over pasta.
Spices:
1/4 teaspoon garlic powder
2 Tbsp dried parsley flakes
1/2 cup nutritional yeast  ++ (add more if you'd like more cheezy flavor)
1 Tbps mushroom powder
1/4 teaspoon sea salt (to taste)
a few dashes pepper (to taste)
2 Tbsp salt-free spice blend (like Mrs Dash)
Liquid:
1 Tbsp apple cider vinegar
1 Tbsp maple or agave syrup
2 Tbsp tamari or soy sauce
2 Tbsp olive oil
3/4 cup water (or veggie broth for added flavor – if using broth remove the added salt)
Base:
1 1/2 cups TVP or TSP (textured veggie protein)
1 can cannellini beans, drained
1 1/2 cups mushrooms, chopped
1/3 cup diced sweet onion – optional (omit for onion-opposed kids)
1/2 cup flour
Saute in 1-2 Tbsp safflower oil
Combine all the spices in a large mixing bowl.  Add in the liquids and the base ingredients. Grab a large fork and start mashing well – especially the beans. Try to break them down as much as possible so they provide a sticky agent which binds the mixture. The TVP will begin absorbing the liquid as well to thicken the mix.
Next, add in the flour for the final step. You can add in a tablespoon at a time until you are comfortable with the consistency. You want the mixture to be like a very wet bean patty.
Turn a nonstick skillet on med-high heat – add about 1-2 Tbsp of safflower oil. Safflower oil is perfect because it gives these nuggets crispy edges.
When oil is hot, grab golf ball sized balls and roll in a big of flour (I like to also roll in some nutritional yeast for added savory flavor) – then plop onto skillet. Allow each side to cook for about a minute or two. Try not to burn, but you do want a nice brown color to the exterior.  Place on a paper towel to rest a few minutes – they will further bind as they cool – serve hot.  Makes a full baking sheet of nuggets – about 22+
Pasta with Creamy Avocado Sauce
Avocados have gotten bum rap over the years.  I don't care what the haters say – avocados are sooo good for you.  Chock rich in the healthy kind of fat, they make any recipe a rich indulgence.
1 medium sized, ripe avocado, pitted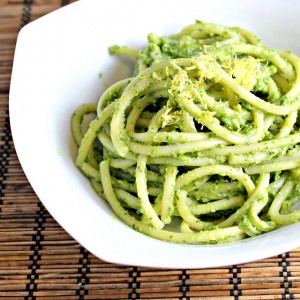 1/2 lemon, juiced plus lemon zest to garnish
3 cloves garlic, to taste
1/2 teaspoon kosher salt, with more added to taste
1/3 cup fresh basil
6 oz. fettuccini
Freshly ground black pepper, to taste
Bring several cups of salted water to a boil in medium pot.  Add in pasta, reduce heat to medium, and cook until al dente.  Drain, reserving 1/2 cup pasta water.
Make the sauce by placing garlic cloves and lemon juice into a food processor.  Process until smooth.  Add in the avocado, basil, and salt.  Process until smooth and creamy.
Pour sauce over pasta, adding a bit of pasta water if necessary to make it looser.  Taste for salt.  Garnish with lemon zest and black pepper.  Serves 2
Lemon Poppy Seed Energy Bites
There are ways to have healthy snacks and sweets.  This one is both, and full of energy boosters!

1 cup sunflower seeds

¼ cup pumpkin seeds
¼ cup sesame seeds
¼ cup shredded coconut
4 teaspoons poppy seeds
¼ teaspoon allspice or cinnamon
2/3 cup raisins
3 Tbsp lemon juice
grated zest from half of a lemon
Process all seeds, coconut and spices until the seeds are well ground. Set aside two tablespoons of the processed mixture in a small bowl to coat finished bites.  Add raisins, lemon juice and zest to the food processor. Process until all of the raisins are small and the mixture starts to clump together.
Squeeze and roll the mixture into balls. Coat with the seed mixture and store in the fridge.