---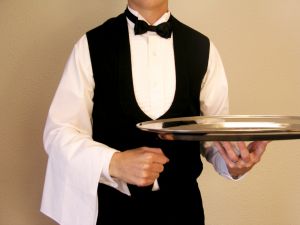 Ah, remember the good ol' days when you had the Cancer dinner party? Why of course you do – it was just last month. Remember how impressed they were when you served up that dry, overcooked meatloaf in the shape of their first pet (a schnauzer named Stinky)? It left them weeping while they hugged you breathless. Yeah, good times. Well sorry, but now the Leos have arrived and that Cancer dinner will seem like a vacation preparing you for the feast you'll have to prepare. Well, no, of course they're not going to say you have to, but the subliminal expectation will lie there in the open, like a wild animal basking in the sun.
I don't want to scare you, but we are talking about the King of the Beasts, hence any Leonine affair should be a regal, show-stopping production. It has nothing to do with the number of attendees, though Leos do like large parties. (What kind of royal court can they hold with three?) In fact, I would wager there's nothing you could do that would be too grand. You will never, ever hear a Leo utter the words, "You shouldn't have gone to all this trouble.  This is just too much!" If you ever do, march directly to the nearest phone and dial 911 because chances are they're having a mild stroke.  It wouldn't be too much if you served them a salad of finely julienned vegetable strips intricately woven into a miniature replica of the Eiffel Tower (to show them you remember how much they love Paris).  You could dress chimpanzees in bow ties, train them to serve hors d'oeuvre, and while it may not be the most hygienic of dinner parties, the Leos will applaud your ambitious and inspired fete! (Not to mention that if, per chance, any Virgos are in attendance, it will freak them the hell out. Win/Win !!)
For the perfect production preparation is paramount. Put the utmost of effort into everything, because what may appear to be the smallest of details can be pivotal in creating a night to remember (and oh, it will be). You'll have to wear many hats…
ART DIRECTOR: A crisp white table cloth, elegant flowers – possibly some towering gladiolas, or bold dahlias, but there are always the fail-safe roses which have that undying class that says 'you're worth it'.  And oh yes, red flowers, or at least big, bold colors. No wimpy pastels.  (Actually, it might be fun to put out a bunch of carnations, just to see their reaction.  Don't worry – they're a joke! Ha! Oh you kidder.) Don't forget to sit the Leo at the head of the table – they are the guest of honor.  (Should there be more than one Leo, it could get ugly. Think early medieval feudal war.)
LIGHTING DESIGNER: Set the mood! Dim the overheads and light plenty of candles flatter their features and cast them in a mysterious and alluring light.  Here's a tip – be sure to use unscented candles. While one might think they would help set a mood, scented candles can actually interfere with the aroma and possibly the taste of the food.  We don't want anything jeopardize your herculean efforts in the kitchen.
MUSIC EDITOR: Music has perhaps the strongest of impact on the ambiance, like the soundtrack played behind your independent feature film.  I'm amazed at how frequently the choice of music is overlooked in restaurants considering how the loveliest of settings can be ruined by music style and volume.  Once I was dining at the most adorable little bistro in Silverlake (which shall remain nameless) where the music genres were all over the place – everything from reggae and emo-rock.  When I asked our waiter what they were playing, he said, "Oh, I think one of the bus boys has their IPod on shuffle." For shame Dusty's! (Oops. So much for nameless..)  So whatever your tastes, be consistent and thoughtful with the selections, be it Michael Buble or Beethoven.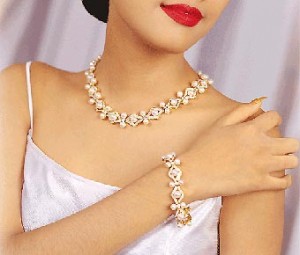 COSTUME DESIGNER: OK, maybe just for you, but wouldn't it be nice to encourage a nicer dress code?  You don't have to break out your finest suit or dress, but if you did, it would not go unnoticed.  Why not? Leos pride themselves on appearances (sometimes a little too much), and when was the last time you wore your pearls?  Don't let your finest just hang there gathering dust in your closet — go ahead and glam yourself up and pretend you're dodging paparazzi.
I know, I know – so much work!   If you plan to roll up your sleeves and go for it, do as much as you can in advance.  Soup can be prepared a day or two before and re-heated; vegetables washed earlier in the day.  An elegant dessert can be made well ahead of time and sit perched on a lovely serving tray for the big reveal. For any of you who have planned a large event (wedding?) you know what I mean.   The more you take care of ahead of time, all the more you'll be able to relax and have a good time as well.
If you really don't fancy yourself as the producer/director type, just remember the loveliest four letters ever to be combined.  That's right – R.S.V.P.   There are a plethora of fine dining establishments suitable for a Leo size production.  Also, Leos love to be entertained, so what about making it a doubly exciting evening at a dinner theater?  Or there are some restaurants that offer cabaret shows, or even Benihana's where the preparation of the meal is a show itself with ingredient acrobatics and lots of pyrotechnics!  Though I'd reconsider taking them to the 'show' at Medieval Times.  Despite a jousting match in their honor, it just may not be quite the right choice if your Leo is the type who looks down their nose at certain peasant-populated venues, if you know what I mean.  The best way to avoid banishment is to keep it classy, or better yet let them tell you where their grand dinner should be.  That way they're happy and you don't have to worry about disappointing them.  Now THAT is what you call a truly successful event.
But should you decide to cook (boy, you must really love your Leos), then drum roll, please! Prepare yourself for an evening of sweeping, delicious tableaus, each course an edible part of the unfolding saga. If you're really angling for a nomination worthy performance, creative touches will do the trick. And as flashy as it is, lighting something on fire is sure to impress your audience (even though it is soooo Michael Bay). Now, on with the show!
Act I:  Prologue
Wine & Cheese Course
Savory Pecan, Parmesan, and Thyme Shortbread
Here's a little savory and unique nibble to serve with a full bodied wine and a unique selection of cheeses.

8 tbsp unsalted butter, at room temperature
1/2 cup freshly grated parmesan cheese
1 cup all purpose flour
1/2 tsp kosher salt
1/4 tsp freshly ground black pepper
1 tbsp chopped fresh thyme leaves
1/2 cup toasted chopped pecans
With a hand-mixer or spoon, beat the butter until smooth. Add the parmesan cheese and mix until combined. Add the flour, salt, pepper, thyme, and nuts, and mix until a cohesive dough just starts to form. Form the dough into logs or roll to 1/4 inch thickness between two sheets of wax paper. Chill for at least 1 hour. Preheat the oven to 350F and line a baking sheet with parchment paper. Slice the dough into 1/4 inch rounds or cut into shapes and place on the prepared baking sheet. Bake for 12-15 minutes, until lightly golden colored.
Act II: Exposition
Soup
Creamy Sunchoke, Leek & Tarragon Soup
I know, such an exotic, hard to find ingredient.  What am I thinking?  I'm thinking of what a rock star you'll be when you serve this!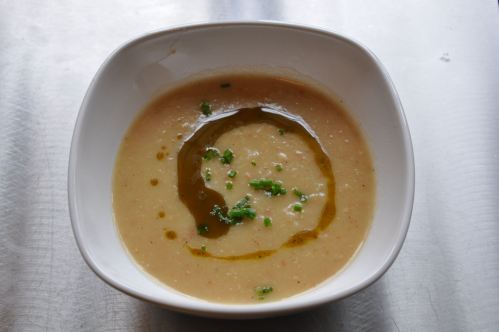 1 to 1 1/2 pound sunchokes
1 large leek, white part and an inch of the green portion, rinsed well
1/2 onion. chopped
1-3 cloves garlic
2 tablespoons butter or olive oil
1/4 teaspoon white pepper
pinch of sea salt
4 cups reduced-sodium chicken broth
5-6 roasted garlic cloves
1/2 tsp dried oregano
2 full Tbsp fresh chopped tarragon. extra for garnish
Truffle Oil
Important-***no need to peel chokes. Just clean them good and scrub off any dark parts and nubby parts
Cut into approx 1″ pieces and drop them into a bowl of water with a little lemon (they will turn brown like a potato if you don't).  Sauté the leeks onion and garlic until translucent in large pot or dutch oven.
Drain the sunchokes out of the lemon water and add to pot and pour in chicken stock. 4 cups (maybe more) or enough to cover everything by about 2″.  Add 1/2 tsp dry oregano and a little fresh ground pepper.  Bring to a boil then turn to a simmer (about 45 minutes to get fork tender.  Don't let them go too long or they will start to fall apart like a potato.)  When fork tender turn off and get out your immersion blender or you can use a stand blender (immersion blender much easier).   Blend until there are no chunks, lumps or bumps.  Season with salt and pepper.  Drizzle with a little truffle oil before serving for panache.   Makes about 8 first course or side servings.
Act III: Character Development
Salad
Champagne Lobster Salad
Nectar of the gods meets the crème de la crustaceans.
Roasted Shallot Champagne Vinaigrette

1 shallot, halved and peeled
1/3 cup plus 1/2 teaspoon extra-virgin olive oil, divided
2 tablespoons Champagne vinegar
2 tablespoons fresh grapefruit juice
1/2 teaspoon Dijon mustard
1/2 teaspoon honey
1/2 teaspoon salt
1 1/2 pound lobster, cooked, cooled, and cut into bite-sized pieces*
1 red grapefruit, cut into segments or suprémed
1 avocado, peeled, cored and sliced
6 ounces mixed baby greens
To make the roasted shallot Champagne vinaigrette: Preheat the oven to 275°F. Set the shallot halves on a piece of heavy-duty foil and drizzle with 1/2 teaspoon olive oil. Wrap the foil around the shallot and place in the oven. Roast until soft and fragrant, about 1 hour. Cool to room temperature.
Combine the shallot, Champagne vinegar, grapefruit juice, Dijon mustard, honey and salt in a blender. Pulse until the shallot has been pureed. Slowly drizzle 1/3 cup olive oil into the blender with it running until the vinaigrette has emulsified and all the ingredients have well-combined. Adjust seasonings to taste.
To make the salad, arrange the greens on four plates and top each with equal amounts of the lobster, grapefruit and avocado. Drizzle 1 to 2 tablespoons dressing over each salad.
Roasted Beet and Goat Cheese Napoleons
4 large beets, roasted and peeled
8 ounces goat cheese, softened
2 cups baby arugula (or watercress)
Vinaigrette of your choice
Minced chives, for garnish
Slice beets about 1/4 inch thick using a mandoline or a very sharp knife. Using ring molds if you have them, layer a beet slices with a dollop of goat cheese between slices on salad plates, using one beet for each serving. Press down on all layers just until you see the cheese at the edges. Remove molds. Toss arugula or watercress with vinaigrette and mound on top of beets. Sprinkle with chives and serve.  Serves 4.
Act IV: Sweeping Climax
Main Course
Seared Duck Breast with Pomegranate Cherry Sauce
1 tablespoon peanut oil, divided

1 large shallot, minced
1/4 red pepper, finely diced
1 tablespoon ginger, minced
2 cups Pom pomegranate juice
1 cinnamon stick
1/2 cup cherry preserves
1 tablespoon brown sugar
1 teaspoon five spice powder
1 tablespoon cornstarch
1 tablespoon water
4 duck breast fillets
Salt to taste
Freshly ground black pepper to taste
1/4 cup fresh mint, finely chopped to garnish
1/4 cup pomegranate arils to garnish (optional)
3 green onions, thinly sliced to garnish (optional)
Heat oil in a small saucepan over medium –low heat. Add shallots and red pepper; sweat until softened, about 6-8 minutes. Add ginger, and stir until fragrant, 30 seconds. Add Pom juice and cinnamon stick, increase heat to medium, and bring to boil. Continue to boil for 15-20 minutes, or until liquid is reduced by half.
Heat remaining teaspoon of oil in a large sauté pan over medium- low to medium heat. Score the fat of the duck breasts and season with salt and pepper to taste. Add breast to hot pan, fat side down. Let brown for 10 minutes, turn and allow to brown an additional 8-10 minutes (depending on how well done you prefer your duck). Remove from pan, tent with foil to keep warm, and allow duck to rest for 10 minutes before slicing thinly lengthwise.
Once sauce is reduced, remove cinnamon stick, strain the sauce into a medium size bowl, discard the onion and pepper bits, and add sauce back to pan. Place pan back over medium-low heat; add preserves and brown sugar, stirring until preserves are dissolved.
Mix cornstarch and water in a small bowl until all lumps are gone. Add to the sauce, stirring constantly until thickened, about 1-2 minutes.
To serve, fan the duck slices out on the plates, drizzle sauce over the top, and sprinkle with mint, pomegranate arils, and green onion. Serve hot.
Portobello Wellington
(Winner for Best Supporting Role by a Pastry Wrapped Fungus)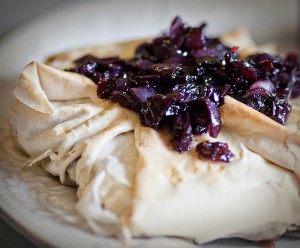 2 portobello mushroom caps (stem removed)
4 sheets phyllo dough
1 medium onion, diced
1 garlic clove, minced
1.5 teaspoons thyme
several tablespoons olive oil
3/4 cup red wine
Preheat oven to 375 F. Gently clean caps, then lightly coat with oil and place on baking sheet. Bake for 8-10 minutes until tender. Remove from oven and set aside to cool.
Add onions to pan heated with 2 tablespoons of olive oil.  Cook over medium/med. low heat for ~10 minutes or until onions are nice and soft. Add garlic and cook for 3 more minutes.
Stir in thyme, then remove half of mixture from pan and add to basil to make filling.  To the half still in the pan, add wine and bring to gentle boil for 3-4 minutes. Reduce heat to low and simmer for 10 minutes (or until your wellingtons are done.)
Roll out 4 sheets of phyllo dough then cut in half, placing one cap in the center of each half.  Divide filling between the two caps, spooning on top, then fold up the phyllo dough very carefully.
Promptly tear phyllo dough despite your best efforts.
Place in lightly oiled baking dish then (optional) brush milk on top. Bake 12-15 minutes, until crisp.
Act V: Sweet Denouement
Dessert
Goat's Cheesecake with Fresh Figs
16 ounces cream cheese, at room temperature

11 ounces soft fresh goats cheese, at room temperature
2.6 ounces softened butter
4 eggs
3/4 cup caster sugar
1 teaspoon vanilla extract
1 lemon, finely grated
2 tablespoons lemon juice
4 – 6 black figs, cut into thin wedges
To serve: honey and chopped pistachios
8.5 ounces plain flour
7 ounces butter, coarsely chopped
2.8 ounces ground almonds
¼ cup pure icing sugar/confectioners sugar
For base, work the flour, butter, almonds and icing sugar until fine crumbs form (I used a fork but a food processor is good too). Turn onto a lightly floured work surface and knead until the dough comes together (If the dough is a little dry and does not come together easily, add a tiny amount of water). Press into the lined base of a 9″ springform pan and chill for 2 hours. Preheat your oven to 175c/350f and bake until light golden and cooked through (around 30 minutes).
Meanwhile, beat cream cheese, goats cheese, butter, eggs, sugar, vanilla, lemon juice and rind in an electric mixer until combined and smooth. Lightly grease the sides of the cake tin above the base and pour in the cream cheese filling. Bake until set (30-40 minutes) and cool to room temperature (2 – 3 hours). Top with slivers of figs and pistachios and serve drizzled with honey.
Notes: You can make thus cheesecake the day prior to serving but do not make the topping until just before serving.
Baked Alaska with Brown Butter Pound Cake and Brandied Peach Ice Cream
Makes 9 3-inch individual cakes
Brown Butter Pound Cake  (Makes a 9′x9″ pan)
19 tablespoons unsalted butter
2 cups sifted cake flour (sift before measuring)

1 teaspoon baking powder
1/2 teaspoon salt
1/2 cup packed light brown sugar
1/3 cup granulated sugar
4 large eggs, at room temperature
1/2 teaspoon pure vanilla extract
2 quarts good quality peach ice cream
2 Tablespoons Peach Brandy (Regular will do)
Meringue
12 large egg whites
3/4 teaspoon cream of tartar
3/4 teaspoon salt
1 1/2 cups sugar
Preheat the oven to 325°F and put a rack in the center. Butter and flour a 9"x9" square pan.
Place the butter in a 10" skillet over medium heat. Brown the butter until the milk solids are a dark chocolate brown and the butter smells nutty. (Don't take your eyes off the butter in case it burns.) Pour into a shallow bowl and chill in the freezer until just congealed, 15-30 minutes.
Whisk together cake flour, baking powder, and salt. Beat the brown butter, light brown sugar, and granulated sugar in an electric mixer until light and fluffy, about 2 minutes. Beat in the eggs one at a time, mixing well, and then the vanilla extract. Stir in the flour mixture at low speed until just combined. Scrape the batter into the greased and floured 9"x9" square pan. Smooth the top with a rubber spatula and rap the pan on the counter. Bake until golden brown on top and when a toothpick inserted into the center comes out clean, about 25 minutes. Cool in the pan 10 minutes. Run a knife along the edge and invert right-side-up onto a cooling rack to cool completely.
Line 9 3-inch ramekins with plastic wrap, so that plastic wrap covers all the sides and hangs over the edge. Fill to the top with ice cream. Cover the top with the overhanging plastic wrap and freeze for several hours, or until solid.  (If you don't have ramekins, you can use the ring of an old tuna can with both sides cut out to shape the ice cream rounds, freezing them individually on a tray.)
When ready to assemble, beat the egg whites, cream of tartar, and salt on high speed in an electric mixer until soft peaks form. Beat in the sugar gradually in a slow stream until stiff peaks form.
Cut out 9 3-inch diameter circles from the cake, using the tuna can trick.  Place frozen ice cream circles on top of cake rounds. Trim any extra cake if necessary.
Pipe the meringue over the ice cream and cake, or smooth it over with a spatula, so that none of the ice cream or cake is exposed. Freeze for one hour or up to a day.
When ready to serve, burn the tips of the meringue with a cooking blow torch or bake the meringue-topped Baked Alaska on a rimmed baking sheet in a 500°F oven for 5 minutes until lightly golden. Serve immediately.
Epilogue
After Dinner Beverages
Brew some rich coffee, warm some brandy and bask in the sound of deafening applause for your star studded evening.  Now there's nothing left to do but wait for the rave reviews to start rolling in…