---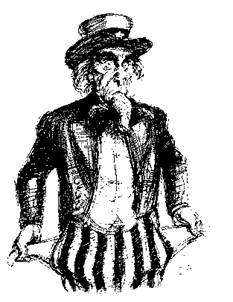 Hello Everyone,
I want to spend a little more time looking at what is happening in the U.S. as it is the precursor for the coming transit of Uranus square to Pluto. Right now, they are only 1° apart from being in exact square although it will still be another year before the first aspect is made. This will happen for the first time on June 24, 2012, when Pluto will be at 8° Capricorn and square Uranus at 8° Aries. They will square each other 7 times over the following three years so this transit will be in effect for a long time.
While it will affect the world as a whole, the U.S. will be affected a great deal since in 2014, this transit will link up to the Sun/Saturn square of the U.S. chart. This article cannot go into all of this, but what I want to look at is the question of how what is happening in the political environment might be a prelude to the possible issues emerging in the next few years.
This article is intended to both make observations and ask questions. So, I hope some of you might want to reply with your own thoughts one the matters I will be bringing up.
One of the biggest biases on my part is that the political environment of today is unlike anything I've ever seen. Even in the 'radical' sixties, the two parties didn't fight like they do now and were not as extreme either. Let me give some examples:
Filibusters were very rare as there was a general belief that in a democracy the party that won the election had the right to govern and that to block it simply because one could do so, was anti-democracy. Now, filibusters are used as a constant threat and are frequently a part of the political process.
Governmental and judicial appointments by the President were normally approved since to not do so was to render the government ineffective and unable to carry out it legislated mandates. Now, there are an historic number of blocked appointments which prevent the various governmental agencies from running as they should. Sometimes it seems that the anti-government party wants to make sure that government won't work by blocking every appointment it can.
Many pundits and even some politicians openly state that they want to do as much as they can to prevent the President from succeeding even if it means that the country will suffer accordingly. This would have been conceived of as near treason in the past, since it undermines the very promise of democracy. I used to enjoy the Sunday news programs where Republicans (Nixon, Kissinger, Rockefeller, Lindsay, etc.) debated Democrats (McGovern, Symington, Jackson, etc.). There were hostilities too, at times, but no one questioned the importance of coming to a solution that would serve the American people. In fact, there was a belief that the debate itself would assure that end by making sure that whatever was decided would indeed be the best outcome of that time period.
Facts were considered important. When I listened to politicians from both sides of the aisle, most of the facts were not disputed. How they were interpreted was what the debate was about. Today, if one listens to any political discussion, one will not be able to leave the program or article without feeling confused about what is and is not true. It seems that people will say anything.
This is just a partial list, but given all of this, how can any consensus ever be formed? In fact, it is fair to ask the following simple question. Is the present climate one in which the actual intention is to block any effort to achieve a consensus? Is the coming to consensus even a desired goal anymore? What I see is that for many consensus is now something to be fought against with all of its might.
So, how can a nation or its government stand when this is the case? So, let me ask the bigger question. Is there a 'Will' to remain one nation?
This has been an issue for the U.S. throughout its history. Witness the Civil War. And the truth is that many in the South have not gotten over that loss. We are 50 states and though there has been the 'Will' to be a nation, there has always been tension between how much power the Federal and State governments should have.
The growing transiting square between Uranus and Pluto will certainly test the 'Will' of the citizenry to remain one nation in a way that has not happened since the Civil War. And we are beginning to see it now.
We hear rumors that the Governor of Texas, Rick Perry, will run for President. This is the same man who not long ago publicly wondered aloud whether the great State of Texas should secede from the union. What can this tell us about the momentum of things? And if he and other Tea Party members lose and Obama wins the general election, how will they feel about it? What will they do? Will they do what used to be done and congratulate the winner and do all they can to serve their nation to support the 'Will' of the people? I see no evidence of that at all. What is more likely is that it will further enrage and radicalize these forces.
So, as we go into the revolutionary and passionate transit of Uranus square to Pluto, this is what we are seeing. This transit will amplify everything we now see, and it will likely become even more extreme than it is now. And the biggest question of all will be whether or not this plays out as the need for major reform and improvement (such as the creation of a national commission to review and modernize the Constitution), or will there be a movement towards overt revolution that could cause the States to break up into regions composed of 'sympathetic' States from the old union.
It may seem to many of my readers that my take on recent events is exaggerated. I hope you are right. I would offer simply this. Watch and see if there is a 'Will' to make government work for the people. After all, in an ideal world, the people are the government. And if this is no longer true, then why not reform the government rather than destroy it? Why not seek solutions to the problems rather than blindly condemn each other constantly. Ask yourself, what is the natural end if there is no federal government and the States rule everything. What will that look like?
ADDENDUM:
For fun, I'd like to say a little about the history of the debt ceiling. To me, it ought to be something that each person with an opinion about the recent debt ceiling debacle would need to understand.
How many countries in the World have a debt ceiling? Two, the U.S. and Denmark. But Denmark has set an impossibly high number so it never comes into play, which leaves only the U.S. as having a real debt ceiling.
Why don't other countries have one? Because other countries recognize that if a Legislature approves bills that result in the government bringing in less money than is going out, that it will have to borrow money to do so. If that government decides to change its approach to debt, it must take action to do so, but this would not mean that it no longer owes the money that previous Legislatures approved. The fact is that our present Congress has behaved like a deadbeat, refusing to pay the bills on what it owes. It's sort of like going to the store and buying a nice stereo, then using it a while, and then saying you don't want it anymore so you announce to the people you owe the money to that you've decided not to pay the debt. Gee, that sure does breed confidence in the person who is owed the money, doesn't it?
When did the debt ceiling begin? It began in 1917 during WWI and was called the Second Liberty Bond Act. It was put into place so that Congress did not have to authorize every new issue of debt. But it was always assumed to be a mere formality for the same reasons as what I've written above.
How many times has the debt ceiling been raised? Since 1960, it has been raised 78 times and done so as a formality.
All of this means that the 'crisis' was made out of whole cloth. It was invented and to me, was an act of shooting oneself in the foot. It was not caused by debt. Yes, we have a debt problem that must be dealt with, so why would I make such a declaration? Because right now, the World is loaning money to the U.S. more cheaply than ever before. It was considered to be the 'gold standard' in the world's currency. UNTIL NOW, that is. It is still considered to be in much better shape than the Euro and other European currencies.
We don't know all the effects of the debt ceiling 'crisis', other than the fact that S&P has downgraded the nation from its highest designation of AAA to AA+. There is some controversy about S&P itself given the fact that other countries who they still give their highest rating to are more suspect than we are. Also, there is the fact that they completely blew it in 2008 as they had no idea about the state of the economy that was about to enter the huge crisis we all know about now.
But China has already issued warnings to the U.S. about its debt and has even questioned whether or not the U.S. dollar should remain the world's currency. Few people know how many benefits come to the nation that is the recipient of this blessing. But if you are interested in learning more about this, look at history and read what happens to countries that lose this status. In every case, it meant a significant downward turn in the lives of their citizens as that nation ceases to be a world power.
Today, the Federal Reserve announced that they would not consider raising interest rates until 2013. This was done to try to create a climate of certainty in this turbulent marketplace. This action is itself highly unusual as actually the Fed is handcuffing itself by doing this. What if economic conditions change and there is pressure to raise interest rates? These are times of great uncertainty made even greater by the poltical system in this country seemingly being committed to chaos and disorder.
Next week the newsletter will return to its usual astrological focus. We will be looking at the Mercury retrograde cycle and the fact that there will be a very rare conjunction between the Sun, Mercury AND Venus bringing together two different cycles all at once.
As always I would love to hear the thoughts about this article. One question I will leave you with as we enter this revolutionary period of the nation's history is this. Do you think that the majority of citizens of the U.S. have the desire and 'Will' to remain together as a true democratic nation with all that this means? Can we find a way to come through this turbulent period with respect for the promise that this nation represents which includes tolerance for those of us with different views or fall victim to the pressures of greed, disorder, and vitriolic passions? What do you see coming for us?