---
The Solar Eclipse on October 25th at 2° Scorpio is extremely rare as it coincides with the Sun/Venus Superior Conjunction, bringing together two important cycles. To understand this, we must discover the meaning of each of these cycles. Part 1 of this series has focused on the Solar eclipse. This is Part 2 where we will focus on the meaning of the Sun/Venus conjunction.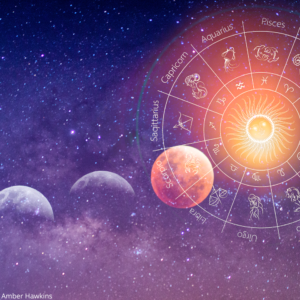 Before we can interpret the Superior conjunction, we must go back to January 8th, 2022, when transiting retrograding Venus conjuncted the Sun at 18° Capricorn. This conjunction is called the Sun/Venus Inferior Conjunction and is often likened to a New Moon, which begins a new major cycle. The Sun/Venus planetary pair rules not only our relationships but also our appreciation and gratitude toward the people who come into our lives. It emphasizes the development of grace, charm, and an enhanced understanding of the nuances within relationships to lead to a more profound sense of love. By the same token, as Capricorn is ruled by Saturn, this Sun/Venus conjunction compels us to take responsibility in our relationships and see the reality of what is right in front of us without rose-colored glasses. That means we ought to cease making excuses and take responsibility for our behavior with others. In other words, we ought to avoid feeling like we are victims of others behaviors. Capricorn says see things as they are not as you would like them to be, one's actions speak louder than words.
Now, we can move to discussing the Sun/Venus Superior Conjunction. It is likened to a Full Moon which may bring revelations and realizations concerning how our approach to relationships has evolved since January of this year. One subtlety this conjunction can bring is the ability for us to display diplomacy and tact in how we approach our relationships. The chart for the Superior Conjunction has two significant aspects. The first is that it squares Pluto. This suggests that we must be willing to confront the deeper issues we may have with other people in our lives and discover our authentic feelings about all of our meaningful relationships. At this time, people should examine how they can function in a relationship and still feel empowered. This includes eliminating those relationships which block us from being ourselves, or adjust our expectations of what is truly possible in that relationship. While needing to face the realities before us in our relationships, the Sun/Venus in Libra wants to create equanimity. On one hand, we are wanting everyone's needs to be met and to do what is best for all concerned. But, we also must be realistic when we've done the best we could and the only option is to make the best decisions for ourselves and let another make their own decisions.
Next, the Moon in the Superior Conjunction chart opposes Neptune and squares, Mars. It may be that we are able to grow to appreciate people who are different from us simply because we have the will to understand them. Also, we may recognize that compassion can arise when we become aware that we are all part of the universal collective consciousness and are more netted than we usually are aware of. Additionally, we may feel we can express things we may not have been aware of consciously. This combination is not about taking a combative approach. Quite the contrary, when we can see and dissolve our own fears about all of our differences and not feel threatened, we can see the fears in others more clearly. And from this perspective we can infuse a situation with compassion and defuse the escalation of arms against one another.
The Sun is like a flashlight in the dark in relation to this planetary pair as it is shedding light on both our idealizations (Neptune) about relationships and the need to see the impersonal realities at the same time.  Especially with Pluto involved we must take a deeper and honest look at our own drives and motivations in all our relationships. When we see ourselves in a clearer light, we can see others more clearly as well.