---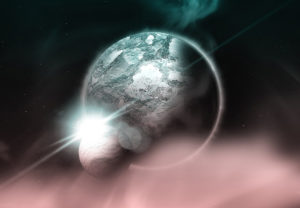 Over the years of using astrology in my everyday life, the two cycles I always pay close attention to are the Mercury and Saturn cycles. Saturn is a much slower cycle than Mercury. It rules time and therefore signifies the various developmental processes of our lives in the world. It includes learning lessons, taking responsibility for one's actions and being held accountable. It rewards for work well-done. And, it encourages us to confront fears and make efforts to go beyond them and engage fully in life as a conscious participant. 
Mercury, on the other hand, is a much faster moving cycle. It turns retrograde once every four months or so and introduces new ideas to us. In addition, while Mercury rules the way we process and communicate information, it is also how we receive new information. It may ask us if we are open to alternative ways of thinking. In astrology, Mercury is connected to the Greek god Hermes. What is interesting to me is that Mercury/Hermes was associated with the bringer of messages. In our modern world we often assume that we are the author of our own thoughts. However, my experience with astrology and with the Mercury cycle in particular, tells me something quite different. I've watched countless Mercury cycles and have experienced the receipt of many new ideas and information during retrograde cycles so often that I can't deny that we are receivers of information much more than we may think. And, I've heard many stories form others who experience he same thing. 
If we could shift from believing we were the creators of the thoughts to the possibility that we may be "receiving information" from higher intelligences would we put more weight on the information coming to us? It might be valuable to slow down and truly listen to the thoughts and ideas that are coming in at this time.
It is during the Mercury retrograde cycle when this idea can be experienced directly. Before going further, I will describe the key dates of the cycle we are in now:
Mercury entered the "Shadow" period on October 11, 2019 at 11°Scorpio.
Mercury will turn retrograde on October 31st, at 27° Scorpio.
Mercury will turn direct on November 20th at 11°Scorpio.
This means that transiting Mercury will be in the territory between 11°- 27° Scorpio between October 11th and December 7, 2019. This is the real significance of this cycle. In other words, Mercury, which usually moves rapidly through the zodiac, will be in this small territory of 16° for nearly two months. We will be looking deeply at issues in this part of our chart and both refining and perhaps rethinking matters pertaining to this part of our chart.
The essence of Scorpio will "flavor" this retrograde. Yes, this could mean an added layer of intensity to the matters at hand but this does not automatically mean a "negative" intensity. Scorpio is interested in looking under the surface of a situation and going "all in" in order to be transformed. Scorpio is unimpressed with pretense and social niceties. Scorpio seeks to get to the heart of the matter and to do that, it will let go of the superficial view of 'good and bad' and see that everything can be useful for one's growth. 
I am writing this at a time when Mercury is in its "shadow" period, which means that this part of one's chart will experience transiting Mercury three times, rather than the usual one time. This suggests to me that whatever major issues we are dealing with right now are likely to be considered again, perhaps with new information that what we know about right now. Might being aware of this help us? It suggests to me that any action that isn't clearly necessary might be tabled for a bit until either we know we are clear or have more information than we have now. Then, when Mercury enters its retrograde period after October 31st and the review period fully begins, we will not have to backtrack or even apologize for over-reacting to missing information. 
Because we usually think the retrograde cycle begins only when Mercury turns retrograde, I want to encourage my readers to respond with their own stories of how they are being affected by this part of the Mercury retrograde period.