---
**Times where noted are Pacific Daylight Time.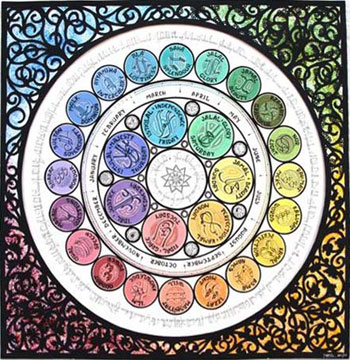 **Degrees where noted are rounded to the nearest whole degree.
The complexity of planetary alignments gives way to a more simplified pattern over the next two weeks, however the potency will be no less as Jupiter is the big gun adding his considerable weight to the Uranus/Pluto square.  It is as if the other planets have quieted down ready for the show to begin, giving Jupiter ample, non-distracted space to make his case with the transformation revolution in play.  Jupiter represents the law, philosophy, higher education and all things foreign, as in other lands far away or anything unfamiliar which when experienced has the effect of expanding our consciousness.  Jupiter also represents faith, so zealotry of all ilk may be heightened as will the deep desire to expand, take over, and/or reach higher truth-seeking ground.  With the recent unprecedented worldwide travel alert issued by the U.S. government and Interpol, and the emphasis of planets in security minded Cancer, emotions are already heightened.  While the Moon, Mercury and Mars will not stay in this feeling sign for very long, Jupiter's residence in here lasts about a year and due to his retrograde period beginning late this year, he will continue his participation in the cardinal T-square with Uranus and Pluto through late next spring.  Concurrently, his part in the grand water trine, while waning is also still in effect making this a period of grand opportunity with enough greased friction to ensure lots of movement.
The New Moon on August 6th at 2:51 p.m. sets a joyous tone for this new lunar cycle.  The Sun and Moon conjunct at 15 degrees Leo asks us to tune into the eternal flame to discover the essence of our being and radiate that out in the world.  A fully open heart is all that is required.  The ruler of Leo, the Sun, is the perfect icon to represent the sign of the King.  He shows us by his brilliant example that it is our right to acknowledge the majesty within.  The center of our being is where we find our benevolence, our creativity and our sense of purpose.  When we open pathways to that core, rays of love emanate to the far reaches of our lives.  Allowing our spiritual center to express uninhibitedly, rather than repressing it with insecurity-generating self-doubt, should minimize Leo's shadow side expressing an overinflated sense of self-pride or need for attention.  If we can keep that heart connection clear, whatever area Leo graces in our chart has the potential to light up and seem more vital as the month progresses.  Then watch the joy turn on.
The formidable opposition between Jupiter at 9 degrees Cancer and Pluto at 9 degrees Capricorn becomes exact on August 7th.  While the atomic energy of this formation has been building since Jupiter entered Cancer in late June, this is the peak moment after which some deeply felt release might occur, especially considering potentially explosive Uranus is also in the mix (see August 21st below).  Jupiter has already forced Pluto's underground conditions to the surface in various places, revealing fault lines within all levels of existence that must be dealt with.  Fortunately, Jupiter also brings an unshakable faith to the process that feels like no matter what happens it will all be OK.  The shadow side of that, however, is to forego practicality.  All that optimism may need a little reality check from Saturn or some other planetary energy to triangulate one's perception of an issue.  We do need to keep it real.  Imagine being on a plank a short walk away from shark-infested waters.  In this scenario, Jupiter can be like the blindfold – Pluto forces us to the edge of the plank while Jupiter blissfully believes there is always a way out.  That may be the time to honor the fact that Pluto also represents death and begin to take a look at our relationship with it.  That is the price of transformation.  Or, we an always take our chances with the sharks.
After more than an unusually long two months in watery Cancer, Mercury dries off when he enters fiery Leo on August 8th.  Emoting turns to playful ebullience in communications.  Feeling our way through a process yields to creative thinking – but only for the next 15 days!  Before his quick trip in Leo ends, Mercury should light up conversations with wit and humor.  He may also tell a few tall tales so he'll need his back up handy, and the courage to own what he says when he squares Saturn at 6 degrees Scorpio on August 11th.  Saturn in Scorpio's lesson for Mercury is to penetrate the deeper layers of the mind to reach the place where the real discipline and order needs to occur.  With Mercury operating through Leo he could bring fun to the process calling it a hunt for buried treasure.  Just how to haul it out could get worked out on August 14th when Mercury trines Uranus at 12 degrees Aries.  This highly symbiotic planetary pair in a stress-free alignment may get us in the groove to operate with truly original perception.
Purified and prepared for love, Venus emerges from Virgo's chaste temple transformed from handmaiden into the high priestess of society when she returns home on August 16th.  Venus in Libra will charm her way into everyone's heart with effortless grace, focused on expressing life as an art form.  With her highly refined sense of beauty, she puts relationships on a pedestal with their best side always in full view.  She instinctively knows the value each individual contributes to the collective wealth of society and endeavors to maintain balance in the sharing of assets, which in Libra are more intrinsic than material.  With balance comes harmony and with harmony comes love.  That is Venus' real strength, which is at its highest harmonic in the sign she rules. Her abiding affection begets a peace of mind that has a calming effect on everyone she meets and her relationships in turn serve to keep her running smoothly.  As she glides through Libra for the next 26 days, she'll need to be mindful not to get distracted by surface appearances that please the eye but don't feed the soul, or superficially romantic attractions that lack a foundation to create an enduring bond with another.  The pedestal is fine for viewing but for a holistic encounter Venus must be willing to lower her interactions to ground level and embrace the whole person, faults and all.
A Blue Moon occurs on August 20th at 6:45 p.m. with the second opposition between the Sun in Leo and the Moon in Aquarius, this time at 28 degrees of their respective signs.  The surface attributes of attention-grabbing Leo and aloof Aquarius point to the inherent issues that face this opposition between the Sun and Moon. Leo at his best exudes a radiant force that certainly has the ability to grab and hold our attention as we bask in its warmth and creative manifestations.  Aquarius' forte is as a keen observer of human nature who champions the individual's right to freedom of expression.  The Moon in Aquarius can be quite uncomfortable actively engaging in life.  The Sun in Leo may focus so entirely on self that he fails to see how others fit into his play.  Each have their strengths but it is when they realize they can exponentially increase their effectiveness by working together that they have met the challenge the opposition presents.  This Full Moon is the culmination point of the lunar cycle that began with the August 6th Leo New Moon.  Where are we expressing our joy?  How are we tapping into our innate creativity? Do we have a better understanding of our sense of purpose?  Since we have a second chance with this Blue Moon, now in the more mature degree range of the signs involved, perhaps we will see more clearly how far we need to stretch in order to integrate in our lives the seeming opposite forms of expression presented through Leo's emphasis on self and Aquarius's focus on the collective.
As Jupiter's opposition to Pluto pulls away, he enters into a square to Uranus at 12 degrees Aries that becomes exact on August 21st.  Jupiter at 12 degrees Cancer expresses through this feminine sign with a profound sense of tenderness and caring.  Although the cardinal T-square is a highly tense formation, Jupiter in Cancer's presence in relationship to Pluto and Uranus may bring an awakening to our capacity for fearless love.  Jupiter is donning his Big Momma suit as he comes to add his considerable weight to the rumble instigated by the bad boys on the block.  Big Momma has plenty of attitude to spread around and can turn this fight on its ears.  Taking into consideration Jupiter's concurrent involvement in the waning Grand Water Trine with Neptune and Saturn makes Mr. Opportunity mighty influential in two major configurations during this period.  He could rock our world.  As always, it is what we bring to the table that determines how it will manifest in our personal lives, and how our leaders handle the energy on the global stage.  The support is still there to for a grand bargain, perhaps in the innovatively revamped Middle East peace process or settlements between the polarized citizens of Egypt.  We may even surprisingly experience such an expanded inner world that we come to know peace within.