---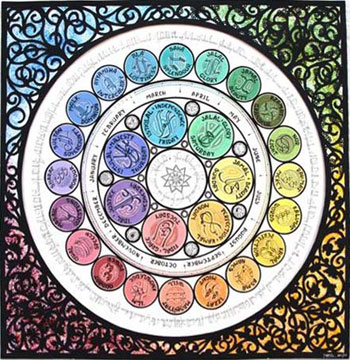 **Times where noted are Pacific Daylight Time. 
**Degrees where noted are rounded to the nearest whole degree.
When the planets speak do we listen?  When they surround us with the conversations they have with each other do we really hear their subtle undertones above the cacophony that is life on our own planet earth?  We may understand scientifically how they mechanically operate within our solar system but do we reach a knowingness that is much, much deeper and more profound when we include the essence that fills their movements with galactic grace?  Perhaps with four planets traveling the dimensional space of Cancer during this period we may sense more and think less, and open a gateway to reaching a fuller experience of the cosmic play at hand.  "As above, so below" is an ancient Hermetic phrase that poetically sums up in a few potent words what all esoteric magicians know – that what happens within us corresponds to what happens externally in our personal world and successively through the layers of manifestation to the points of light in the sky.  That means cosmic consciousness exists deep within us, perhaps dormant and waiting to be activated.  It is our fundamental right to attend the mystery school of life but we must enter it with intent or remain asleep to the expansive wonders that await us until we do. As we contemplate the correlation between heaven and earth, let's celebrate the imminent departure of the Voyager 1 spacecraft from our solar system and its entry into interstellar space "where energetic particles on the inside can get out easily, and the galactic cosmic ray particles on the outside can zoom in." (BBC)  We couldn't ask for a better metaphor for soul connecting to cosmic consciousness.
Individuality within relationships will get an opportunity to shine when Venus trines Uranus on July 7th.  At 12 degrees Leo, Venus's sense of nobility is kissed by Uranus' ability to transcend social programming.  At 12 degrees Aries, Uranus' penchant for reckless independence will be tempered by Venus' insistence on taking others into consideration.  He will bow to her innate aesthetic sense of symmetry and yet influence her to embrace the asymmetrical and the avant-garde in keeping the universal balance of life.  Venus will gracefully accept all human beings into her bosom no matter who they are, ensuring a sense of excitement for the new and unfamiliar.  Although Venus has pulled away from her square to Saturn, he tugs on her reins when he stations direct, inhibiting her freewheeling dance with Uranus.  At 5 degrees Scorpio, Saturn's potency is heightened as he pivots in the sky, more interested in mastering life and death issues than in carefree freedom of expression.  While his tone is more somber, following his energetic tether may lead to an even greater freedom to be authentic in our most intimate relationships.
The New Moon on July 8th at 16 degrees Cancer comes fittingly in the darkest of night at 12:14 a.m.  When the Moon is occulted at the moment she shares the same degree space with the Sun, she is at her most mysterious.  Being the queen of the night, her influence peaks at the midpoint between dusk and dawn.  This is why she rules the nadir, the fourth house cusp, which is the bottom most point on an astrological chart representing midnight and, among other things, the seat of the soul.  As ruler of Cancer, the Moon is at her most comfortable expressing her emotionally intelligent feminine power and thus imprints this new lunar cycle with wisdom that knows all we need is love.  The Sun in Cancer puts his will into this need and focuses his effort on the highest perceived cohesive unit representing that love, from self love to family love, and on outward.  He has the potential to extend his boundaries of family to be all inclusive of the family of man.  Depending on how well these two in this ultra protective water sign have mastered fear of the unfamiliar, together they have the potential to sense the unseen forces at work in any environment, to read the soul of it as if it were code and then to decrypt that code for those who would seek to know the language of love.  This lunar cycle we have the opportunity to be soul whisperers.
Retrograde Mercury aids the New Moon imperative by spreading open the portals of our depth perception as he traces his steps back through Cancer, and absolutely necessary steps they are.  As Jim Sher was saying in class the other night, every move – whether it be forward or backward – is necessary to get to the next level.  The planets, again correlating to life here on earth, appear to go backward from time to time for very explainable scientific reasons but the real lesson they give us is to forego our collective tendency to believe that "backward" is an adverse condition and therefore anytime we "appear" to be going backward we end up negatively evaluating ourselves.  This in turn prompts us to resist movement simply because it is backward.  If we can get to the point where we cease evaluating ourselves not only will our movement in any direction become effortless, but we may begin to see that backwards isn't just backwards – it is an opportunity to pick up a piece of treasure we missed on the path when we took it the first time.  The Inferior Conjunction, which happens late morning on July 9th when retrograde Mercury meets up with the Sun at 18 degrees Cancer, is generally a great time of insight, the moment during our "backward" motion when we are able to see something in a new light.  Perhaps something will be revealed, or we'll have a change of heart.  In Cancer, the flash of awareness this planetary pair incites may be more profound if we access it through our intuition or imagination rather than our intellect.
Mars hangs up his mental sparring gloves when he leaves Gemini on July 13th for the subtler waters of Cancer where his manner of assertion is much less direct.  Mars here is highly influenced by his desire to protect and be protected from anything that could attack.  If he fears getting hurt he may avoid confrontation, but put him in the position of defending his family and he will morph into one focused, ferocious mama bear defending her cubs.  That may be the one situation where it is easy for him to be truly in touch with his feelings.  In the sign of the crab, Mars is adept at sidestepping to wind his way around stating exactly what he wants, largely to avoid even the remote possibility of being denied.  His challenge here is to learn how to be clear and honest about what he wants as he sets out to get it.  If he does experience a door closing in his face he certainly has the intuitive skills to figure a way around it!
The sweet spot of the Summer of Support unfolds July 17th through 20th when Jupiter and Mars, traveling together in Cancer, form a grand water trine with Saturn in Scorpio and Neptune in Pisces.  This graceful mélange of planetary archetypes converging at 5 degrees of their respective signs has the potential to be a banquet whose strong, sturdy table of reality is enhanced by a cloth of interwoven dreams and whose offerings nourish the mind, body and soul.  While the easy flow of energy can manifest drunken abundance it could also generate a swell that crests into a dream wave.  How well we ride the wave depends on what we bring to it.  Will Saturn's ordered discipline or restrictive fear show up?  Will Neptune mirror escapism or cosmic unity?  Mars can manifest as selfishly aggressive or gallantly assertive.  Jupiter may offer blind excess or adventure and expansion.  With the three expressions of water – the protected lake, the rushing river and the boundless ocean – bonding in the astral plane, it would be best to tell our mind to take a back seat in the canoe and let our intuition navigate its delicate impressions.  Flanking this period with strokes of offbeat brilliance, both Uranus and Mercury change directions. Uranus, the higher octave of Mercury, stations retrograde at 12 degrees 31 minutes Aries on July 17th and Mercury stations direct at 13 degrees 21 minutes Cancer on July 20th, less than a degree away from an exact square to each other, adding just enough tension to this period to motivate us into active presence rather than letting us lull through the delightful diversions sure to present themselves.  If we can quiet the chatter long enough to hear our heartbeat we may access the compassionate currents beaming down to earth.  We just may initiate our soul into a state of peace, sustained by a fearless intimacy with Self that transcends the limitations of thought.