---
**Times where noted are Pacific Daylight Time.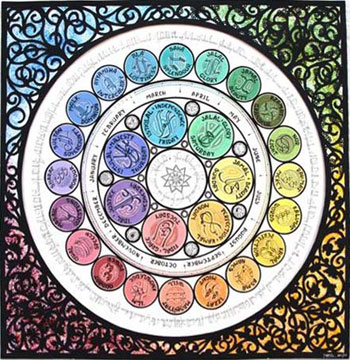 **Degrees where noted are rounded to the nearest whole degree.
Seemingly contrary energy tides continue during this complex planetary period with the faster planets triggering the ongoing longer-term configurations of the outer planets.  One striking example of how this summer's supportive grand water trine between Jupiter/Saturn/Neptune and the revolutionary Uranus/Pluto square has played out on the world stage is the amazing recent unfolding of events in Egypt.  The people, extremely discontented with how the democratically elected Muslim Brotherhood party was running the country, took to the streets in droves to protest against the year old government.  After about a week, the military responded with what seemed like great ease and deposed the leaders with relatively little violence, leaving diplomats and journalists scrambling for a new definition of the word "coup."  Obviously this is an exceedingly oversimplified description of the dramatic ongoing events there that include the tragic loss of life.  While the ultimate outcome remains unknown, it is a powerful correlation to the way in which the strong planetary crosscurrents ultimately generate magnificent waves of change.  As above, so below.
July 22nd is an eventful day astrologically with a high-powered conjunction, two planetary sign shifts and the Full Moon.  Leave it to the Sun moving into Leo to assemble a fabulous cast for his big day!  The action begins shortly after midnight when Mars makes an exact conjunction to Jupiter at 6 degrees Cancer, energizing the grand water trine with Saturn in Scorpio and Neptune in Pisces.  Imagining Mars and Jupiter together brings up images of muscle men, crusaders and sex gods.  Acting through Cancer, this dynamic duo may put their sympathetic energy into safeguarding the home where their heart lies be it a close-knit family or the planet on which we live.  Cancer reminds Mars and Jupiter to protect what they love, defend what they believe in.  They may also be motivated to create a very large family!  Jupiter's confidence may mitigate Mars in Cancer's reservations to self-assert, overriding any fear of rejection in the pursuit of the heart's desire.
By dawn of July 22nd, Venus puts down her Leonian romance novel and enters Virgo's demure domain of service for the next month.  On the surface she may appear overly picky but underneath her meticulous veneer is a deep respect for purity.  If Venus in Virgo mistakes overt perfection for inner purity, however, she becomes her own worst critic, turning her ultra refined analysis on herself to such a degree she begins to believe she is entirely unlovable.  At her highest expression, Venus here will seek purposeful relationships and favor integrity over corruption to ready herself for bonding with others.  In this mutable earth sign, she knows that only in an unadulterated state will she exquisitely see exactly what her beloved needs, utterly giving herself over to it because she knows that through sacred service she will experience the magic of fusion.
Having set the stage for the day, the Sun makes his grand entrance into Leo at 8:56 a.m. on the 22nd.  He is ready to shake off Cancer's underwater world for the inextinguishable fire that lights the day.  The Sun in Leo can show us how to celebrate life.  He inspires us to feel joy, the wonder of creativity and the nobleness that comes with being pure radiant light.  The Sun in Leo has an innate warmth that touches everyone when it is uninhibited.  The one thing that will pull in the cloud cover over Leo is pride and arrogance.  If we're mindful of how those self-centered tones eclipse Leo's true strengths then we may stay open to receiving love as well as bestowing it.
With the Full Moon at 11:15 a.m. on the 22nd, the focus on self is countered with concern for the collective.  There is somewhat of a New Moon feel to this Full Moon in that both the Sun in Leo and the Moon in Aquarius are at 0 degrees of their respective signs, archetypally a beginning point.  It may feel as if the culmination of this lunar cycle, which began with the Cancer New Moon on July 8th, is not quite ready for the curtain to open, yet perhaps that is the key to its purpose.  As discussed in the last AstroCast, the Cancer New Moon represented an opportunity for us to be soul whisperers, a subtle process that is accomplished behind the scenes.  The peak of the cycle will bring in the Full Moon in Aquarius' power of observation coolly identifying the needs of society opposing the gregarious Leo Sun radiating his magnetic lion-heartedness.  If we can harness the two extremes – the detachment that promotes the freedom to be unique without judgment and the total engagement in the play of life – then we may unlock the soul's full expression.
July 26th through 28th, Venus moves through the 5 to 8 degree space of Virgo stimulating the grand water trine when she sextiles Saturn and Jupiter and opposes her higher octave, Neptune, forming what is known as a kite configuration.  She focuses the sensitive alignment with her values of love, harmony, art and aesthetics, inciting us to look at how we are supporting each other.  Her opposition to Neptune builds on the grand trine's inherent stability with a challenge to elevate the way we approach relationships.  Venus' role here is to provoke us to reach out to others for the support we need.  What remains for us to do is ask.
Mars in Cancer sparks a high voltage cross current July 27th through 31st when he drives through a volatile T-square configuration with Pluto at 10 degrees Capricorn and Uranus at 12 degrees Aries.  The act-first-think-later confrontational energy of this configuration has been building since Jupiter and Mars' entry into Cancer a couple of weeks ago, and has already manifested via major industrial accidents and angry citizens around the world protesting perceived injustice and corruption by those in power, even in Russia.  While Jupiter's exact hit to epochal outer planetary pair won't peak until mid-August, it is close enough to boost Mars' interaction with the powerful revolutionary forces represented by Uranus and Pluto.  For each of us individually, it is vital to stay present and mindful during these potentially tumultuous periods.  That means simultaneously being able to move with – not fight – the currents of change and yet hold tight to that which is authentic and true in our lives.  Waves of people all focused on one thing is a mighty powerful force and any crystallized institution that does not yield its dysfunctional stance will likely be crushed in its wake.
The Sun square Saturn on July 27th at 5 degrees Leo/Scorpio comes at the peak of the alternating waves of energy triggered by Venus and Mars, perhaps to offer some restraint to impulsive actions or necessary obstacles to achieving goals.  The archetype of Saturn is that of the Master always testing us to see how well we have learned and ultimately to get us to the point of being the Master ourselves, in whatever it is we choose to focus on.  With the Sun in this challenging aspect to the Saturn, it is our very will that the gatekeeper is halting momentarily to ask the question: "Are we ready to go to the next level?"
On July 30th, Venus at 10 degrees Virgo trines Pluto at 10 degrees Capricorn, distracting him from his powerful T-square with Mars and Uranus long enough to remind him that true unconditional love is the essence that must occupy any structure, organization or government.  Her message to him is that people must matter and those in power who operate out of self-glorification, greed and power without care for those they lead will find their very existence threatened: willingly evolve or resist and meet with chaos and destruction.  When Venus sextiles Mars on August 2nd at 14 degrees Virgo/Cancer, we see this is much bigger than a battle between the sexes.  The Lovers embrace links the respective kite and T-square configurations into one grand supportive network voicing discontent with dysfunction.  The Sun trine Uranus on August 4th at 12 degrees Leo/Aries adds a coda to this period of attunement to each individual's uniqueness that has the potential to access inventive solutions to the complex issues of our day.
The star-crossed Lovers, Venus and Mars, take turns amping up the two marquee currents of the summer, which could now be called the Summer of Supported Discontent.  It's time for us all, in the spirit of loving ourselves, to take out that inner protest sign, shout out the changes deep down we know we need to make, and see what kind of support shows up, as well as what opportunities are presented to us to lend a hand to others.  We have nothing to lose but the doubt and fear that holds us back.