---
**Ti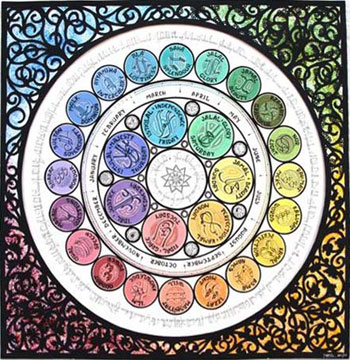 mes where noted are Pacific Daylight Time; degrees where noted are rounded to the nearest whole degree.
Retrograde Saturn has now slowed almost to a standstill at 23 degrees Libra, placing emphasis on durable relationships and solid values.  Meanwhile, fast-moving Mercury in family-oriented Cancer moves into a square with the planet of structure on June 20th to challenge our attitudes about what constitutes a good foundation in our relations with others.  Although the affects of this transit linger only for a few days, the Moon is also in this highly sensitive and emotional sign and the Sun enters its sphere of influence at 4:09 pm to mark the Summer Solstice.  All this Cancer energy brings to the forefront concerns for the safety and well-being of the tribe.  To get an idea of what the Sun in Cancer is about, a review of our own national identity is helpful. The United States, which has its Sun in Cancer, has predicated much of its political discourse on family values and the security of its citizens (the national family) wherever they are.  It is mostly a conservative sign and at its lower vibration can be very fearful.  At its best, Cancer is nurturing and deeply caring. Like a mother towards her children, she intuits our every need and is perpetually giving her love within the comfort and protection of home.
Most importantly, however, is that Mars has finally left the retrograde zone it has been in since January 23rd and is finally in new territory giving us a fresh perspective on whatever it is that propels us forward.  Things won't get moving too quickly just yet ( you can read about why here) but it really is time now to get our ducks in a row so when the flood gates do open up we'll be ready for action.  It will feel good to get our assertive muscles working out again, as long as we don't push them into an aggressive routine. Pushing hard when the universe just doesn't want us to move can be frustratingly futile.
June 23rd through 25th has a strong Neptunian current with the Sun, Moon and Jupiter making aspects to the distant and mysterious planet.  If we're all a bit spacey, this is probably why.   Neptune has a way of pulling us into other worlds, either deep within, or in an extra terrestrial sense. This is not the best time to rely on facts or other mundane issues that require a focused mind.  What it is good for is tuning into deeper spiritual truths that cut through fear and resistance.  The cool thing about Neptune is that its influence subtly compels us to make minor adjustments in the way we look at things and therefore see them in an entirely new way.  The adjustment is to NOT focus on any one thing so that our entire scope of vision becomes alive with integrated meaning. Impressionist painters had this down in a big way.
Life may seem a little surreal under the Neptunian influence but that could work to our advantage as we enter the twilight zone of the Uranus/Pluto square the entire astrological world has been blogging about for years.  It deals its first direct hit on June 24th.  There really is no way to predict what will happen over the next few years while this transit unfolds but it is safe to say that the phrase "paradigm shift" will be on everyone's lips as events burst forth and rock our world.  Also, what seems to be unfolding now in one direction could reach critical mass and suddenly collapse.  It may not happen until after the midpoint of the cycle but when it does, we will then have to deal with the aftermath.   As it looks now on the global stage, the Plutocracy has the upper hand but as the momentum builds the Power of the People has every potential to rise up and become a force to be reckoned with.  We here in the U.S. may ultimately take our cues from Europe or elsewhere where economic and political strife has already been making waves of confrontation.
As if not to be left out of the astral excitement, Saturn turns direct at 23 degrees Libra on June 25th, adding his considerable weight to this eventful time period.  The Task Master planet will take the next few months to traverse the degree space between 23 degrees and 29 degrees Libra for the third time, giving us the opportunity to pick up missed steps and/or refine our position on existing relationships.   How have we endured through the limitations imposed by Saturn?  How have we persisted in the face of obstacles?  At the time of the station, Saturn's energy is especially focused so if obstacles or limitations present themselves, it may help to use a higher perspective to re-evaluate the value of our efforts and the desired outcome.   Mercury entering Leo today will open the door to greater warmth, enthusiasm and creativity in our expression of these matters, and perhaps a little drama if we give into its natural tendency to over play a situation.
The wave of forward movement builds a little more on June 27th, when Venus does her dramatic turn-around at 7 degrees Gemini.  At the moment she stops her retrograde motion and hangs in the sky ready to move forward, she is in close aspect with Uranus and Pluto.  With her influence at a peak, she will put her feminine mark on events unfolding.  When everything we value – as we know it at this moment – is challenged, can we step back and contemplate on that which is truly meaningful at our heart's core? If yes, then we may come to understand what is worth fighting for and what we should walk away from.
Another day of potential upheaval comes when the Sun aspects the Uranus/Pluto square on June 29thmaking a powerful T-square configuration.  Power struggles and issues of identity with regards to our own leadership potential could spark conflicts in various arenas of life, on the world stage or in our own back yard.  Since Venus and Saturn are now direct, there is a better possibility for pent up energy to be released. How the force of that release manifests is a matter of our state of consciousness. The more focused and deliberate our intent, the more effective our actions can be.  The more aligned we are with our higher truth, the more ultimately constructive the effects of the seemingly destructive blast will be.  Like the Tower Card in the Tarot, when something falls apart suddenly and without warning, there is usually something at the core of it that was not true to its purpose but we couldn't see it until all the pieces were laying before us so we could see what worked and what didn't.  Once we get to the stage where we have to put all the pieces back together in a new and fresh way, the best course of action is to think of it as one big uber-creative art project: the Art of Living.