---
OH MY GOD, you made it!!!
It's sooooooooo good to see you!  Come in, come in!  I can't wait for you to meet everyone.  There are SO MANY people here — where to begin…. oh, best to just mingle.  It's the most fascinating bunch of folks, really.  I know so many interesting people, but then again, I do know everyone!  My peeps!
First, let's get you a drink.  Nothing like a festive beverage to liven things up, and with summer just starting, it's so refreshing.  Doesn't matter if it's a traditional cocktail (booooring!) or something different, like a Strawberry Watermelon Cooler! Lookie, so pretty and seasonal.  AND it matches your sundress perfectly – like you planned it that way.   Go on now, darling – quaff your accessory.  Can't do that with jewelry!  HA!  Oh, there's just a wee bit of alcohol in there.  Like I said, it does liven things up.  Nothing like getting a group together and drinking a little liquid truth serum.  You learn all kinds of things at my parties – trust me.  How do you think I know so much?  Hmmm…?  But don't worry, you can talk to me about anything.  Your secrets are safe with me.  Don't look at me like that, they are!  I'm hurt.  OK, now I'm over it.
Let's get something to go with that cocktail.  I hope you're hungry – oh no, we're not going to sit down for dinner.  That would be downright silly.  Look how many people are here.  How in the world would you get to chat with them all – mingle, mingle!  And with a stodgy, sit down meal, you're stuck with just one entree.  Boooooring.  Look at all the little nibbles we have!  So many varieties of appetizers to sample – oooh that looks good, and another, and these are a must.  That one?  Well, maybe..  Oooooh, it IS GOOD.  I'll take two more of those!  Wrapped in bacon no less.  Everything is better wrapped in bacon, don't you think.  Except my thighs. HA!  Oh well, worth the calories, I say.   This is so much better than a meal – just a mouthful at time. Absolutely nothing to interfere with the conversation – sip, bite, talk, sip, bite, talk.  Just be sure not to choke.  Then someone would have to Heimlich you, and we'd have to call the EMTs.  Oooh, hot firemen!  In that case, maybe a little choking please!   Grrrrrrrrrrrrr…! HA!  Just kidding.   I know it's not much food, but you really don't need that much.  Man cannot live on bread alone – someone smart said that.  And probably skinny too.  I have no idea who.  Speaking of bread, have you tried the bruschetta.  See – even the word sounds delicious.  Bruschetta – Say it, it just rolls off the tongue.  Those Italians make everything sound sexy.  Italian firemen!  Oooh, that's like sexy squared!!!
Oh, here I am hogging you all to myself – mingle, mingle!  I don't know how people can say they have a hard time meeting other people.  I mean, really.  It's easy.  So I came up with this great idea to help everyone out.  I mean, I may be the hostess with the mostess and all, but I can't exactly be social director all night.  Do I look like a libra?  Hardly.  And left to your own devices you all would just slog around going, 'What do you do?' and, 'So how do you know our fabulous host who throws the most amazing cocktail parties?'  Booooooring. There are so many ways to start a conversation, but I figured you all might need some help.  Soooooo, look on the bottom of your plate.  (No, not with food on it, silly.)  Lift it up and look on the bottom.  See!  Everyone has a different question written there for a guaranteed conversation starter — just add water.  I got them from these great books called IF (Questions for the Game of Life) and The Book of Questions. Let's look at yours –
If you had to identically repeat any single year of your life to date, without changing a thing, which year would you relive?
Oh, good one! And this one says…
If you could have seduced one person that you knew in your lifetime (but didn't), who would you select?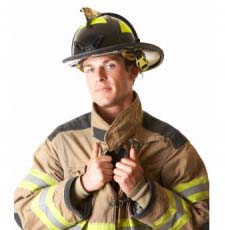 Wooooo woooo! Four alarm question right there!   Oh the stories you'll hear.  Now isn't this more interesting than standing around talking about how we make money?   Boooooring. Unless you're a fireman.  Oh no, I'm choking!   (Cough! GASP!)  HELP ME!  Firemen!  HA!  Just kidding.  I'm fine!  I don't want to be The Girl Who Cried Fire.  Though it's better than that old dude who keeps crying Rapture.  Can you believe that?  How many times did he get it wrong and he still gets media coverage?  Ridonkulous! Oh, there's the doorbell. Another guest!  Either that or my neighbors called the police again.   That would be fine with me if they were hot like firemen, which they never are.  Why is that?  Do they all really believe their handle bar mustaches are sexy?  NOT!  Oh well, must dash, but will catch up with you later, and I expect a full report of all the intel you get — Hostess privilege!  But don't worry – anything you tell me will stay on the DL.  What?  Don't look at me like that….Now MINGLE!!!!
Strawberry Watermelon Cooler
4 ounces Vodka
1 ounce  Strawberry Liquor (any berry or pomegranate works)
Juice of 1 lime plus slices for garnish
1 pound watermelon chunks
2 cups ice plus more for glasses
Strawberries for garnish
Blend ingredients until frothy.  Pour over ice, garnish & sip.   Makes four servings…. or one person very, very  happy.
Peach & Brie Quesadillas with Honey Lime Dipping Sauce
Sauce: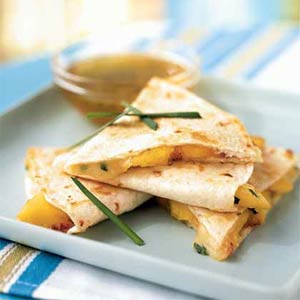 Combine ingredients, stirring with a whisk; set aside
2 tablespoons honey
2 teaspoons fresh lime juice
1/2 teaspoon grated lime rind
Quesadillas:
1 cup thinly sliced peeled firm ripe peaches (about 2 large)
1 tablespoon chopped fresh chives
1 teaspoon brown sugar
3 ounces Brie cheese, thinly sliced
4 (8-inch) fat-free flour tortillas
Cooking spray
Chive strips (optional)
To prepare quesadillas, combine peaches, 1 tablespoon chives, and sugar, tossing gently to coat. Heat a large nonstick skillet over medium-high heat. Arrange one-fourth of cheese and one-fourth of peach mixture over half of each tortilla; fold tortillas in half. Coat pan with cooking spray. Place 2 quesadillas in pan; cook 2 minutes on each side or until tortillas are lightly browned and crisp. Remove from pan; keep warm. Repeat procedure with remaining quesadillas. Cut each quesadilla into 3 wedges; serve with sauce. Garnish with chive strips, if desired.
Shrimp Cocktail in Cucumber Cups
3 large cucumbers
10 ounces cooked shrimps
3 ounces cream cheese with herbs and garlic
1 Tablespoon finely chopped red onion
1 Tablespoon lemon juice
1 1/2 teaspoon sugar (optional)
Black pepper
Cut the cucumber into 4 equal scoops.  Scoop out the seeds in the center.  Peel and devein the shrimps (keep 4 tails for decoration).  Chop the shrimps finely, combine with the cream cheese and onion. Season with pepper.  Spoon the mixture into hollowed-out cucumber.   Garnish with the shrimp tail and dill.

Blackberry Champagne Cocktail
1 Bottle of dry Champagne
Approximately ½ Cup Chambord
No need to measure, but the proportions should be approximately 1 part Chambord to 3 parts bubbly.
Garnish with a fresh blackberry onto the rim.
Grilled Polenta with Shiitakes, Onions & Gorgonzola
1 tbsp. olive oil
18 oz. polenta tube (or about 2 cups cooked and set polenta cut into squares)
2 tbsp. unsalted butter
1 large red onion, thinly sliced
1 lb. shiitake mushrooms, cleaned and thinly sliced
1/4 lb. Gorgonzola Picante cheese
1 cup balsamic vinegar
Place the balsamic vinegar in a small saucepan and set over medium heat. Once it comes to a boil, reduce to low and cook for 20 – 30 minutes, or until the vinegar reduces and becomes syrupy. It's done when it coats the back of a spoon or silicone spatula. Remove from heat and set aside.
While the balsamic is reducing, heat a large skillet over medium-high. Once it's hot, melt the butter and add the onions. Cook for about 10 minutes, or until the onions soften and begin to brown. Add the mushrooms and cook for another 10 minutes. Remove from heat and set aside.
If you have a grill pan, place it over medium-high heat. (If you don't, a regular skillet will be fine.) Slice the polenta into 1/2-inch rounds and brush both sides with olive oil. Grill for about 3 minutes on each side or until the polenta turns golden and develops grill lines. Remove them to an oven-safe platter.
Top each polenta round with a heaping spoonful of the onions and mushrooms. Crumble some Gorgonzola over each round, then run them under your broiler for about 3 minutes, or until the cheese just melts. Remove and drizzle with some balsamic syrup.  Makes about 12 rounds.

Caramel Apple Martini
1 oz vodka
1/2 oz butterscotch schnapps
1 oz sour apple liqueur
1 oz cranberry juice
Fill a cocktails shaker with ice.  Pour in all ingredients and shake until well chilled.
Serve in a martini glass.  Makes 1 cocktail.
Feta and Prosciutto Rolls
4 pieces of prosciutto
10-12 leaves of basil
One small block of feta
Olive oil for drizzling
Slice the prosciutto into 1 inch strips.  Cut leaves in half or thirds (depending on how big they are).  Cut the feta into 1 inch long matchsticks.
Assemble the rolls by laying out a prosciutto strip and setting a leaf on one end.  Place a stick of feta on the leaf and then begin rolling all three toward the other end of the prosciutto strip.
Place rolls in a small dish on end.  If serving immediately drizzle with olive oil, if not refrigerate.  Remove from fridge one hour before serving and drizzle with oil.   Makes 20-24.

Minty Raspberry-Lemonade Cocktail
3 tablespoons raspberry puree
3 tablespoons limoncello
2 tablespoons water
1 tablespoon fresh lemon juice
1 teaspoon sugar
Dash of any mint flavored liqueur
Place all ingredients into a shaker with ice. Shake for about 30 seconds to 1 minute then strain into a martini glass. Garnish as desired.
NOTE: To make raspberry puree, place about 1/2 cup raspberries (or defrosted frozen raspberries) in a small food processor or blender and process until smooth. Strain liquid to get rid of seeds then measure out the liquid you need.  Be careful with the raspberries, they can stain and not easy to clean up.
Stuffed Mushrooms
6 medium portobellos or about 20 smaller crimini/baby bella mushrooms.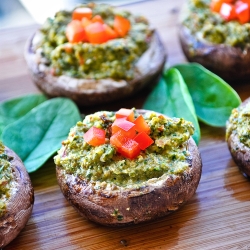 1/4 cup balsamic vinegar (optional)
1 bell pepper (you'll use half in the mix and the other half chopped fine as a garnish)
1 1/2 cups raw spinach
1/2 cup walnuts
2 cloves garlic
1/2 of a small onion
1/2 teaspoon olive oil
1/2 teaspoon salt
Preheat oven to 400 degrees. In a food processor or blender, combine all ingredients except mushrooms and balsamic vinegar and blend until smooth. Wash mushrooms, carefully remove stems to create a pocket for the filling, and brush with balsamic vinegar. Evenly divide filling amongst mushrooms.
Place stuffed mushrooms on a cookie sheet and bake for 10-15 minutes, until mushrooms have softened and released their moisture. Remove from oven, carefully use tongs or a spatula to transfer mushrooms to serving dish, and top with chopped bell pepper.
Turkish Apricots Stuffed with Goat Cheese (Wrapped in Bacon!)
Preheat the oven to 375 F.
Cut into the middle of large fresh apricot with a sharp knife and then using your finger create a hollow cavity.  (Be sure to remove pitt.  Wouldn't want you to choke!  HA!)
Scoop out a small piece of goats cheese and stuff each apricot.
Wrap each stuffed apricot in half or a full piece of streaky bacon making sure you cover all the orange flesh of the fruit.
Stab a cocktail stick through them for serving.  Place these on a baking tray and bake for 8 – 10 minutes until the bacon is crispy and the cheese in starting to ooze out.
That's right – oozing apricots.  Now find a fireman that you can feed them to.
Sangria
One bottle light red wine (perhaps a Spanish wine, like a Tempranillo)
A few healthy glugs of brandy (try peach!)
Half bottle club soda
3 Tablespoons sugar
Juice of an orange (or 2)
Juice of  a lemon
Chopped fruit for pitcher (apples, oranges, frozen strawberries, etc.)
Chop fruit for bottom of pitcher.  Uncork wine and dump into pitcher along with the other ingredients.  Be sure to give it a few hours of"marinating time" before serving.  Do not add ice until ready to serve!
Sweet and Spicy Tuna Wonton Cups
24 Wonton Skins
1 Tablespoon Extra Virgin Olive Oil
1/2 cup slivered almonds
1/2 cup green onions, thinly sliced
2 Romain hearts, shredded
2 cups Napa Cabbage, shredded
1 (5oz) can (Bumblebee) Spicy Thai Chili Tuna Medley
2 teaspoons sesame seeds
Nonstick cooking spray
Dressing
6 Tablespoons Extra Virgin Olive Oil
3 Tablespoons vinegar
4 Tablespoons sugar
2 teaspoons soy sauce
Preheat oven to 350. Spray the mini muffin tin with nonstick cooking spray and arrange wonton skins in muffin tin to create cups.  Bake until golden brown, around 10 minutes.  Place  1 Tablespoon Extra Virgin Olive Oil in heated skillet and toast almonds.  Set aside.   Wash and thinly slice romaine, napa cabbage and green onions.  Place in bowl.  Drain Tuna and mix with lettuce mixture.  (This is easiest with your hands. You want an even amount of tuna throughout).   Mix all ingredients together and place a little of the mixture in each wonton cup!  Sprinkle with sesame seeds.