---
This month we're going to start with a little quiz. Look at this picture and tell me how you think a Pisces would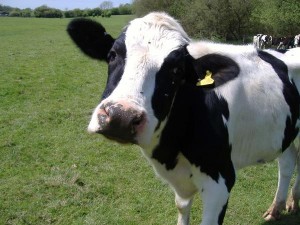 best respond….
a)    Bar-b-que!  Make mine medium-rare, please…
b)    Hurray!  My very own cheeeeese factory!
c)    Margarine is evil in a cube.  Pass the BUTTER.
d)    Awww look at the sweet little moo cow!  I'll name her Bessie…good Bessie…
If you picked d), then you're well on your way to dining like a Pisces.  But as you can also probably tell, this issue won't make the carnivores very happy.  Hey, I love a good steak as much as the next person, but this month we're looking for a Win/Win for us AND Bessie and we all know how she'd feel about that juicy 10 oz. sirloin.  Pisces, as the most compassionate of all, want everyone to be safe and happy, which includes the faceless entrees that end up on our plate.  For this month the DLYS! motto is 'Do no harm', which means exploring ways of eating that do less damage to animals, the planet, and even ourselves.
You might be surprised at the small steps you can take that could make a big difference.  Those peaches you like to eat in January?  They're shipped in from Chile.  We don't think of the price we're paying for those in carbon footprint.  Barbara Kingsolver wrote a book called "Animal, Vegetable, Miracle" which chronicled a year on her farm when she and her family decided to reduce damage to the environment by eating either home grown or locally produced food ONLY — nothing shipped in from other states or countries.   Can you find some local farmers markets?  The produce is better and cheaper and you get to feel good about supporting local growers.  And the best part is when you know who grew your food, you know more about how it was grown.  I trust them a whole lot more than Monsanto, Inc.
Here's the next question on our quiz.  Don't worry – it's an easy one.
2.  What did you
eat for breakfast this morning?  Do you remember?  Were you even there?
Thanks to the accelerated rate of our lifestyles, eating has frequently become a mindless, perfunctory act we squeeze in while multi-tasking.  We eat while driving, watching TV, talking on the phone, surfing the web — meanwhile that big, beautifully decorated dining room sits empty and quiet as a church.  So the next step is to dine differently, as in actually carve out time and space for an uninterrupted, dedicated meal.  We're going to slow down and truly experience our meals as a Pisces would, which is to experience a meal, as everything in life, fully, with presence.  Eating can be as much an act of mindful meditation as anything.  Taste the food as if you're eating it for the first time.  Explore the texture, the temperature, the blend of flavors.  That breakfast you've eaten daily for the past three years can suddenly seem like a foreign delicacy.  Try it.
OK – Last question….
3.    True or False – There are more people starving than the populations of the USA, Canada and the European Union combined.
Sadly, true.  Statistics estimate that 925 million people don't have enough to eat.  I'm starving — I use the word glibly when I'm puckish between meals.  I eat three meals a day and think nothing of it.  My refrigerator and cupboards are more than generously well stocked.  If I get a sudden craving, there are scads of groceries stores open late into the night where I could find just about anything I could want.  It's so easy to forget that not only has hunger never been an issue, but the truth is I eat like royalty.  Once I passed a homeless man sorting through a garbage can looking for bottles and cans, and he pulled out sealed packages of uncooked steaks.  He looked at me and said, "This is awful" and I couldn't disagree.   As careful as I try to be not to be wasteful, I know there are people who would gladly take what I consider refuse.  So for this month, I encourage you to buy only as much as you need, and use it all.  Let nothing go to waste.  Eat your meals with no distractions – no, not even that Facebook posting that's sooooo important.  It can wait.  Give your food your full attention.  Chew it, savor it, and you just might find it's the best meal you've ever had.    If you can, cut back on your grocery shopping, and buy some non-perishables to donate to a shelter or food bank, or better yet, find an opportunity to volunteer at a local kitchen.  And above all, eat with appreciation and gratitude.  You may not even realize how rich you already are.
But what about Bessie – FREE BESSIE!  Well, just for one month try to mix your meals up with some animal-friendly entrees that are vegetarian, or maybe even vegan – which is no animal products whatsoever (nope, no dairy or eggs).  I am.  Just as an experiment, I've decided to dine like a vegan –for a month.   First, I must point out that I love cheese a little less than oxygen and consider butter an Eighth Day creation, so the odds of me turning vegan are abysmally small.  But I have to admit, I've been cooking more than I have in a long time.  I've been experimenting with different kinds of grains and beans, and the meatless substitutes are actually pretty good, not to mention I don't worry as much about things like expiration dates and 'does this smell OK?'.  But an unexpected side effect is, I feel better about my food choices.  They just seem healthier and I do feel a little, well, peaceful is the best way I can say it – knowing something didn't have to die to feed me.  I don't expect to turn anyone vegetarian, least of all me –(honestly, I wouldn't want to live in a world without sushi).   But maybe you can try a little experiment too, or should I say mooooo!   Give meat a rest, and save the steak for a special occasion. Here are some recipes that are Bessie Happy Meals, as opposed to those other Happy Meals that make Bessie sad.  Don't make Bessie sad  — No boo hoo moo cow!  🙁
Mushroom Bourguignon
Portobello mushrooms cook up with a surprisingly meaty texture.
2 Tbs olive oil

2 Tbs butter (or oil for vegans)
Two large  portobello mushrooms, in ¼ " slices
1/4 carrot, finely diced/chopped
1 small yellow onion, finely diced
1 large shallot, finely chopped (or just use 1 large yellow onion rather than small)
Salt and black pepper
2 cloves garlic, finely diced
1 c full-bodied red wine
1 cup vegetable stock –  1 1/2 c if not using wine
1 Tbs tomato paste
1/2 tsp fresh thyme leaves (1/4 tsp dried)
1/2 Tbs plain flour
Pasta of choice for serving
Sour cream and chopped chives, parsley, or thyme for garnish (optional)
Heat half the oil and butter in a large heavy saucepan or high-sided wok/frypan, on medium high heat. Throw in the mushrooms and cook, stirring, until the mushrooms are darkened but do not release liquid (approx 2 mins). Remove from pan and set aside.
Lower heat to medium and add second tablespoon of oil. Add carrots, onions, shallots, thyme, pinches of salt (keep in mind stock if is salty), and some freshly ground black pepper. Cook, stirring every now and then, until the onions are golden. Add garlic and cook another minute or so, until the garlic is translucent.  Add wine or 1/2c of stock to the pan, scraping any stuck bits off the bottom of the pan. Turn heat up to medium high and reduce the mixture by a half (let the liquids evaporate off until only half the original volume is left) Mix in tomato paste, the rest of the stock, and the mushrooms (with any juices that have collected with the mushrooms), and bring to a boil. Reduce heat to medium low and let simmer for about 10 minutes, or until the mushrooms are very tender. If you're pouring this over pasta, then set your pasta noodles to cook now (before the 10 minutes is up).
Add remaining butter or oil to the pan and sprinkle flour over the top, quickly stirring in. Lower heat to low, and let simmer a further 5 minutes, until it is the desired consistency (your personal preferences come in here). Taste, and season further is necessary with salt and pepper.  To serve, spoon the stew over a bowl of pasta, dollop with sour cream (optional) and sprinkle with chives, parsley or thyme.
Fettuccine Alfredo
Dairy substitutes may a bit hard to find, but any good health food store would have them.  This recipe includes nutritional yeast, which has a cheesy taste AND is actually a great source of protein. Yeast?  Who knew…
1 lb. fettuccini pasta or other long noodle like linguini or angel hair

1/2 cup finely ground raw cashews
1/2 cup plain soy milk, almond milk or coconut milk
1/3 cup dairy-free sour cream, such as Tofutti's Sour Supreme
1/4 cup dairy-free cream cheese, such as Tofutti's Better than Cream Cheese
1/4 cup nutritional yeast
1/2 t. garlic powder
1/4 t. salt, plus more to taste
Freshly ground pepper, to taste
Bring a large pot of salted water to a rolling boil. Boil the pasta according to the manufacturer's instructions until al dente. Drain, and set aside.
Meanwhile, in a blender, process the finely ground cashews, soy milk (or almond or coconut milk, if using), dairy-free sour cream, dairy-free cream cheese, nutritional yeast, garlic powder, and salt until smooth and creamy. Transfer the sauce to a small saucepan and heat until desired consistency and temperature, adding more soy milk as needed. Toss the noodles with the sauce and serve immediately with freshly ground pepper to taste.  (Servings: 4-6)
Southwestern Bean Cakes
Another plus is vegetarian meals are fast and easy!  You can keep canned beans on hand and don't have to worry about handling raw meat, marinating, etc.  Open, mix, fry up in the pan and you're done.

2 15-oz cans cannellini beans, rinsed and thoroughly drained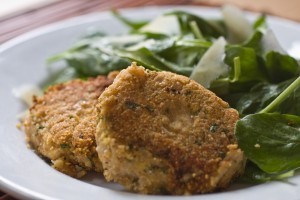 1/4 cup vegetable broth
Juice from 1 lime
3 tablespoons fresh cilantro leaves, chopped
1 teaspoon minced jalapeno pepper (add more for extra heat)
2 teaspoons chili powder
Salt and freshly ground pepper
1 cup (at least) cornmeal or polenta
Extra virgin olive oil
Add the cannellini beans, vegetable broth, and lime juice in a large bowl. Mash the beans using a potato masher.  Next, stir in the cilantro, pepper, and chili powder. Add salt and pepper to taste. Stir in 1/4 cup of cornmeal. Continue stirring in more cornmeal in small amounts until you can form the mixture into 3-inch cakes.  Heat 1 tablespoon of the oil in a pan over medium heat. Add the bean cakes and cook until browned, approximately 4 minutes per side. (Add more oil to the pan if necessary.) Serve immediately.  (Makes 7-8 cakes)
Pasilla Black Beans with Spinach and Mushrooms
But what about PROTEIN.   Carnivores are always talking about how Vegetarianism doesn't provide enough protein, but when you combine beans and grains, they provide a complete protein and they're far easier to digest then meat.  Throw in the right amount of vegetables and you've got a complete meal with 100% daily requirement of yum.
3 pasilla or ancho chiles, stems and seeds removed, torn into pieces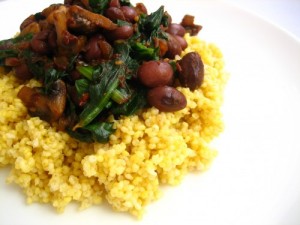 1/2 cup boiling water
1 tbsp olive oil
1 yellow onion, diced
4 cloves garlic, minced
About 20 button mushrooms, quartered
1 tsp cumin seeds
2 1/2 cups cooked black beans, drained
3 cups roughly chopped spinach
1/2 cup water
2 cups cooked millet (or other grain)
Put the chiles in a small bowl and pour the boiling water over them. Let stand, covered, at least 30 minutes so they get nice and soft. I like to put a small plate on top of the bowl to keep the steam in. Plastic wrap or foil would be fine too.
Heat the oil in a large skillet and add the onions. Cook until translucent, then add the garlic and mushrooms, and cumin seeds. Turn the heat down to medium low and cook, stirring occasionally, for about 10 minutes (so the mushrooms get nice and flavorful).
Remove the chiles from their soaking liquid, chop them finely, and add them to the vegetables. Add the beans and cook, stirring, for a few minutes (until heated through). Season with salt, then add the spinach and water and simmer for a minute or two. Either mix in the millet, or put some on a plate and spoon the bean mixture over it.
Saffron Scrambled Tofu
Bessie's best friend is a chicken named Gertie.  Gertie wants you to know that she's more than just a feathered egg dispenser pumped up on hormones.  Gertie needs a vacation.  Here's a recipe to get your savory fluffy scramble and give Gertie a break.  Bonus – no crunchy bits of egg shell surprise!
2 cups firm or extra firm tofu cubes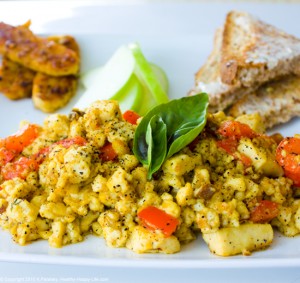 1 orange, juiced
2-3 Tbsp soy creamer (or plain soy milk)
1 Tbsp olive oil
4-6 strands of saffron
2 Tbsp soy sauce
1 tsp fine black pepper
1 tsp agave or maple syrup
1 tsp ground cumin
1/2 cup red bell pepper, diced
1/2 cup sliced mushrooms (I used shiitake)
1-2 Tbsp vegan buttery spread
Handful of chopped basil
Optional: cayenne for spiciness
Spray a bit of olive or canola oil in your soup pan or saute pan.  Turn stove heat to med-high, add the orange juice, soy creamer and olive oil to your pan. Add in the saffron strands.
Let the liquid simmer for a few minutes, allowing the saffron strands to steep in the liquid like a tea. They should infuse a light orange color into the liquid. If the liquid steams off too quickly, add in a bit of soy milk or water to prevent burning of the pan.
Next add in the tofu, cumin, soy sauce, black pepper and agave or maple syrup.  Cover pan with lid or foil and allow the steam to cook the tofu for a few minutes. Toss pan a bit to coat tofu in the sauce that is forming.  Add in the veggies. I used shiitake mushrooms and red bell peppers. You can really use whatever you'd like. Cover pan again and steam cook for another minute.
Uncover pan and turn up the heat. Grab a spatula and begin smashing the tofu into halves, bits and chunks. Use the edge of the spatula. Work the tofu around so that a nice sizzling saute begins. You want the all the liquid to marinate into the tofu while steam burns off the excess liquid.
At this point you can add in your vegan buttery spread and continue the saute. I added about 1 Tbsp, but you can certainly use less (or more) depending on your desired richness of the dish. Continue tossing and chopping with your spatula until a nice soft, yet caramelized tofu scramble forms. Again, all the liquid should be absorbed, but you don't want to dry the tofu out because then it turns to rubber. Not good.  Practice makes perfect.
Turn off the heat. Add in a few pinches of chopped up fresh basil and a few more dashes of fresh cracked or fine black pepper. Toss the tofu a bit and plate. I even garnish with even more black pepper as well as some fresh basil leaves.
Double Dipped Vegan French Toast
2 to 3 whole wheat English muffins, halved

1 large banana
1/2 cup soy or almond milk
1/4 to 1/2 teaspoon ground cinnamon
1/2 teaspoon vanilla extract
1 tablespoon chia seeds
Strawberries
Cacao nibs
Maple syrup
In the bowl of an electric mixer, use the paddle attachment to mash together 1/2 of the banana, the soy milk, cinnamon, chia seeds, and vanilla extract. It's helpful to put the banana in first, mash it until "eggy" — basically with no lumps.
Separate all English muffins into the halves. Then pour the "egg" mixture into a shallow bowl and start dipping your slices in it.
Put a medium to large pan over medium heat on the stove. Use a little canola or sunflower oil to grease. Then continue dipping your french toast and cooking in the pan like you would for "normal" French toast.
Here's the double dipped part: When your slices start to brown, dip them back into the mixture to let them soak up more flavor. (When the English muffins get warmer, they absorb more "egg" mixture.)
Top with the remaining 1/2 of the banana (sliced), strawberry slices, cacao nibs, etc. And, of course, enjoy.
Vegan Chocolate Whoopie Pie
If anyone calls, you can tell them you're makin' whoopie.  PIES!  Whoopie pies!
1 cup soy milk

1 tsp apple cider vinegar
2 cups whole wheat flour
1/2 cup cocoa powder, sifted
1 tsp baking powder
1 tsp baking soda
1 tsp salt
1/2 cup Earth Balance Vegan Buttery Sticks (shortening)
1/4 cup granulated sugar
1/2 cup dark brown sugar, packed
2 tbsp toffuti cream cheese
1 tsp vanilla extract
In a small bowl, whisk together the soy milk and vinegar. This will curdle to use as buttermilk.  In a medium bowl, sift together the flours, cocoa, baking powder, baking soda, and salt. Set aside.
In a mixer or large bowl, cream together the earth balance and sugars till smooth. Add the vanilla to the curdled soy milk. Stir. Beginning with the wet ingredients, alternately add them with the dry ingredients into your mixer or bowl. Scrape down the sides, and stir until fully combined. Add the toffuti and mix till smooth. Use a small cookie scoop or a piping bag to drop the dough onto the baking sheets. Bake for about 10 minutes until the tops crack a bit. Take out of oven cool on baking racks/sheets. Cool completly before frosting.
Vegan Butter Cream Frosting (or chocolate, see note below)
1 cup Earth Balance Vegan Buttery Sticks (shortening)
3 1/2 cups powdered sugar
1 1/2 teaspoons vanilla
1/4 cup plain soy milk
Beat the earth balance until well combined and fluffy. Add the sugar and beat for about 3 more minutes.
Add the vanilla and soy milk, and beat for another 5 to 7 minutes until fluffy.
(NOTE: to make it chocolate frosting replace 1/2 cup of powdered sugar with cocoa powder and add more sugar as you see fit for consistency)