---
You can put away the china now, and send the linens out for cleaning. If we're going to break bread Aquarian style, it means the guest list just got a whole lot bigger. But hey, relax – It's a casual affair. It must be when everyone is welcome. With this sign it's all about inclusion and sharing (what's theirs is yours), so keep it simple – no muss, no fuss to interfere with all the socializing and networking destined to run in tandem with noshing. Best to set out a plate of sandwiches, a smattering of side salads, finger foods, some nice casserole dishes. Just line them up with a stack of paper plates and let everyone go at it.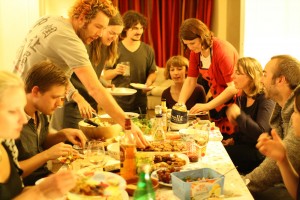 In fact, you don't have to do it all by yourself. In true Aquarian fashion, why not have everyone pitch in and share the work load, and you know what that means – Socialism!! Just kidding. Of course I'm talking POT LUCK. It's the perfect way to not only take the pressure off, but it also allows everyone to express their unique individuality via their contributing dish. You can tell a lot about people by what they bring. Some will stop at the grocery store on the way to pick up a pre-made deli item (now now, try not to judge). Some are obligated to bring their mother's famous chili cheese dip (my friend Rick). Yet others will take the opportunity to try out a new dish they've been dreaming up for a while.
Why yes, I happen to have a group who frequently dine together.  How could you tell?  To call us 'food enthusiasts" is an understatement.  During an eating excursion in Las Vegas one aptly nicknamed us the "Fat Pack" – not for our girth, but because we've just got that swingin' style.  If one hears of a new restaurant (especially if it features pork products), they'll send out the 'FAT SIGNAL'  our beloved bacon beacon and it isn't long before a field trip is planned.  I highly recommend group eating as it does have its advantages. Like variety! The more people at the table, the more dishes there are to sample. For one restaurant experience we ordered the left side of the menu (what can I say – we're professionals). We send the dishes around lazy Susan style until everyone has had their fill. When a number of our birthdays line up in a month, we'll plan a soiree with a food theme. Like bacon, or macaroni and cheese. My favorite year was a 'create your own grilled cheese sandwich' extravaganza. Oh, we still muse fondly over that one; it was worthy of the history books. We lined up a row of Panini makers and filled a dining room table with the largest selection of bread, cheese and other accoutrement and grilled fearlessly with wild abandon.  And again, all the sandwiches were passed around and shared, as we admired our collective creativity. Here's but a short list of our hot fromages of art…
√ Prima Donna, Caramelized Onion English Cheddar with Garlic/Onion Jam on Rustic Wheat Bread
√ Roaring Forties Blue with Lavender Honey on Rustic Wheat
√ Montenegro, Dried Cherries and Caramelized Onions on Country White
√ Blue Cheese, Caramelized Onion English Cheddar, Prosciutto & Sweet Hot Mustard on Rustic Wheat
√ Dubliner, Irish Bacon Rashers, Sauteed Leeks and Creole Mustard on Country White
√ Italian Truffle Cheese with Sun-Dried Tomato Tapenade on Garden Herb Bread
√ Prima Donna, Goat's Milk Brie and Fig Jam on Olive Bread
Theme parties are a great way to express another quality of Aquarians — vast imagination.  They'll always stretch the limits, and think outside the box.  Recipes?  OK, but don't expect them to follow them perfectly.  They'll make their own additions, substitutions or just invent their own.  Like my friend Chuck.  Chuck is mad scientist brilliant dripping in butter genius in the kitchen. His dishes are so delicious that when I show up for our pot lucks everyone says "Better go try Chuck's dish, because it won't last long. Go now. Run." Oh, how I aspire to cook that well…  So for this edition I tried to include recipes that honor that spirit of being inventive and different.
Now it's your turn.  Keep it loose, and fluid, and daring!  Go forth and be a mass instigator for something wild and fun, and maybe make some new friends at the same time. My friend Mary did that better than anyone I know. She seemed to have a gravitational pull for great people. With no other commonality than 'knowing Mary', we would find ourselves in her backyard – lounging, laughing, eating. She collected us like her own personal charm bracelet. I'm so happy she did, for now I have many lovely and unexpected friends I probably would have never known. I remember her once making a toast over some vast spread of food, saying how lucky she felt to have us all – that friends are the family you choose. So find some excuse- any will do – to gather your own family of choice together, that merry band you've adopted. Choose a food theme, or just open your doors and have plenty of napkins on hand. Please send me your stories and photos! You can find me at leeann@sherastrology.com. After all, I need my inspiration too.
Oh, and
Happy Valentine's Day

to all !!!!
♥                   ♥                    ♥
White Truffle Grilled Cheese
After the taunting you with the results of our grilled cheese smack down, I figured I had to find a hot 'n cheesy to start you off. Grill, baby, grill.
6 ounces Portobello mushrooms, cleaned and slices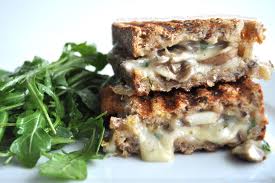 2 ounces oyster mushrooms, chopped into bite size pieces
1 tablespoon butter
1 cup fresh coarsely shredded Fontina cheese
1/3 cup fresh coarsely shredded Parmesan cheese
2 tablespoon chopped fresh Italian parsley
4 slices crusty whole grain bread
1 tablespoon white truffle oil
Sea salt
Preheat panini press. Melt butter in skillet over medium high heat. Add mushrooms and sauté until soft, about 5 minutes. Transfer mushrooms to a medium bowl and let cool slightly, about 2 minutes. Drain any accumulated juices from the bowl and discard. Use your hands to toss mushrooms with parsley, Fontina, and Parmesan cheese. Mixture should bind together and form a paste-like consistency. Brush one side of each slice of bread with truffle oil and sprinkle with sea salt. Top dry side of two of the slices of bread with the mushroom and cheese paste. Place dry side of remaining bread down upon this mixture. Press sandwiches on panini grill approximately 5 minutes or until golden brown and all the cheese has melted. Serve immediately.
Roasted Potato and Garlic Salad
From Emeril Lagasse's POT LUCK
A pot luck classic kicked up by one of my favorite chefs. Oh Emeril, how I  ♥ you.
4 lbs. new potatoes, cut into bite-size pieces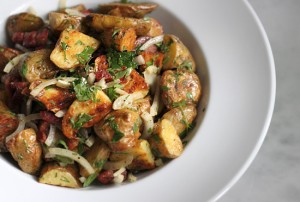 1 ¼ cups extra virgin olive oil
1 ¼ teaspoons salt
1 teaspoon freshly ground black pepper
1 head garlic, top ½ inch cut off
1 tablespoon olive oil
2 cups chopped sweet onions, such as Vidalia
1 large egg
½ cup chopped green onions
1 tablespoon plus 1 teaspoon lemon juice
2 teaspoons fresh rosemary
2 tablespoons finely chopped fresh parsley
Preheat oven to 400 degrees. Place the potatoes in a large roasting pan and toss with ¼ cup of the olive oil. Season with ½ teaspoon salt and ½ teaspoon pepper. Wrap the garlic head in foil and add to the pan. Roast the potatoes and garlic until tender, 35 to 40 minutes. Remove from the oven and let stand until cool enough to handle.
Meanwhile, heat the olive oil in a large skillet over medium heat. Add onions and cook until golden brown, about 10 minutes. Remove from heat.
Once the garlic is cool enough to handle, squeeze as much pulp as possible from the head into the bowl of a food processor. Add the egg, green onions, lemon juice, rosemary, remaining ¾ teaspoon salt, and remaining ½ teaspoon pepper. Puree until smooth. With the machine running, slowly add remaining 1 cup olive oil. The mixture will thicken.
Combine the potatoes and onions in a large bowl. Toss with 1 cup of the garlic dressing and the parsley.
Root Beer Baked Beans
Sound too weird?  Mark Twain said, "Eat the thing you fear the most."  OK, so I'm paraphrasing.  Sue me.  Just give it a shot.

4 slices applewood-smoked bacon, cut crosswise into 1-inch pieces
3 1/2 cups chopped onions
2 garlic cloves, minced
4 15-oz. cans cannellini (white kidney beans), rinsed, drained
1 1/2 cups root beer (preferably artisanal or a brand made with cane sugar, not corn syrup
3 tablespoons apple cider vinegar
3 tablespoons mild-flavored (light) molasses
2 tablespoons tomato paste
2 tablespoons Dijon mustard
1 1/2 teaspoons chili powder
1 teaspoon coarse kosher salt
1 teaspoon freshly ground black pepper
Preheat oven to 400°F. Cook bacon in large ovenproof pot over medium heat until crisp, stirring occasionally. Using slotted spoon, transfer bacon to paper towels. Add onions to drippings in pot; cook until beginning to brown, stirring often, about 8 minutes. Add garlic; stir 1 minute. Add beans, root beer, vinegar, molasses, tomato paste, mustard, chili powder, 1 teaspoon salt, and 1 teaspoon pepper; mix. Stir in bacon; bring to boil. Transfer to oven; bake uncovered until liquid thickens, about 30 minutes.
N'Awlins
Shrimp
Po'Boy
Nothing represents the Aquarian spirit better than the po'boy – sandwich of the workin' man. The story goes it originated in New Orleans in 1929 when Martin's Restaurant began giving them out free to workers during a four month strike against the streetcar company. With plenty of shrimp and fresh baguettes on hand, an assembly line set up could crank out enough for a small army.  Power to the people and pass the remoulade!
1 pound shrimp (shelled and deveined)
1 tablespoon oil
1 tablespoon creole seasoning (see below)
1 baguette (cut into 4 sandwich sized lengths and sliced in half)
1 cup lettuce (shredded)
2 large tomatoes (sliced)
1/4 cup remoulade sauce (see below)
Toss the shrimp in the oil and creole seasoning to coat. Skewer and grill the shrimp until cooked, about 2-3 minutes per side. Assemble sandwich.
Remoulade Sauce
Blend ingredients below in a food processor until smooth.
1/4 cup mayonnaise
1 tablespoon creole mustard
1 tablespoon ketchup
1 teaspoon horseradish
1 small clove garlic
1 tablespoon lemon juice
1 teaspoon capers
1 green onion (chopped)
1/4 teaspoon cayenne pepper
1/4 teaspoon paprika
hot sauce to taste
Creole Spice Blend
2 1/2 teaspoons paprika
2 teaspoons salt
2 teaspoons garlic powder
1 teaspoon onion powder
1 teaspoon black pepper
1 teaspoon cayenne pepper
1 teaspoon dried leaf oregano
1 teaspoon dried leaf thyme
Sweet Potato Chili
Vegetarians, I have not forsaken thee!! As tempting as it was to include a meat laden chili (there are so many), I found this recipe, which uses two kinds of beans, sweet potatoes and the secret ingredient I always add to my chili – cocoa powder. Because everything is better with a little chocolate. You know it's true.
1 medium red onion, chopped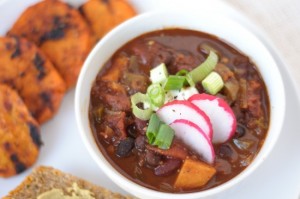 1 green bell pepper, chopped
1 red bell pepper, chopped
1 medium sweet potato, peeled and cut into 1⁄2-inch pieces
4 garlic cloves, chopped
1 tablespoon chili powder
1 teaspoon cayenne pepper (more or less, depending on how spicy you like your chili)
2 teaspoons unsweetened cocoa powder
1/4 teaspoon ground cinnamon
ground sea salt and black pepper
1 28-ounce can diced tomatoes, including the liquid
1 can black beans, rinsed and drained
1 can kidney beans, rinsed and drained
1 can vegetable broth
In a 4 to 6 quart Dutch oven or stockpot, sauté the chopped vegetables in one to two tablespoon of olive oil on medium-high heat. You'll need to stir the ingredients every few minutes so they can cook evenly. Once the onions start turning translucent, turn the heat down to medium-low. Add all of the spices and canned ingredients, and stir. Cover for about two hours, stirring occasionally. By the time your chili is done, the sweet potatoes should be nice and soft and the liquid should have reduced a bit, producing the hearty chili consistency that we all know and love.
Savory Spinach and Artichoke Bread Pudding
From Emeril Lagasse's POT LUCK
Did I mention I  ♥ Emeril?  Yeah, I thought I did. My apologies to all you lactose intolerant.
¼ cup olive oil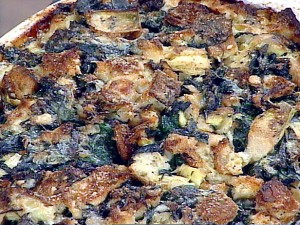 3 lbs. spinach, washed, stems removed
2 cups chopped yellow onions
1 tablespoon coarsely chopped garlic
1 tablespoon Italian seasoning blend
2 ½ teaspoons salt
1/14 teaspoons freshly ground black pepper
Three 8 ½ oz. cans quartered artichoke hearts, tough outer leaves removed
6 large eggs
3 cups heavy cream
2 cups milk
2 tablespoons fresh lemon juice
12 to 14 cups 1-inch cubed day old French bread
1 lb. Brie cheese, rind removed, cut into ½ inch cubes
½ cup freshly grated Parmesan cheese
¼ cup minced parsley
Preheat the oven to 350 degrees. Grease a 9×13-inch baking dish with 1 tablespoon olive oil.
Bring a medium pot of water to a boil. Add the spinach and cook until just wilted, about 30 seconds. Drain and rinse with cold water. Once cool, squeeze as much water as possible from the spinach, then coarsely chop and reserve; you should have about 3 cups.
Heat 1 tablespoon olive oil in large skillet over medium-high heat. Add onions and cook until golden brown and tender, about 5 minutes. Add garlic, 2 teaspoons of Italian seasoning, ½ teaspoon salt, and ¼ teaspoon black pepper and cook, stirring, until garlic is fragrant, about 30 seconds. Add the artichokes and cook, stirring another 2 minutes. Remove from heat and reserve.
Combine the eggs, cream, milk, lemon juice, remaining 1 tablespoon Italian seasoning, remaining 2 teaspoons salt, and remaining 1 teaspoon pepper in a large bowl. Whisk to combine. Add bread cubes, spinach, artichoke mixture, Brie, ¼ cup Parmesan, and parsley and stir to combine. If the bread does not absorb all of the liquid immediately, the let rest until it does, about 20 minutes.
Pour the bread pudding mixture into the prepared dish, sprinkle the remaining ¼ cup Parmesan over the top and drizzle with the remaining 2 tablespoons olive oil. Bake until firm in the center and golden brown, about 1 hour. Serve warm.
Salted Caramel Brownies
There's no better crowd pleaser than a pan of dark, moist brownies. This version shakes it up with a salted caramel sauce swirled through, which, in case you hadn't noticed, is all the rage right now. It doesn't sound like it should work, but oh it does. What may have been a salvaged accident is really a stroke of genius.  I fully expect a report from one of you on these.

5 oz. semisweet or bittersweet chocolate, chopped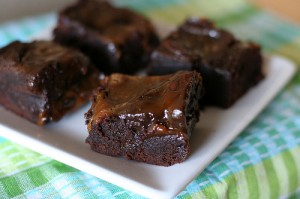 2 oz. unsweetened chocolate, chopped
1 cube unsalted butter, cut into quarters
3 tablespoons cocoa powder
3 large eggs
1¼ cups granulated sugar
2 teaspoons vanilla extract
½ teaspoon salt
1 cup all-purpose flour
Salted Caramel Sauce (recipe below)
Fine sea salt
Adjust an oven rack to the lower-middle position and preheat the oven to 350 degrees F. Spray an 8-inch square baking pan with nonstick cooking spray. Line the pan with overlapping pieces of foil and spray the foil.
Melt the chocolates and butter in the microwave on 50% power for 30-second increments, stirring after each, until melted and smooth. Whisk in the cocoa until smooth. Set aside to cool.
Whisk together the eggs, sugar, vanilla, and salt in a medium bowl until combined, about 15 seconds. Whisk the warm chocolate mixture into the egg mixture a bit at a time; then stir in the flour until just combined. Pour about half of the brownie mixture into the prepared pan and spread into the corners.
Spoon 9 dollops of Salted Caramel Sauce (recipe below) on top of the brownie batter. Top with the remaining brownie mixture, spread into the corners and level the surface with a spatula. Again, spoon 9 dollops of the Salted Caramel Sauce on top of the brownie batter. With a dull butter knife, gently run it through the batter to swirl the batter just a bit (don't do it too much or it will all mix together). Sprinkle a bit of sea salt on top.
Bake until slightly puffed and a toothpick inserted in the center comes out with a small amount of sticky crumbs, 35 to 40 minutes. Cool on a wire rack to room temperature, about 2 hours. Remove the brownies from the pan using the foil handles and transfer to a cutting board. Cut into squares. Brownies can be stored in an airtight container at room temperature.
Salted Caramel Sauce
1 cup granulated sugar
6 tablespoons unsalted butter, at room temperature
1 teaspoon fine sea salt
2/3 cup heavy cream, at room temperature
In a 3-quart saucepan, heat the sugar over medium-high heat, whisking as the sugar begins to melt. Some of the sugar will harden into clumps, but that's okay – it will melt eventually – just keep whisking.
Continue to cook the sugar until it reaches a dark amber color. At that point, whisk in the salt, and then add the butter all at once and whisk until it is completely incorporated into the sugar. Remove the pan from the heat and pour in the heavy cream (it will foam up when first added). Continue to whisk until it forms a smooth sauce.
Allow to cool for at least 10-15 minutes before using in the brownies. The leftover sauce can be stored, covered, in the refrigerator for up to 2 weeks.