---
Capricorn! How lovely, they're on time (of course). If anyone would be prompt and polite, it's this winter born clan. And so nicely dressed! Shoes all shined, crisp white shirt freshly pressed with vintage cuff links to punctuate the outfit… It's no wonder I think they're so sexy. But I digress…After all this isn't Dress Like Your Sign, so let's move on to the meal. But if they're punctuality and appearance is any indication, doubt not — these people are old school class.
Before we say anything about menu options, you should know food is but a mere part of the equation. We have now ventured into the arena of the dining experience. Capricorns will take notice of the attentive effort you've put into every detail of selection and presentation, so do it up right. Use the nice china and linen napkins (White! Please no gimmicky kind with chili peppers or lobsters) – flower, candles, place cards! Think I'm crazy? Ha, go ahead and try it. See, it doesn't matter if it's for 3 or 30 — the subtle touches, particularly the ambiance is very, very important. Music sets the mood like nothing else. It's safe to stick with the classic crooners – Frank Sinatra, Ella Fitzgerald, Nat King Cole (or should I say classy crooners). Mix in some modern throwbacks, like Harry Connick Jr., Michael Bublé or Melody Gardot (I'm listening to her right now – Google her!) All excellent choices.
Whereas your Sag guests were fearless eaters, Capricorns have a more refined palate. They have higher standards and most likely invented 'fine dining', the kind of meals carefully planned, prepared over a goodly amount of time with rich, complex, but harmonious combinations. The kind of meals belabored so beautifully the dishes arrive like individual edible art. It seems almost a crime you have to eat it, until you taste it, and appreciate the rapture of taste is better than the visuals. Like museum curators, they appreciate the classics – cocktails like a traditional martini (why, the better to show of those cuff links), a fine cut of beef prepared to perfection in a Beef Wellington or a creamy Beef Stroganoff, delicate lobster slow cooked into a seafood bisque. It takes time to make good food and you really can taste the effort. But while I think Capricorns appreciate good food, I would imagine there's also a chance that their eating is, shall we say, perfunctory? They're busy. Their plate is already full with the busy schedule of their lives, and while they won't be fast food junkies, they may just eat when they can (if they can) and move right along. Most likely they spend more time calling for reservations than in the kitchen, but still, they won't compromise – they'll find the best they can quickly, even if they have to plan ahead to make sure it's covered.
I'm also inclined to think they are prudent eaters. They won't over indulge or binge. It's rare to find a Capricorn with a weight problem, not only because they're busy, but practical. They eat when they're hungry; they stop when they're full. If they're putting on weight (rare, I would guess), they take control until the problem is solved. Years ago actor Jared Leto gained 62 lbs. to play Mark David Chapman in a film. It's not unusual for actors to gain weight for roles, but I saw an interview where I was struck by the calculated efficiency with which he gained and lost the weight (6 weeks both ways). And the process sounded more like a job – he described microwaving Haagan Daaz Ice cream pints to drink them quickly, lacing them with soy sauce to help 'bloat' him. See? He had a job to do and Capricorns really know how to take care of business.
But for those who DO enjoy the dining experience, try some of these recipes! You're guaranteed to receive a lovely handwritten thank you on their monogrammed stationary!
Crab Bisque
See, the thing about bisque is there are so many ingredients to chop and cook into the base of the bisque, which are destined to be strained and discarded. (Gasp! All that work!) It seems like a waste, but they all provide the magical foundation of flavors mellowed by saffron and cream. It's a silky start to an elegant meal.
2 (1 1/2-pound) crabs
1/2 cup coarsely chopped shallots or onions
1 cup coarsely chopped leeks
1 cup coarsely chopped carrots
1 cup of chopped tomatoes
1 clove of garlic
1/2 tsp saffron
1 tbsps of olive oil
1 cup heavy cream
1/2 cup white wine
1 tsp freshly ground black pepper
2 tbsps cornstarch
1 tbsp sugar
chives for garnish
Fill a large stockpot with 3 cups of water and bring to a boil. Place the crabs in the water and steam for 15 minutes. Discard the water. (you can also save 1-2 cups of this original stock if you want a stronger crab taste). Remove crab meats from the body and claws. Save the shells.
Place 5 cups of water in a clean stockpot and turn on high heat. Put the shells in the stockpot and cook for 30 minutes. This should yield 4 cups of crab stock. Add olive oil to a large sauté pan and turn on medium heat. Add the garlic, shallots, leeks, carrots, tomatoes, and saffron and sauté for 20 minutes.
Add 4 cups of strained crab stock to the sautéed vegetables. Turn down heat and simmer for 30 minutes. Press entire contents of sautéed pan through sieve into a clean sauté pan (discard contents of sieve!).
To finish the bisque, add heavy cream slowly, using whisk to blend. Add white wine. Simmer on low heat for 15 minutes; bisque will thicken slightly. Mix cornstarch with 1/4 cup water and slowly add to bisque with whisk. Simmer on low heat for another 15 minutes. Add pepper and sugar (more if you like a sweeter taste). Place pieces of previous cleaned crab meat in bowl and add 1 cup of bisque.
Watercress, Pear, and Goat Cheese Salad with Sherry Vinaigrette
Watercress has a nice spicy bite to it, blended with the sweet crunch of pear, tart cherries and of course the best cheese ever to honor the goats themselves. (It IS the best cheese, you know it.heaven on a plate!)
3 firm but ripe Bartlett pears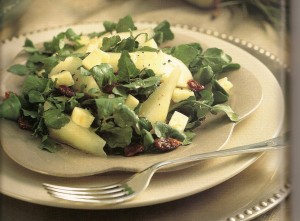 Juice from ½ lemon
2 – 3 bunches watercress, long stems removed (about 8 cups)
½ cup moist dried pitted sweet cherries
For Vinaigrette:
6 tbsp extra-virgin olive oil
2 tbsp sherry wine vinegar
½ teaspoon salt
Ground pepper to taste
5 oz. semi-firm mild-aged goat cheese, cut into small pieces
Peel, halve and core the pears, then cut each half into 4 wedges. As the pears are cut, place them in a large bowl and sprinkle with the lemon juice. Add the watercress and cherries. To make the vinaigrette, in a small bowl, whisk together the olive oil, sherry vinegar, salt, pepper until blended. Drizzle the vinaigrette over the watercress mixture, then toss to coat evenly. Divide the salad evenly among individual plates. Add the goat cheese to the salads, distributing evenly. Serve immediately. Serves 6
(TIP! Chill the salad plates prior to serving. It will keep the salad fresh long, and show that once again, you put in the extra effort. They'll see you as the expert that you are!)
Herb Crusted Beef Medallions with Red Wine Sauce
2 large shallots, chopped
1 cup Zinfandel or other full-bodied red wine
2 cups beef broth
2 tbsps plus ½ cup bread crumbs
1 teaspoon unsalted butter
3 tbsps chopped fresh flat leaf parsley
1 tbsps EACH chopped fresh thyme and sage
1 egg white
4 fillet mignons, trimmed, each 5 oz and 1 1/4 inches
Salt & ground pepper to taste
In a heavy saucepan over medium heat, combine the shallots and wine. Bring to a boil and boil until the liquid has evaporated, about 20 minutes. Add the broth and boil until reduced to ¾ cup, about 20 minutes longer. Remove from the heat and pour into a blender or food processor. Add the 2 tablespoons bread crumbs and the butter and puree to form a smooth sauce. About 10 minutes before the sauce is ready, in a small bowl, stir together the remaining ½ cup bread crumbs, the parsley, thyme, sage, and egg white.
Heat a large frying pan over medium-high heat. Coat the pan with nonstick cooking spray. Season the beef medallions with salt and pepper and add to the pan. Sear, turning once, about 2 minutes on each side. Remove from the pan and press the herb mixture onto one side of each medallion.
Again coat the pan with cooking spray and return to medium-high heat. Return the medallions to the pan, crumb sides down, and cook until golden and the meat is medium-rare, about 2 minutes.
Remove from the heat. Ladle the pureed sauce onto warmed (again, you'll impress!) individual plates, dividing it evenly. Place the beef medallions, crumb sides up, on the sauce. Serves 4
Terrine of Winter Kale and Yukon Gold Potatoes with Sausage
This hearty dish uses winter vegetables fresh at the market during Capricorn birthday months. This is the kind of dish that pleases both the palate while being ready for its close up. If you have vegetarian guests, you can substitute meatless sausage for chicken and make the animal lovers as happy as the carnivores.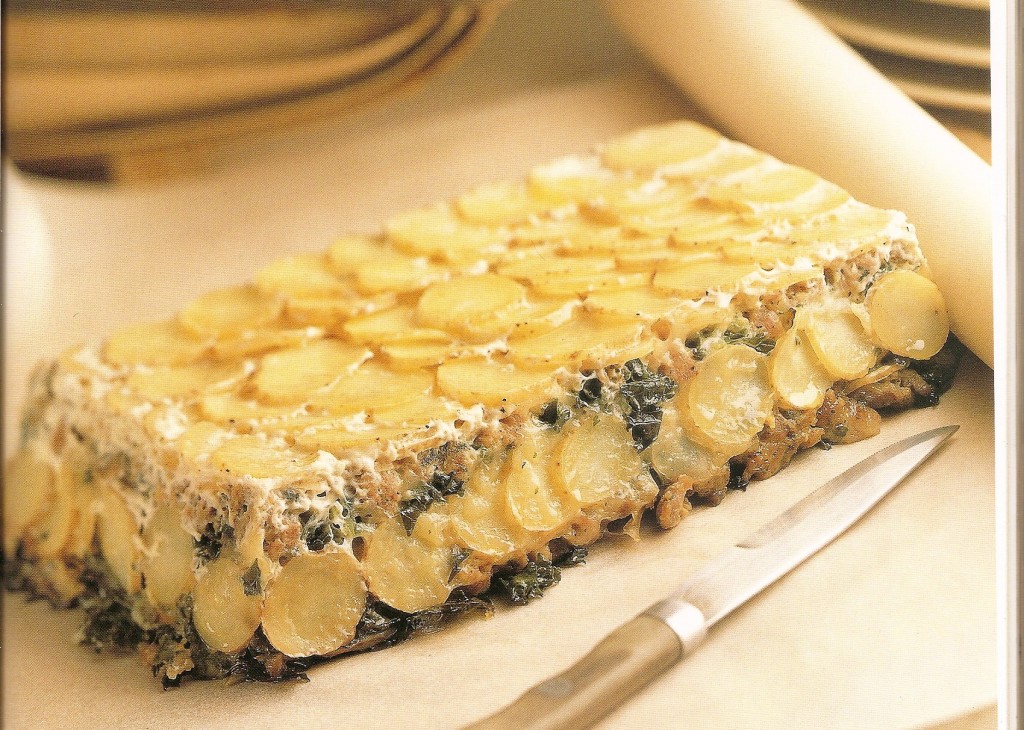 1 clove garlic, lightly crushed
6 ½ tbsps unsalted butter
½ lb. spicy chicken sausages, casings removed
2-2 ½ lbs. Yukon gold or red or white new potatoes, unpeeled, thinly sliced
Salt and ground pepper to taste
1 bunch kale, trimmed and coarsely chopped
2 oz. Monterey Jack cheese, shredded
½ cup milk
Preheat an oven to 350 F. Rub the bottom and sides of a 2 to 2 ½ quart rectangular baking dish with garlic, then grease it with about ½ tablespoon butter. Crumble the sausage into a frying pan and cook over medium heat, stirring occasionally, until lightly browned, 5-7 minutes. Using a slotted spoon, transfer to paper towels to drain.
Cut the remaining 6 tablespoons (3 oz) butter into bits. Make a layer of one-third of the potato slices, overlapping slightly, in the bottom and along the sides of the prepared baking dish. Dot with about ½ of the butter and sprinkle with salt and pepper. Top with 1/3 of the crumbled sausage, 1/3 kale, and1/3 of the cheese. Repeat the layers twice, ending with a layer of cheese. Dot with the remaining butter, then pour the milk evenly over the top. Cover the dish tightly with aluminum foil.
Bake until the potatoes are very tender with pierced with a knife, about 1 hour. Remove from the oven and let stand for about 10 minutes.
To serve, run a knife along the sides of the terrine and invert it onto a cutting board. Cut into slices 1 ½-2 inches thick and transfer to warmed individual plates. Serve immediately. Serves 4-6
Bittersweet Chocolate Soufflé with Earl Grey Custard Sauce
Capricorns won't be big on dessert – trust me. But every fine meal needs to be brought in for a soft landing. Souffles are a perfect choice, and easier than you'd think. But they do take time, and a delicate touch — Betty Crocker mix you will not find. This version rests the airy dessert on a sea of Earl Grey infused custard.
Sauce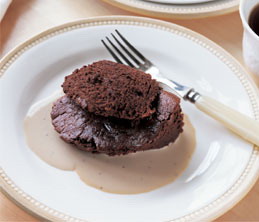 6 large egg yolks
2 tablespoons plus 1/2 cup sugar
1 1/2 cups whole milk
1/2 cup whipping cream
1 tablespoon Earl Grey tea leaves (from 3 tea bags)
Soufflé
1/3 cup whole milk
8 tablespoons sugar
2 1/2 ounces unsweetened chocolate, chopped
2 1/2 ounces bittersweet (not unsweetened) or semisweet chocolate, chopped
2 large egg yolks
5 large egg whites
Whisk egg yolks and 2 tablespoons sugar in medium bowl to blend well. Combine milk, cream, tea leaves, and remaining 1/2 cup sugar in heavy medium saucepan. Bring to simmer over medium heat, stirring until sugar dissolves. Gradually whisk hot milk mixture into egg yolk mixture; return to same saucepan. Stir over medium-low heat until custard thickens enough to leave path on spoon when finger is drawn across, about 8 minutes (do not boil). Immediately strain sauce into small bowl. Refrigerate uncovered until cold, at least 4 hours. (Can be made 1 day ahead. Cover and keep refrigerated.)
Preheat oven to 375°F. Generously butter 6-cup soufflé dish; coat dish with sugar. Combine milk and 5 tablespoons sugar in heavy medium saucepan. Stir over medium-low heat until sugar dissolves and milk comes to simmer. Remove from heat; add both chocolates and stir until melted and smooth. Whisk in egg yolks.
Using electric mixer, beat whites in medium bowl until soft peaks form. Gradually add 3 tablespoons sugar, beating until stiff but not dry. Fold whites into warm chocolate mixture in 3 additions. Transfer mixture to prepared dish.
Bake soufflé until just set in center and top is puffed and cracked all over, about 32 minutes. Serve soufflé immediately with custard sauce.