---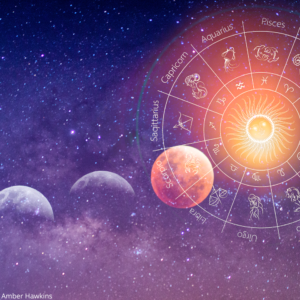 A new lunar cycle commenced with the Moon conjuncting the Sun at 1° Aquarius on January 21 at 12:53 pm PT. Archetypally, the New Moon represents a time for fresh beginnings and new opportunities that bring the potential for growth and change. This New Moon is particularly interesting since it is the first one without retrograde planets between the Sun and Saturn in quite some time. Six planets were retrograde in September, an extremely rare occurrence, followed by the Mars retrograde and then Mercury.
Uranus is now the only planet retrograding, but it is stationary and turns direct at 14° Taurus only 13 hours after the New Moon peaks. This amplifies the Uranian impulse to disrupt and break free of constraints, even more so during this lunar cycle as Uranus rules Aquarius. When we consciously direct an intense need for liberation towards our internal programming and belief systems, it frees us to become our own authority, to make different choices that recalibrate the trajectory of our future, and to put the full force of our empowered soul in service to humanity. Striving to remain grounded as we explore our potential and new opportunities will help us see where our focus and effort will be best placed.
As we enter this lunar cycle, we may feel revitalized and energized to fulfill the intentions we set over the last seven months. This New Moon occurs at an early degree of Aquarius, which symbolizes the start of a fundamentally new chapter. Furthermore, the Moon is sextile Jupiter in Aries, inspiring us to gain momentum and achieve our objectives. The abundance of astrological principles signifying "all systems go" is palpably present during this time. As the retrogrades recede into the distance, we will feel this shift allowing for progress in the aftermath of recent obstacles.
The chart for the New Moon also features a Venus/Saturn conjunction. One concept that can describe this is Practical (Saturn) Aesthetics (Venus). The time has come for us to establish our workspace and organize our homes to begin completing our tasks with a sense of preparedness. Aquarius is the archetypal networker, making this an ideal time to discuss what we are doing with friends and associates and learn about their projects. The conjunction becomes exact at 24° Aquarius on January 22 in sync with the Uranus station, taking us through yet another symbolic portal of new beginnings. Venus represents our values and challenges us to be at ease in our relationships without compromising who we are. Saturn represents the structures we build in life and challenges us to persevere in our efforts to learn, to act with integrity and take responsibility for the life we are living. Reflecting on what happened over the course of the last cycle, as well as where the conjunction landed in our respective birth charts (having occurred at 21° Aquarius on March 28, 2022), may help us formulate the intentions we want to set for this new cycle with respect to determining what is most important to us, how we can be more present in our relationships, and mastering "our office" in life.
Lastly, Mercury in Capricorn and Mars in Gemini are inconjunct, which requires constant adjustment between how we are perceiving situations and what we do about them. Remaining spontaneous and open to innovative ideas as situations unfold can help us navigate the quickening flow of activity with clarity and agility. As the themes and influences of this lunar cycle develop, we may find ourselves operating with an entirely new perspective.