---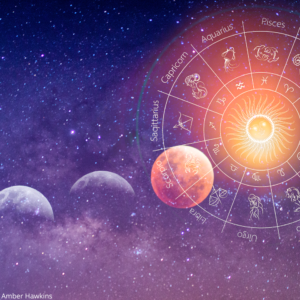 The Third Quarter Square of the current lunar cycle unfolded on August 18 at 9:36 pm PDT, with the Sun square the Moon at 26° Leo/Taurus. This phase, often called a "crisis of consciousness," is when we must recognize whether our strategies are working or not. We are challenged to take responsibility for our decisions and actions while being impartial in our evaluations. We can also feel the energy decreasing as we begin to let go of the present cycle while making the final push.
The chart for this alignment features a tight conjunction between the Moon and Mars, which suggests we may feel amplified emotions and a strong urge to act. Given that six planets are in fixed signs, it will be necessary to slow down and concentrate on making steady progress. The Moon/Mars conjunction in Taurus can be thought of as a highly disciplined military person who embodies the qualities of resilience, stability and skill. In the same way, the Taurus/Leo combination emphasizes the need to maintain a stable foundation from which we can express creatively. As we continue to develop our capacity for patience, focus and self-discipline, we can put effort into refining what we've created during the cycle. The tense T-square configuration involving Saturn with the Sun, Moon and Mars throughout the cycle peaks again at this time, extending the emphasis on being responsible as well as resourceful with whatever limitations we may be experiencing.
Leading into the Third Quarter Square, the Moon activates Uranus, which is nearly at a standstill and will turn retrograde on August 24. Uranus at this laser-focused pivotal moment is energetically powerful and can correlate with internal revelations that motivate unexpected changes. As a counterpoint to potential Uranian volatility, Moon/Mars also trines Pluto in Capricorn which can bring clarity on how we truly feel and give us strength and determination to deal with challenging matters. Mercury in Virgo completes a flowing and productive grand earth trine with Moon/Mars and Pluto which offers our final push a feeling of grounded nimbleness amidst increased activity. Creativity is often at its most magical when we apply our talents in spontaneous ways as befits the moment.
Both Mercury and Mars enter their "shadow" zone during this phase, signaling their upcoming retrogrades and intense focus in the degree space they will traverse three times. Mercury in Virgo enters its shadow on August 20 and turns retrograde on September 9 commencing a review of our manner of expressing how we perceive what we are experiencing. Mars entered Gemini on August 20, will enter its "shadow" on September 3 and turn retrograde on October 30. Mars retrogrades only once every two years, so it is highly impactful with respect to our manner of self-determination, energy output and how we act (or not act) to fulfil our desires. It also puts a spotlight on the impact our actions have on others. Mars remains in Gemini for seven long months, suggesting a quickening of communicating, networking and information gathering, and the corresponding need to accelerate our ability to internally process it all. The challenge is to remain discerning about what deserves our attention and what is a distraction. Quality information can help us formulate a more holistic view, which in turn leads to better and quicker decisions.
This week ask yourself: How can I exercise discipline within my creative endeavors? How can I determine what is most important to focus on during times of increased activity? What motivates me to act and how do I find balance between my needs and those of others?