---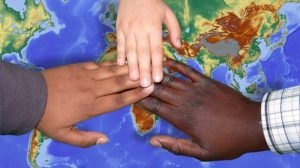 Jupiter and Saturn regularly conjunct every 20 years and set the tone for our socio-political and economic life for that period. While each of these conjunctions have distinct astrological signatures that can describe the tenor of the following 20 years, this particular conjunction is one of the most unusual in many centuries and very possibly far more than that. I can say that I believe this conjunction will be one that astrologers and each reader of this article will talk about and be affected by for the rest of our lives. Before I describe the possible meanings of this grand conjunction, I will explain why this particular one is so different.
The conjunction will take place on December 21, 2020 at 10:21am PST at 0° Aquarius. There are four distinct reasons why this conjunction signifies a movement into a very different new cycle for humanity, which are as follows:
It takes place at 0° of a Sign. This is important because 0° represents the beginning of a major new cycle consistent with the nature of that particular Sign. All future degree's stem from this one as a new archetype is being introduced into our world.
The grand conjunction in Aquarius will be the first one in an air sign for 10 more conjunctions that will last for almost 200 years. According to Jim Schultz, author of our AstroWatch series, Jupiter-Saturn conjunctions tend to be in one element for many years. The last series has been in the Earth Signs, but this one marks the beginning of 10 conjunctions in Air Signs, the last of which takes place on April 7, 2199 which will be at 28° Aquarius.
The Grand conjunction takes place on the first day of winter, when the Sun will be at 0° Capricorn. The fact that it is at another 0° point is significant, but in Capricorn makes it extremely important. The reason is that most astrologers use the moment that the Sun ingresses into Capricorn as the chart that is used for the entire year. This is used because this marks the beginning of the Sun's return northward after moving southward ever since the first day of summer. In other words, astrologically it is thought to be the true beginning of the new year.
The last reason why this Grand conjunction is so unusual is the one that is getting the most publicity. It has been commented on in the newspapers, magazines, YouTube, and internet for many months. For the first time since March 4, 1226 Jupiter and Saturn will be lined up so closely that it will look as if they have merged and have become one planet. This last happened 794 years ago. A little-known fact is that when astrologers refer to the location of a planet they usually refer to longitude only, which is how far along the ecliptic a planet is. But, that is only one of two measurements. There is also the measurement of declination which is how far north or south a planet is from the equator. When the longitude and declination coincide, the two bodies appear from earth to be united as one. We see this when there is a Total Solar Eclipse. I believe this will be an amazing sight to see for all of humanity. In fact, for a while maybe people will stop thinking so much about politics and look at the sky with wonder and awe for what it might be telling us.
Please take a moment to hold these ideas in your thoughts: that all four of these factors, any one of which is important by itself, are happening at the same time. See if you can feel this, if only for a moment. Is it alive in your imagination?
To me, this suggests a very new shift in the underlying tone of our world. It might even signify the real beginning of the Aquarian Age that astrologers have been looking forward to for decades. What might this mean?
Let's start by looking at the nature of Jupiter and Saturn. To me they represent a polarity where Jupiter rules the principle of expansion of one's consciousness through social engagement while Saturn represents the principle of responsibility and consequences. Together, they balance the imagination of what's possible with realism and practicality. If imagination expands too far or fast, Saturn will demand one slow down and get real. And, if Saturn is too rigid or restrictive, Jupiter will push one to expand beyond any excessive, self-created limitation.
Now we can examine the meaning of Aquarius. Many years ago, a close Aquarian friend described his Sun Sign the following way: "Aquarius loves humanity, it's people they can't stand." Pretty funny, I thought at the time. Since then, I've told this story in my classes and, at least so far, no person with their Sun in Aquarius has ever disagreed with that statement. In fact, they've mostly laughed and felt their secret had gotten out. Maybe one of my readers will be the first to disagree.
To me Aquarius, is truly social, but not intimate. While it seeks social connection, it's the kind that often operates in groups where there are shared social concerns. Great value is placed on the rights of the individuals, which is why they are often found in conservative political circles. At the same time, enigmatic Aquarius is often progressive in terms of letting people live the way they want. Aquarius is a fixed air Sign, suggesting that once its mind is made up, it can be difficult for it to change. They can be found in both the conservative and progressive parties and, in my experience, cannot be stereotyped.
To express it more succinctly, many Aquarians feel a push-pull about social interaction. On one hand it is desired and needed, but on the other, it must never require one to lose their right to independent thought and action. One close friend loves to go to social parties, but always takes their own car so they can leave whenever they want. Another Aquarian friend once said this in a more extreme way by saying that if he couldn't be himself, he would prefer to live in exile.
However, as an air Sign it is capable of coming up with very unique ideas and solutions to social problems and can be years ahead of their times. It is likely that a new, younger generation will be coming into politics in the coming years, many of whom will be fundamentally different in both ideas and in tone, as they find ways to become involved in the socio-political world. This will inevitably include the LGBTQ community as Aquarians tend to be much more inclusive and tolerant than other signs. Lastly, I think we will see a tremendous increase in the number of Aquarians entering our social, economic and political scene. In fact, it is already happening.
Also, Jupiter and Saturn together rule the rise and fall of social movements. In this case, when so many new cycles are beginning, I think it's likely that new social movements will either gain momentum or that new ones no one can yet see coming, will develop. Saturn seems to usually want to curtail or resist new changes. It often represents the principle of automatic rejection of anything new. This is because Saturn also rules tradition, those time-tested factors that make our reality seem stable and certain.
There is a give and take between Jupiter and Saturn. For example, if a progressive law is passed, such as making gay marriage legal (Jupiter rules legislating or making laws) there still can be great resistance to this from Saturn, which takes a stand for religious freedom or the right to not make cakes for gay weddings. When a society is struggling with changing values, norms and mores, our socio-political life can become very erratic and even crazy. Does this sound familiar?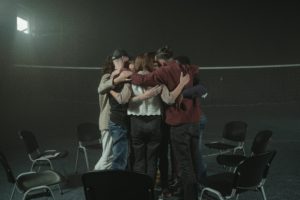 To extrapolate on what this might mean given that the conjunction is taking place in Aquarius, I would guess that one new social movement that could expand is communal living between friends or those with whom there are shared values. This could include 'green communities,' where money is replaced by other systems of value that allow everyone who wants to contribute to be seen as equal to the others. Just letting my imagination play.
I would love to hear your comments on what you think this new phase of human development might mean for you and us.