---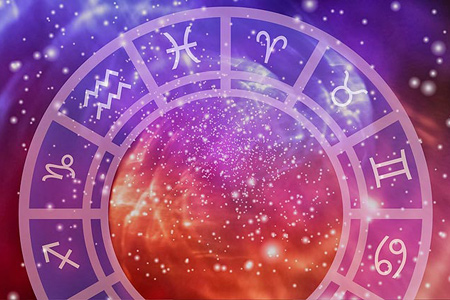 While the Solar Eclipse and its close association with a particularly rambunctious alignment between Mars, Jupiter and Uranus dominates this week's cosmic news, the ingress of Mercury into Pisces on the Eclipse eve of February 25th may presage a certain surreal quality to the coming days. Intuitive and imaginative, Mercury in Pisces represents our perceptions and modes of communication tuning into other realms for inspiration and direction. Mind melding with others is a definite possibility, or at least having a greater sense than normal of what another is thinking. This may be a real asset when the turbulence of the upcoming aspects hits the earth plane.
The Moon enters Pisces less than two hours after Mercury, joining the Sun and Neptune there for a total of four astral bodies in this highly sensitive water sign. Moving into its conjunction with the Sun on February 26th, the New Moon at 8° Pisces is a highly charged Solar Eclipse that is hard wired to bring about dramatic change. Everything can seem to be shaking now, and while it is quite normal to hold on tight to what we know, if we can remain spontaneous and open to the unknown, that state will grant us access to the new opportunities sure to be presented.
Two factors tell me there is a likelihood of internal and/or external shifts. Eclipses in general are known as change agents, but this one in particular has the lineage to back it up. The ancient Babylonians discovered that eclipses come in series which came to be known the "Saros Cycles." The astrologer Bernadette Brady wrote extensively on them and describes the "Saros Series 19 South," of which this eclipse belongs, as having "the element of the pleasant surprise."  She writes that there can be "Sudden happiness, a joyful event, the lucky break, the lucky win. The events which will be occurring can be believed and can positively change the person's life." The Babylonians recognized that the "birth chart" of the original eclipse in each series contains characteristics that appear in every eclipse in that series.
The following paragraph is written for the astrologers among you who might like to know more about how the 19 South series was interpreted. The main attributes that pertain to the above description are based on a Venus/Jupiter conjunction relating to a fortunate event or encounter, and Uranus at the New Moon/Jupiter midpoint which implies what transpires will be unexpected in a very big way. The Venus/Jupiter conjunction in the series' birth chart is also square Pluto, which adds a transformational quality to that lucky break. Imagine a sudden click inside that makes you think in a completely different way. Of course external events can happen, which by the way may or may not initially be perceived as fortuitous for the effects thereof eventually to be so, but real, lasting change always begins within. This is the DNA of 19 South.
Synchronized with the Eclipse is the great ignition switch Mars in Aries moving into a conjunction with Uranus while both will oppose retrograde Jupiter in Libra. This turbo boost to an already highly disruptive alignment adds the second wild card to the week. The Mars/Uranus conjunction in Aries represents a liberation movement that is fiery and fears no consequence. Mars provides the willpower and Uranus an innovative approach. In Aries, the Mars/Uranus planetary pair archetypally represents a highly driven pioneering spirit in uncharted territory where no rules exist, only raw ingenuity. When confronted by Jupiter in Libra, that spirit is drawn into the world of others where its vision and philosophy expands beyond a purpose which serves only the self. Partnerships, significant relationships with others, and societies at large may experience breakthroughs under this Jupiter/Uranus signature aligned with the deeply compassionate New Moon Solar Eclipse in Pisces.
While Mars' influence in this configuration will wane within a couple weeks, the Jupiter/Uranus opposition will remain in effect for most of 2017. March 2nd is the second of three exact oppositions, the first being December 26, 2016 and the third on September 27, 2017, so at this point we are seeing a more robust yet not fully developed manifestation of the chaos and disorder to be expected with these colliding archetypes. It would be wise to keep an open mind about what is being shaken up at this time. There is a lot of dysfunction in this world and anything that cracks the rigid constructions of conventional thought that keep it that way is worth celebrating, no matter how painful it may seem in the beginning. All of it is necessary from an evolutionary perspective. Paradigm shifts often come with pain and suffering due to resistance.
The last in this series in Pisces until 2035, this 2017 19 South eclipse is conjunct Neptune, doubling down on the Pisces vibration of endings that takes in all that came before and alchemically extracts its golden essence to form the seed to be birthed in the next cycle around the zodiac commencing in Aries. When the Sun moves into its exact conjunction with Neptune on March 1st, it will take effort not to retreat from the harsher realities of life, but if we can stay alert to What Is, the psychic nature of this alignment in Pisces should provide the still eye-in-the-storm state required to navigate the current turbulent astral weather system. Change indeed is in the air.
Here's the data (using Pacific Time and planetary positions rounded to the nearest whole degree, unless otherwise noted):
          February 25 – Mercury at 0° Pisces at 3:08 p.m.
          February 26 – Moon conjunct Sun (New Moon Solar Eclipse) at 8° Pisces at 6:58 a.m.
          February 26 – Mars conjunct Uranus at 22° Aries at 4:17 p.m.
          February 27 – Mars opposite Jupiter at 22° Aries/Libra at 6:24 a.m.
          March 1 – Sun conjunct Neptune at 11° Pisces at 6:45 p.m.
          March 2 – Jupiter opposite Uranus at 22° Aries/Libra at 5:19 p.m.