---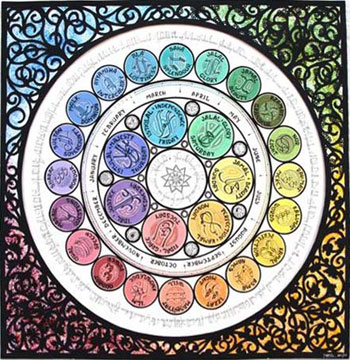 Feminine, nurturing Cancer opens her heart to the Sun as he enters her domain on June 21st, marking the Solstice and a change of seasons.  Cancer is the archetype of the Mother and the Healer, ruled by the receptive Moon and characterized by the element of sensitive water.  Being of the cardinal mode, Cancer also represents the power of new beginnings.  The Sun here is softened, in distinct contrast to Gemini's wired intellectualism.  He is supportive of others.  He feels you.  Considering the tumultuous energies of late, we should welcome this opportunity to tend to wounds of all varieties by sitting down with loved ones over a cup of tea to pour our hearts out.  There is nothing more bonding than being completely open and honest in the presence of other, allowing them to witness the challenging lessons we're in the process of learning on the path of life.  The Sun in Cancer beams down loving energies that soothe painful memories.  He welcomes anyone looking for a safe and comforting home, and will offer up endless bowls of chicken soup for the soul.  Jupiter has been in Cancer since last June, expanding our awareness of family and security, heightening our sensitive natures, and encouraging our desire to help others.  As the Sun joins Jupiter for his last days in this tender sign (the planet of abundance enters Leo on July 16th), may we expand our ability to care for others and be open to receiving a little TLC ourselves.
Marking another energy shift on June 23rd, Venus leaves placid Taurus behind and plugs into stimulating Gemini where she relishes making new connections to share a multitude of ideas.  She is more apt to flirt than seduce in this jumpy air sign, and can change her mind quickly as she gathers information about her new relationships.  To get into her heart, however, all you need to do is talk… and listen.
Receptivity may give way to reactivity when Mars in Libra opposes Uranus in Aries on June 25th.  Having squared power hungry Pluto in Capricorn on June 14th for the third time since January of this year, Mars now makes his third and final opposition to the rule breaker of the sky, putting a pin in the era-defining 2012-2015 Uranus/Pluto square.  Uranus in Aries, the sign Mars rules, takes on the warrior planet's impetuosity and drive for pioneering freedom.  Go-it-alone Mars may be at a bit of a disadvantage acting through diplomatic, always-thinking-of-other Libra, but when he connects with Uranus in this face-off configuration, he may awaken and take the dare to act boldly, decisively and without forethought of consequences.  This does not mark the end of Mars' confrontational interaction with the Uranus/Pluto square as he activates it again from Capricorn in November and then from Aries during its finale in March 2015.  Once his Libra leash is off, it could get a lot more interesting.
The Cancer New Moon on June 27th dares us, in an encouraging sort of way, to honor the feminine principle.  This annual coupling between the Moon and the Sun in this maternal sign celebrates the creativity of birth as well as the life that lives thereafter.  The Moon understands that once a baby leaves the protective womb of the mother, it is important for the newborn soul to feel a sense of belonging.  The Sun here empowers the Moon with his will to nurture all souls through the growth process.  During this new lunar cycle we may shift our awareness to what it means to be a part of the human family, to see caring for all our tribe members as an essential part of what it means to be on this planet.  Being cared for generates a feeling of sublime security that empowers through the energy of love through which all is given.  Throughout the ages, women have been the glue that holds the tribe together and ensures its longevity.  During this lunar cycle may we stand up to our patriarchal conditioning and bring balance back to nature and our lives – to be more receptive, more collaborative, and to acknowledge intuition as imperative a skill as logic.
Infusing the feminine imperative with divine support, the New Moon is leaning in to all-inclusive Neptune in Pisces, tuning us into the sea of consciousness that honors all, loves all.  The highly sensitive trine aspect between the Sun, Moon and Neptune turns on the imagination and sees the pure potential in all.  Feelings filter through all boundaries to give us a heightened sense of what it is like to be other, and in that moment we experience waves of compassion.  When the Sun's trine to Neptune becomes exact on June 29th, Venus in Gemini squares Neptune only minutes later generating a strong undertow, perhaps to re-introduce into our relationships the ability to de-identify with them so that we may be able to see the reality of them in the moment.  Maintaining discernment is essential with all Neptune contacts lest we settle for idle fantasies of what we'd like to be rather than making the effort to accept who we are.
That shift in our point of view may occur on July 1st when Mercury stations direct in Gemini.  Pivoting from looking back to eyes full forward, the internal dialogues we've been having will once again quiet down.  Fortified with our new perspective, we will resume communications with a new sense of normal.  Mercury is as strong as he can be in the sign he rules and he'll motivate us during his last twelve days in this breezy sign to make a multitude of connections and share with pure delight the smorgasbord all life has to offer.
When the Sun in Cancer opposes Pluto in Capricorn on July 4th we may pause from the celebration of variety to pay attention to anything having to do with power.  If we turn our attention inward we may recognize the source of our own power residing deep within our core.  We may be compelled to ask ourselves, how can we possibly access that which is so great we feel we would not survive the tremendous force that would be unleashed if we even gave it a glance?  Our superficial ego nature is unable to even acknowledge its real potential for fear of annihilation.  Are we so afraid of our own power that we would be satisfied living a "normal" life?  Can we continue day after day ignoring the occult knowledge handed down through the ages via secret societies?  Why are we not clamoring for this profound knowledge that was so closely guarded only a select few were given access to ensure it did not fall into corrupt hands?  Why were Mystery Schools allowed to become basically extinct in modern history?  Even with the advent of the New Age movement, wholesale revelations became available in watered down, commercialized, easily digestible bites.  Any serious attempt at reviving the esoteric traditions may be ridiculed in the modern media but the sincere student quietly persists, relentlessly dedicated to pursuing the ultimate degree from the University of the Larger Consciousness System.
Acceptance of what is will open the door for us to connect to the power of love.  When Venus in Gemini sextiles Uranus in Aries on July 6th, they will generate the energy for embracing everything, no matter how different it is from what we think should be.  This sparkling duo could manage to break up conventional considerations regarding our relationship choices to widen the diversity of our contacts.  From the bohemian to the outright radical, surprising new interactions have awakening potential.  This is an opportune time to get out and mingle where art and innovation are on everyone's lips.
Here's the data:
**Times where noted are Pacific Daylight Time.  Degrees where noted are rounded to the nearest whole degree.
June 21st:       Sun at 0° Cancer at 3:51 a.m.
June 23rd:      Venus at 0° Gemini at 5:34 a.m.
June 25th:       Mars opposite Uranus at 16° Libra/Aries at 1:25 a.m.
June 27th:       Moon conjunct Sun (New Moon) at 6° Cancer at 1:08 a.m.
                       Moon trine Neptune at 7° Cancer/Pisces at 4:53 a.m.
June 29th:       Sun trine Neptune at 7° Cancer/Pisces at 12:23 a.m.
                        Venus square Neptune at 7° Gemini/Pisces at 12:31 p.m.
July 1st:           Mercury stations direct at 24° Gemini at 5:50 a.m.
July 4th:          Sun opposite Pluto at 12° Cancer/Capricorn at 1:00 a.m.
July 6th:          Venus sextile Uranus at 16° Gemini/Aries at 11:49 p.m.