---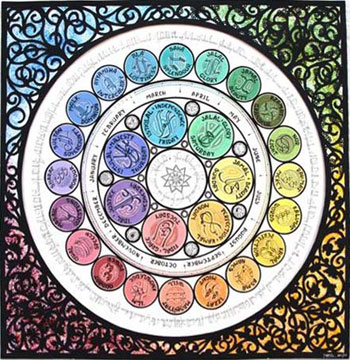 Krishnamurti offered up what may be the quintessential purpose for Gemini at the time he sent this thought form out into the ethers: "The ability to observe without evaluating is the highest form of intelligence."  As the Sun enters Gemini on May 20th, may we invoke the words of the great spiritual philosopher who was born when transcendent Neptune and transformational Pluto were conjunct in the ultimate sign of perception.  May we set on the path of experiencing all that we see with an open mind and heart, taking in and sharing forward the immensely diverse gifts of this life.  May nothing escape our awareness and may our capacity to witness take us beyond thinking to pure insight.  As we move through the days ahead, may we reach beyond the dualities of good/bad, happy/sad, rich/poor, order/chaos to gather the nectar of all that is before us and in return pollinate the souls of those we touch with the joy of unlimited understanding.
Joining us to the observation deck, Jupiter in Cancer and Saturn in Scorpio enter into their third and final trine in sensitive water signs on May 24th.  This productive alliance between the planets of expansion and responsibility may have seen our respective plates brimming over since it has been in effect over the past year, giving us the opportunity to increase our authority as well as our capacity to handle more.  Perhaps the scope of our work has increased, or we are more able to dive deeper into our relationships, or we've intensified our study of esoteric subjects.  Looking back to last summer, we may see how we've learned to utilize the assets at our disposal and empower others in our tribe of choice to partner in our endeavors.  The harmonious Saturn/Jupiter relationship was augmented by trines to boundless Neptune last summer, and trines to healing Chiron in effect this month and next, creating highly supportive grand water trine configurations bookending this cycle.  Has this planetary assistance above opened our eyes to the practical resources available to us below so that we can begin establishing our individual and collective visions?  Has it expanded our skills or the structures within which we work?  Saturn in Scorpio is teaching us how to tap into our power without fear, and to be accountable for how we use it.  Jupiter in Cancer is teaching us to have faith in our human family and to safely grow through the careful nurturing of our biosphere home.  While there is plenty of turbulent activity on the planet associated with 2012-2015 Uranus/Pluto square cycle, the cross current of the Jupiter/Saturn trine has brought a stabilizing force that has manifested in the steady expansion of world markets, increased dialogue on global climate change, advancements of women in leadership, expanded rights for same-sex marriage, and a groundbreaking new Pope who is known for building bridges between people of all faiths.  Although there are plenty of "but" arguments in all of the above, from the detached standpoint of the stars, the Jupiter/Saturn philosophy of stability inserted into the Uranus/Pluto agents of change playbook served to balance the focus on radical revolutionary behavior with steady evolutionary movement.
As the march of time segues into calmer energy patterns, the language of love may spring from everyone's lips on May 28th when Mercury sextiles Venus.  Together, this planetary pair has the potential to sweet-talk us into anything, especially if beauty, art and poetry are part of the package.  They hook up in the last degree of their respective air and fire signs, coaxing out our curiosity and courage to engage.  Before they each make the transition into a new sign, they infuse the moment with perspectives gleaned from their recent travels: for Venus in Aries, on the unfettered freedom to love, and for Mercury in Gemini, to see everything as it is.
To observe and report is the mission of the Gemini New Moon, also on May 28th.  Ruled by Mercury, the Messenger of the Gods, Gemini is the energetic equivalent of a door opener.  With a strong Gemini principle operating, we are given access everywhere to interact with anyone regardless of his or her station.  The Sun and the Moon, respectively representing the gravitational center of our being and our emotional intelligence, unite in the sign of the Journalist to inspire us to walk through our experiences as neutrally as possible with the aperture of awareness open wide to allow our physical senses as well as our non-corporeal based consciousness to record unfiltered the full stream of data we encounter.  This New Moon is in a near perfect square to Neptune in Pisces, connecting us with not only to the rational world of mental bits and bites, but also the ethereal world of the soul where holograms replace zeros and ones as the preferred method of presenting data.  This alignment challenges us to take cloud computing to a whole new level and could make us feel like we're straddling the frontier between the protective heliosphere of our solar system and interstellar space where galactic rays resonate with the download of the program for this new lunar cycle.  Spanning the vastness between our logical earthly dimension and other dimensions we rarely experience except in our dreams, we would do well to pay attention because that's where magic happens.
Still in the poetic glow of her encounter with Mercury under the imaginative New Moon, Venus's adventures in Aries comes to an end by dusk on May 28th when she enters the gateway to her natural domain of Taurus.  While relationships may not have the constant spark of excitement associated with the cardinal fire sign, their assets are revealed in simple, sensual expressions.  Basking in peace and surrounded by beauty, Venus in Taurus savors the soft touch, the sound of a lover's heartbeat, and harmonic melodies carrying words of love that inspire us to dance in the starlight.  At her highest potential, she has the ability to see beyond a price tag to the intrinsic value of the manifestations around her.  Honoring the priceless gifts of Nature and the connections she shares with others is her ultimate Fort Knox.
Less than eight hours later, in the wee hours of May 29th, Mercury dives into Cancer for an experience of sensory perception.  While he spends nearly three weeks in Cancer, he moves only to the 3° point, then turns retrograde on June 7th and returns to Gemini on the 17th.  His greatly reduced pace serves to increase his depth of field through this sensitive water sign.  If he can understand that all is subjective, he could avoid taking other's perceptions personally and be open to the truth in everything.
Since Mars turned direct on May 19th at 9° Libra, he has barely moved from earth's point of view – only 1° degree by the end of May – which may make it feel like the action hasn't really picked up yet.  That may change on May 31st when the Sun in Gemini gives Mars a jump-start in the form of a flowing trine between the two air signs.  This is a tension-releasing, affinity-building reinforcement of the qualities of the two planets – Mars wants to move and the Sun joyfully opens the gates to let it happen.   We can almost hear our confidence shift to high gear, knowing that the energy and the resources to get things done are at hand – as long as we don't push too hard.  The influence of communicative Gemini and relationship-oriented Libra highlights group projects or endeavors that depend on a variety of sources.
On June 4th, Venus and Neptune create a subtle unified energy field of sensuality and spirituality, forming a supportive sextile that could give us a glimpse of the divine romance.  Tuning into this archetypal merger of inner beauty and unconditional acceptance evokes boundless love and will encourage compassionate social interactions.  During this relatively brief aspect we have the opportunity to look into anyone's eyes and see the Divine Romance dancing within.
Here's the data:
**Times where noted are Pacific Standard Time.
**Degrees where noted are rounded to the nearest whole degree (except for ingresses and the New Moon square Neptune listings, which are the exact degrees/minutes).
May 20th         Sun at 0° Gemini at 7:59 p.m.
May 24th         Jupiter trine Saturn at 19° Cancer/Scorpio at 10:48 a.m.
May 28th         Mercury sextile Venus at 29° Gemini/Aries at 6:58 a.m.
                        Moon conjunct Sun (New Moon) at 7°21' Gemini at 11:40 a.m.
                        Moon square Neptune at 7°33' Gemini/Pisces at 12:03 p.m.
                        Sun square Neptune at 7°33' Gemini/Pisces at 4:44 p.m.
                        Venus at 0° Taurus at 6:46 p.m.
May 29th         Mercury at 0° Cancer at 2:12 a.m.
May 31st         Sun trine Mars at 10° Gemini/Libra at 1:01 a.m.
June 4th          Venus sextile Neptune at 8° Taurus/Pisces at 6:16 a.m.