---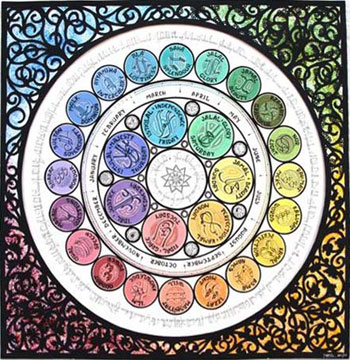 **Times where noted are for the Pacific Time Zone.
**Degrees where noted are rounded to the nearest whole degree.
Mercury dominates the astral conversation during this period, with major aspects to the four planets figuring into the cardinal grand cross now in play.  Mercury will serve as the bullhorn of this stressful configuration of four squares and two oppositions in initiating cardinal signs that will peak April 20th – 23rd.  By the time he is through netting the data he gathers from each planet, he will have a holographic preview of the coming attraction, which he will be compelled to broadcast loudly in order to give us a clearer idea of what this stunning transit of April 2014 will bring to the human experience on various fronts.  How we relate to each other, as well as mother earth, personally, socio-economically and geopolitically, is due for a seismic shift.
Mercury jumps into the Aries fire on April 7th and doesn't look back.  Forward thinking will be on his mind as he recklessly books through the sign of the daredevil in a mere 16 days.  Generally, the mission of this speedy planet is to listen as well as speak, but in Aries, Mercury certainly won't take the time to digest what he is hearing, or think about the consequences of anything he might blurt out.  He will speak his mind like spitfire, with mental concepts never too far from direct action.  Mercury left all musing behind in Pisces but hopefully he retained the essence of Piscean compassion to counteract his burning remarks that are likely to set the tone of many an unfiltered conversation.  His cerebral nerves will be at high alert, always mentally ready to spring into action, with anxiety not far behind should his pace be hindered by perceived obstacles such as annoying details that require a more methodical approach.  Mercury in single-minded Aries has the mental muscle, if not the finesse, to get his point across quickly and effectively and is thus the perfect salesman to promote the greatest adventure of our lifetime.  Before he is through activating the planets of deep space, we could all be lining up for the wild ride through the wormhole of transformation.
Spurring on the need for action, the Sun in Aries opposes retrograde Mars in Libra on April 8th.  In Aries, the Sun is naturally competitive, and in opposition to Aries' ruling planet he would be more so.  However, Mars is not as decisive in the sign of the scales as he is when in his home sign and his desires are less self-centered operating in Libra's relationship-oriented focus area.  Being retrograde, Mars' focus on independent action is subverted even further, mitigating his assertive demeanor to the point where he may lose touch with his innate confidence and take the weaker passive/aggressive approach to pursue his wants.  These seeming disabilities to the action planet in opposition to the illuminating Sun in pro-active Aries do offer to us an opportunity.  This bi-annual aspect is the midpoint of the Sun/Mars cycle when the red planet is closest to the Earth, giving him a magnified look at the state of his core driving force and amps up the spontaneous courage it takes to keep him moving.  Archetypally, this aspect compels us to seek clarity on what we need to be able to move forward.  What is holding us up?  What isn't working effectively?  What has broken down?  Where are we pushing too hard to get anywhere?  Where are things just not happening when all indications are that they should be?  With Mars in Libra, the areas that need recalibrating are most likely in our relationships.  The Sun in Aries, taking the stand for freedom and self-reliance, will insist that we be true to ourselves, so the question for Mars is how can he be true to himself and also to the other beings in his world?  His best answer is to look for the win/win solution.
Libra's ruler, Venus, traveling in the magic kingdom of Pisces for about five days now, is due to have a tête-à-tête with its ruler, Neptune, on April 11th.  Together they should generate a sublime astral buzz that inspires us all to see the peace and beauty in our midst.  This may influence Mars to focus on what is right and working in his relationships rather than what is not.  Just when he was ready to declare his independence, he just may decide to give love another chance.  The relationship queen in Pisces is moved to become her own ideal; with Neptune at her side she is transcendent as the Goddess of Love, Beauty and Art.  This is conceivably the most romantic signature there is and at its highest operating octave sends waves of sweet music through the cosmos that could tame even the most savage alien, at least for the relatively short period this aspect is in effect.  The beings on this planet however are a mixed bag of conditioned behaviors, with extremely divergent abilities, or lack thereof, to connect to the core of beingness.  With nothing but stars in their eyes, Venus and Neptune see only pure potential in the beloved.  Under their influence, our loved ones see the best of what we can be, and that can be truly motivating, but then it is up to us to take the choice-by-choice steps to get there, and for them to choose not to go to heartbroken disillusionment when we falter.
In no mood for romance or diplomacy, Mercury's dialogue with the gang of four cuts to the chase April 14th through April 16th.  With the peak of the cardinal grand cross only a week away, he checks in with each challenger and becomes their voice as they angle into position.  His job here is to ask intelligent questions of each of them and get quick, direct answers.  He has no time for nuance.  On April 14th, he will square Jupiter and Pluto, and conjunct Uranus, amounting to a shuttle debate on the issues of the day.  Jupiter in Cancer will probably have a hard time consolidating his panoramic vision without exaggerating but Mercury will want to hear his big ideas for the future of the human family and certainly will appreciate his optimistic point of view.  We would do well to remember Jupiter's theme song, It's Gonna Be All Right, when Mercury gets in with Uranus in Aries, who may have a shock or two in store to awaken us to our own truth.  Freedom fighters everywhere will take up megaphones to shout out their discontents with the powers that be.  Then there's Pluto holding fort in institutional Capricorn.  He holds the real money and control.  He is also stationing retrograde on April 14th so his premeditated focus on retaining power couldn't be more intense.  Mercury may find out just how ready he is for any manner of uprising with just the right response to quash any spontaneous rebellion.  By the time Mercury opposes Mars in Libra on April 16th, he should be ready to call out each side, with one mighty stroke of the pen or blistering speech incisively cutting through any propaganda that does not serve his purpose.
On Mercury's way to the heated deliberations with Mars, the Total Lunar Eclipse on April 15th disrupts the light on his path.  Accentuating the Aries/Libra polarity, the Moon and Sun face off to highlight the themes of individual uniqueness and interpersonal connectedness.  Earth's shadow eclipsing the Moon's brightest moment of her monthly cycle sends her deep into the psyche where conscious awareness rarely goes.  Eclipses serve to temporarily short circuit all that seems hard wired in us in order to create pathways for new information that we would otherwise not have the capacity to accept.  The effects are generally subtle and have a wide orb of manifestation on either side of the event but this lunar eclipse and the solar eclipse that follows on April 29th wrap around the cardinal grand cross energies encoded with the imperative for change.  This is a once in a lifetime opportunity to unplug from the conditioned data stream that dictates our way of perceiving from the shadows of our minds.  No matter where we are on the consciousness ladder, if we make the effort to become aware of just one of the limitations we put on ourselves out of apathetic habit, fear, and/or belief systems passed down through the ages that no longer serve us, then we may find a path to the true freedom of the soul.  It is highly likely we will experience meltdowns associated with the collapse of dysfunctional structures, but it is precisely those moments when crystalized forms are breaking down that we have the opportunity to observe what the triggers are telling us rather than unconsciously allowing them to drive our behavior.  In that pause we may find the place of stillness in the eye of the storm.
When arrive at that stillness, we are able to see through the superficial layers of ourselves to our core nature, and then are better able to see the same in those we encounter.  April 17th and 18th, when Venus trines Jupiter in Cancer then sextiles Pluto in Capricorn, we may be filled with the confidence to seek deeper experiences with others.  This abundantly sexy liaison between the planets of love, good fortune and transformation emboldens us to express love without fear, or fearlessly tackle any relationship issue that is blocking access to the source of power that love is.
The planetary emphasis during this period is on initiating fire and sensitive water.  Mars is the only planet in an air sign until Mercury comes home to Gemini on May 7th, we're more likely to be feeling before doing than thinking things through because intellectual discernment tends to slow the action down.  But that may be just what we need at this very moment in time.  If we think too much about it we could easily talk ourselves out of doing something that may be risky even though it comes from an authentic place within.  These times call for bold actions, backed by strong conviction.  Complacency will be a junk bond on the "where do I stand" exchange.  The more we trust our unwavering inner knowing, the more effective our actions will be and ultimately serve to bring order out of the chaos inducing imbalances in society we face today.
Here's the data:
April 7th             Mercury at 0° Aries at 8:35 a.m.
April 8th             Sun opposite Mars at 19° Aries/Libra 2:04 p.m.
April 11th           Venus conjunct Neptune at 7° Pisces at 7:24 p.m.
April 14th           Mercury square Jupiter at 13° Aries/Cancer at 11:32 a.m.
                          Mercury conjunct Uranus at 13° Aries at 4:15 p.m.
                          Pluto station retrograde at 14° Capricorn at 4:44 p.m.
                          Mercury square Pluto at 14° Aries/Capricorn at 9:12 p.m.
April 15th           Full Moon Total Lunar Eclipse at 25° Libra/Aries at 12:42 a.m.
April 16th           Mercury opposite Mars at 16° Aries/Libra at 4:15 a.m.
April 17th          Venus trine Jupiter at 13° Pisces/Cancer at 6:19 p.m.
April 18th           Venus sextile Pluto at 14° Pisces/Capricorn at 2:24 a.m.