---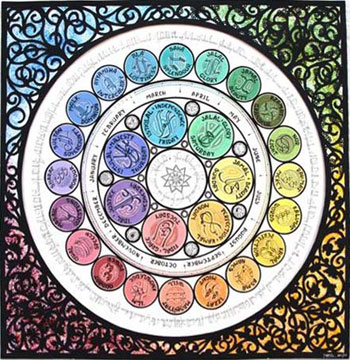 **Times where noted are for the Pacific Time Zone.
**Degrees where noted are rounded to the nearest whole degree.
The Sun and Mercury dominate the astral conversation over the next couple of weeks with one or both of them figuring into every major aspect.  The waning intensity (temporarily!) of the paradigm-shifting T-square configuration between Jupiter, Uranus and Pluto opens the energetic space for us to focus on the link between our will and how we express it.  Mercury turns retrograde on February 6th, shifting that focus to an internal one unleashed from conventional modes of communication.  Mercury retrograde is traditionally associated with periods of review: going within to reassess, rethink, all the "re" words associated with returning to territory we've already negotiated to see what needs adjusting.  More than that, however, it is also a time to refresh our minds with unusual perceptions.  When we think differently it has the effect of rejuvenating the synapses of the brain.  In Pisces, Mercury is naturally imaginative and empathetic.  The way he perceives through the mystic's lens can be quite magical and poetic.  He understands the language of Love and dreams, and when unencumbered by external influences can transmit information permeating effortlessly through the hierarchical membranes of other dimensions.  Mercury's purpose is to be the voice of the Sun, presenting his leader's message as clearly as possible for maximum effectiveness, but also to give him feedback.  As Mercury retraces his steps backward from 3° Pisces to 18° Aquarius, we could think of it like taking a magic carpet ride through our thoughts, perceptions and what we had to say to people over the past couple of weeks (Mercury was last at 18° Aquarius on January 22nd).  The elevated point of view would give us the opportunity to look differently at how we send and receive data and how we can refine our way of thinking and communicating to be more aligned with our soul's purpose.
Saturn enters into a tense exchange with the Sun on February 11th when the two form a challenging square relationship.  The freedom-loving Sun in Aquarius may feel like he is hitting a bit of a brick wall, unable to self-express due to some obstacle or test he may face.  Saturn in Scorpio may demand more integrity in the use of power, or expose a fear of relating at a deep level.  Rather than limiting the Sun's spirit from being all it can be, however, Saturn's roadblock is best perceived as a lesson on self-mastery.  The ingenuity of the Aquarian Sun has it in him to find an out of the box solution to whatever obstacle Saturn puts up.  The key is to take the challenge rather than succumbing to fear of failure.  A tightly controlled heart cannot live and love so well as one that takes calculated risks.
Retrograde Mercury gives the Sun an assist in the original thinking department when he returns to Aquarius on February 12th.  Trading his Piscean rose-colored glasses for futuristic Google Glass, Mercury shifts his way of thinking from compassionate to techno-scientific.  More objective than subjective, the Aquarian detached point of view generally gives Mercury here a rebel attitude that can either shake up traditional notions of mental behavior codes or suddenly find new ways of codifying data on human existence to form entirely new personal operating programs.  Mercurial thinking in Aquarius tends to eschew emotional attachment but that does not mean we should not feel.  As we employ the tools of awakening at Mercury's disposal during his extended stay in Aquarius through March 17th, may we endeavor to stay connected to our core feelings as well as to those of others, keeping our networks robust and relevant.
The Sun, Moon, Mercury and Mars form a lively configuration February 14th to 16th that features the Full Moon and the Inferior Conjunction in unrestrained aspect to energetic Mars in Libra.  The Leo Moon opposing the Aquarian Sun on Valentine's Day should evoke an abundance of feeling that may be quite assertively expressed.  The mid-point of the 28-day lunar cycle brings to fruition the seeds of intent planted at the rebellious Aquarian New Moon on January 30th.  What is awakening in us?  Do we have a new perspective on who we truly are?  If we have been paying attention, we should know what our own personal revolution looks like by now!  The Leo Moon at her best will bring out our creativity, joy and sense of fun, teasing the detached Aquarian Sun into playing the game of life, even if he must keep the part of the Observer.  She instinctively knows how to get his attention and using her strong personal magnetism will call out the Aquarian Sun from his lofty perch offstage to dance with her, pulling out all dramatic stops if he doesn't respond to her liking.  More comfortable in his outpost than center stage, the Aquarian Sun may chide the Moon for being in her self-centric world.  He sees an interconnected world of many individuals all contributing their uniqueness to the whole of society and understands the necessity of rising above personal concerns for the sake of humanity.
Mars activates the archetypes of the Self and the Collective in their dance to find balance shortly after the Full Moon on the 14thwhen he sextiles the Moon and trines the Sun to bring vitality, resilience and courage to their efforts.  Generally a self-possessed independent type himself, Mars operating through Libra however underscores the theme of awakening the Self to its purpose within the Collective.  Development on both levels is necessary for the evolution of society.  Saturn squares the Full Moon and Inferior Conjunction (orb of 3°), signaling that each of us are being given the opportunity to step up and accept more personal responsibility in our own emergence.  Can we accept that we actually have the ability to respond to the call?
The collective light bulb should light up in our minds to answer that question when Retrograde Mercury conjuncts the Sun on the 15th and trines Mars on the 16th.  The Inferior Conjunction is the starting point of the Mercury cycle, where the mind is initiated into a new way of being.  Still connected to the past as he reviews familiar ground, this is the archetypal moment when he experiences a sudden awareness of how his handling of all that came before can lead to growth.  The extremely focused mental energy of the Sun and Mercury together generates high-powered data processing for taking our intellectual awareness to the next level.  The trine to Mars amps up the whole bundle to warp speed and emphasizes the mind-body-spirit connection.  Perhaps we'll see that taking the holistic approach to our awakening is the way to go.
Here's the data:
February 6th:     Mercury stations retrograde at 3° Pisces at 1:43 p.m.
February 11th:    Sun square Saturn at 23° Aquarius/Scorpio at 11:57 a.m.
February 12th:    Retrograde Mercury at 29°59" Aquarius at 7:30 p.m.
February 14th:    Moon opposite Sun (Full Moon) at 26° Leo/Aquarius at 3:53 p.m.
                             Moon sextile Mars at 26° Leo/Libra at 4:02 p.m.
                             Sun trine Mars at 26° Aquarius/Libra at 6:06 p.m.
February 15th:   Sun conjunct Retrograde Mercury (Superior Conjunction)
                             at 27° Aquarius at 12:22 p.m.
February 16th:   Retrograde Mercury trine Mars at 26° Aquarius/Libra at 12:19 a.m.