---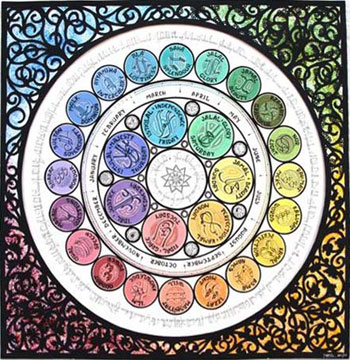 **Times where noted are Pacific Daylight Time.
**Degrees where noted are rounded to the nearest whole degree.
The year 2013 ends with the astral equivalent of the Big Bang, greeting the New Year with a figurative fireworks display worthy of the Gods.  Half a dozen celestial bodies choreographed in a transcendent dance focus their intense energies on a mostly unsuspecting earthbound population below.  Those who have an affinity for their message, may sense the competing forces squaring off with seemingly contradictory objectives.  Clear intentions are essential, as is alignment between mind, body and soul.  Indecisiveness or ambiguity within becomes a weak link that will not be able to withstand the chaotic impulses at the gateway to 2014 likely to foreshadow the purpose of the current epic cycle we as human beings are in that is due to come to a head in April.  While change is inevitable, with that comes opportunity.  As crystalized structures give way to more nimble systems that will better serve the current collective state, new or transformed jobs, relationships, or ways of being may suddenly appear.  The more we look for and embrace them, the less painful the process will be.
The period starts out simple enough, with the Sun and then Mercury entering Capricorn, a practical, industrious sign that is known for its ability to deliver.  We'll be enveloped with the energy to become masters of organization, our thoughts becoming orderly and down to earth.  The Sun entering Capricorn marks the Solstice, a turning point in the annual solar cycle that, in the northern hemisphere, shifts the balance from the dark of night to the light of day.  It is a great time to set a purposeful intention for the role we play out in the world.  With the total number of planets in Capricorn now up to four (including Venus and Pluto), the urge for high-level integrity from the inside out should be compelling.  The best of Capricorn expresses when the public and private persona is so fully integrated there is no difference between the two.  Capricorn's end game is to become master of her world without succumbing to the fame, glory and riches that they inevitably bring.  Forbearance is Capricorn's greatest virtue, the capacity to construct highly successful organizations her shining talent.  The shadow side of Capricorn is empty ambition and being inappreciative of feelings and emotions as well as the spiritual essence that makes life colorful and alive.
Fortunately, both the Sun and Mercury immediately enter into a sweet alignment with Neptune that will bring out the magic in management and infuse our methods with poetry.  Neptune's influence here will open the gateway to inspiration and compel the ordinarily restrained Capricorn nature to see the alliance between material and spiritual perception.  Boundless thinking and smart intuition could generate a vibration to access love and acceptance, perhaps even to subtly sense the thoughts of others.
Underscoring the Capricornian dominance during this period, Venus' movement in the sky comes to a standstill, focalizing her energy for reappraising relationships.  As she retraces her steps through this conscientious sign, she will have the opportunity to look outside the box for her value driven choices.  The traditional interpretation of Venus retrograde indicates a withdrawal from relating, or a feeling of being introverted or uncomfortable in social situations.  On an esoteric level, this is a great time for us to review our current relationships with others and ourselves, or where we are lacking in them.  Venus in Capricorn archetypally represents the slow development of relationships that can withstand the test of time.  This retrograde cycle expands that emphasis and may compel us to work on our most essential relationship to self.  We could choose to look at how we value ourselves by seeing how those values manifest in our environment.  How awake can we be to our inner nature and therefore have the capacity to make supportive, self-loving choices?  It is those re-valued choices that will shift the landscape of our lives into being a truer reflection of who we are.
The headliner of this period is the configuration between the Sun, Moon, Mercury and Pluto in Capricorn challenging Uranus in Aries and Mars in Libra, respectively confronting each other.  This is a major T-square formation that has two key aspects occurring therein – the Superior Conjunction of the Sun and Mercury, and the Capricorn New Moon – both of which unfold during the peak of the T-square between Christmas and New Year.  This is a time of great power, which just happens to be packed with all the trigger points the holidays annually bring.  The more we can make conscious choices in lieu of allowing reactive behavior to reign, the more opportunities we will be able to attract during this time, and perhaps avoid or at least better handle, accidents, arguments and other shocks that are likely to manifest wherever there is instability.  What is important is to recognize and listen to our inner voice.  When we experience the desire to break free, for example, is our mind aligning with our heart?  Will that alignment open a strong flow of creative thought that can release us from a mental prison?  Will we be able to be an effective social mover or succumb to furtive indirectness to get what we want?  These are just a few of the themes that will be in play during this time.
The midpoint of the Mercury cycle could bring revelations, a change of heart or mind.  With no-nonsense Capricorn at the helm, we'll need to make an extra effort to stretch our mental processes beyond the matter-of-fact to include the mysterious if we are to successfully navigate through the disrupted thought processes that could as likely to unfold.  The call to radicalism could activate fearful positions or incite rebellious speech without a cause.  Alternatively, we could experience a piercing of the veil that separates us from other dimensions and thus find ingenious solutions to complex issues.
Can we take the deep dive into our thoughts and honestly look at mind games we play?  Can we probe the inner workings of our lives to discover what is real or will we allow a restless mind to be caught up in trivial pursuits?  Can we transform the impulse for ruthless aggression and elevate it to level of powerful assertion?  If we industriously apply our probing intellect, we just might discover the original source of anger created by our mind's limiting considerations that obstruct our destiny to be free beings.
Archetypally, this is a time to reset to that moment of symbolic origin to get back in touch with that free being – childlike in its simplicity, trusting nature and innocence, liberated from the burdens of experience but wise with the essence gleaned from the previous cycle.  Our will reunites with our needs, in a way that empowers us to be systematically self-sufficient – the New Moon brings the total number of astral bodies in Capricorn to five!  Yet our movement towards a levelheaded, realistic approach to life could experience an initiation to a profound inner power.  If we answer the call to take on this power, we have yet another choice to become the vessel for it or to identify with it in an egotistical way.  Will we use this power for personal gain or for a higher purpose?  Complicating that choice is a battle between our will and desire.  We may feel compelled to fight – and either go looking for one or letting one find us.  We may feel highly competitive with an extra burst of vigorous energy and need a constructive outlet to channel it.  However it is expressed, that force will test all structures in sight for integrity.  Those that don't have it will most likely be demolished.  Those that survive will not just allow but encourage each member of society to embrace her fundamental freedom to act as a unique individual.
It is hard to imagine that anything would seem trivial during this time.  Our faith in a secure and familiar life could be shaken to the core.  Or, our minds may be confronted with such expansive feelings that we may want to fortify ourselves with armor to feel less vulnerable.  Fortunately, the influence of abundance of planets operating through Capricorn, and its ruling planet Saturn in Scorpio in a favorable long-term aspect to Jupiter in Cancer, will support our efforts to safely expand our feeling nature rather than walling it off to all expression and consequently leaving us out in the cold.  The Lunar North Node also in Scorpio in a flowing aspect to Neptune aligns us with our spiritual nature and underscores the message that resistance to change will not only deplete our energy, but that it is truly futile!  If we embrace the galactic imperative to transform, we could become the light that shines in the dark abyss.
Here is the data:
(Pacific Standard Time is noted and degrees are rounded to the nearest whole unit.)
December 21st: Sun at 0° Capricorn at 9:11 a.m.
                        Venus stations retrograde at 1:53 p.m. at 29° Capricorn
December 24th: Mercury at 0° Capricorn at 2:12 a.m.
                        Sun sextile Neptune at 9:06 a.m. at 3° Capricorn/Pisces
December 25th: Mars opposite Uranus at 12:33 a.m. at 9° Libra/Aries
December 26th: Mercury sextile Neptune at 1:04 a.m. at 3° Capricorn/Pisces
December 28th: Sun conjunct Mercury at 10:28 p.m. at 8° Capricorn
December 29th: Mercury square Uranus at 12:48 p.m. at 9° Capricorn/Aries
                        Sun square Uranus at 9:05 p.m. at 9° Capricorn/Aries
December 30th : Mars square Pluto at 5:16 p.m. at 11° Libra/Capricorn
December 31st: Mercury conjunct Pluto at 3:24 a.m. at 11° Capricorn
                        Mercury square Mars at 6:59 a.m. at 11° Capricorn/Libra
January 1st:       New Moon (Moon conjunct Sun) at 3:14 a.m. at 11° Capricorn
                        Sun conjunct Pluto at 10:54 a.m. at 11° Capricorn
January 2nd:       Sun square Mars at 4:14 p.m. at 13° Capricorn/Libra
                        Mercury opposite Jupiter at 11:11 p.m. at 16° Capricorn/Cancer
Note: between 3:06 p.m. New Year's eve and 6:05 p.m. New Year's day, the Moon in Capricorn translates the whole T-square bundle, plus has major aspects with Neptune, Jupiter and Saturn. Venus is the only unaspected planet during this time, which enhances her wildcard nature.  See the chart of the New Moon below (location is Los Angeles, CA.)