---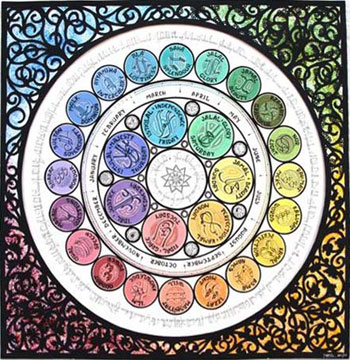 **Times where noted are Pacific Daylight Time.
**Degrees where noted are rounded to the nearest whole degree.
After exploring all things foreign in Sagittarius, and filled with the expanded knowledge of her adventures, Venus comes home to settle down in Capricorn shortly after midnight on November 5th.  Responsibility in relationships is the theme of Venus' stay in Capricorn during the next four months.  That's right folks, partnership-oriented Venus will remain in the sign of the hermit for more than four times longer than usual due to her forthcoming retrograde cycle.  For all us women out there, Venus in Capricorn will give us the energetic feel of what it is like to be the President and CEO of our world.  For the men, it is an opportunity to show respect for the feminine way of running things – receptive, supportive, collaborative.  According to The Athena Doctrine: How Women (and the Men Who Think Like Them) Will Rule the Future (2013), "66 per cent of people around the world believe that the world would be a better place if men thought more like women…  65 per cent believe that more female leadership in government would prompt a rise in trust and fairness and a decline in wars and scandal.  The type of feminine leadership they described is not soft and squishy but wise and quietly strong."  Gathered together, the qualities most favored in the study resembled, in the authors' minds, "the character of the Greek goddess Athena. Venerated for her intelligence, skill, civilizing influence, and fairness, Athena was a goddess of industry, arts, and crafts. It is Athena who gave the Greeks the olive tree, which sustained their economy and culture. When conflicts arose, she responded with clever strategy and wise tactics…"  Allowing for greater diversity in the boardrooms, congresses and religious institutions of the world, and specifically allowing more women to have a voice in the affairs of church, state and industry, will bring greater balance and therefore harmony into our lives, qualities Venus lives for.  Capricorn, a practical earth sign, gives Venus a structure with a solid foundation from which to operate in a self-sufficient manner.   Capricorn transforms her from the Goddess of love and beauty into Athena, Goddess of wisdom, civilization and heroic endeavor.  Not necessarily all sweetness and light as she is in her home sign of Libra, but certainly formidable.  Let's hope the U.S. congresswomen who were widely acknowledged as the chief deal-makers who ended the recent government shutdown will continue to lead the way as the next budget deadline hits in January.
With Venus in Capricorn and the Sun conjunct Capricorn's ruler, Saturn, at 14 degrees Scorpio on November 6th, we may be inspired to channel our inner mountain goat (the symbol for Capricorn) to go for the summit, whatever it may be in our personal journeys.  The expedition will certainly be filled with boulders blocking our way, deep crevices to cross and other obstacles that are there not to deter us, but to strengthen our resolve not only to reach but also surpass our goals.  Once we reach the top of the mountain, only then can we see off into the distance to the next journey before us.
Also on November 6th, the planet of faith shifts direction and embarks on his long retrograde period at 20 degrees Cancer.  Jupiter in Cancer represents the archetype of big, heartfelt giving backed by the confidence that all will be well.  He inspires us to have enriching intimate connections with others and to learn more about our loved ones through their stories and the stories of our ancestors.  Reflecting on the status of our home is a likely manifestation of Jupiter's influence during his retrograde.  We may enthusiastically organize home improvements or gather the tribe for bounteous home entertaining over the holidays.  Family is a primary focus as is tenderly attending to the needs of all within familiar environments.  With that comes a tendency to go overboard in caring for others, not realizing we're giving beyond our actual capacity.  Perhaps this will be under review during this retrograde period, which lasts until March 6th.  Sometimes the best caring we can do for all involved is to allow others the space to discover they can joyfully take care of themselves and still feel safe knowing their backs are covered.
November 7th-12th there is some relief from the challenging intensity brought on by last week's fourth pass of the Uranus/Pluto square, often spoken of in this blog and elsewhere in the astrological community?  Numerous aspects characterized by harmonious energies should promote stress-free access to intelligent movement.  A sweet configuration of Mercury in Scorpio trine Neptune in Pisces with each sextile Venus in Capricorn may open us to opportunities for deep spiritual conversations with those we love.  Mars in Virgo sextile Saturn in Scorpio adds methodical muscle and daring endurance to our goal-reaching endeavors.   Then the Sun in Scorpio trine Jupiter in Cancer should buoy our spirits.  We may even re-discover our sense of humor, or at the very least be feeling lighter, more optimistic and capable of conquering just about anything.
In the midst of this stress-free zone, Mercury will station direct on November 10th at 2 degrees Scorpio.  By the end of the third Mercury retrograde period of the year in a water sign, we'll hopefully have a better understanding of our own feelings and be more willing to express them openly and honestly.  Once direct, the focus on listening within turns back again to outward communications and the pace of the information highway will get back into high gear.
Retrograde since June, Neptune sends out a barely perceptible wobble from his distant position in the solar system when he turns direct on November 13th at 3 degrees Pisces.  Psychic sensitivity emerges from an inner subjective reality to focus on outward manifestations.  Neptune is just developing into a full expression of his energies in Pisces since his entry a couple of years ago.  In his home sign until 2026, he still has time to cultivate his theme in residence here, but looking back at the last couple of years, we may begin to see his signature emerging.  Some of us are seeking more experiences with the arts.  New forms of street art are already burgeoning in places, breathing life in atrophied communities.  Witness the recent lifting of the mural ban in Los Angeles that has spawned a number of new projects around the city, or the Tower 13 project in Paris where an abandoned apartment building came to life with the art of more than 100 artists covering every inch of its walls inside and out.  Some are experiencing a collective spiritual revival.  There is a quiet resurgence of feeling connected to all humanity.  As a society, we're also reaching a popular tipping point with a majority of us realizing that this planet is an integral part of the ecosystem of life and its sacred ground must be used in a loving and sustainable way.
As a follow up to the November 1st pass of the Uranus/Pluto square, Venus arrives to charge it with her feminine energy November 14th-15th when she squares Uranus in Aries and conjuncts Pluto in Capricorn at 9 and 10 degrees respectively.  The two titans in turn powerfully thrust Venus into her Capricorn voyage, where she will exhibit strong initiative in the cardinal sign.  Conjunct Pluto, she is given tremendous power to generate an integral engagement with life and love, while the square to Uranus sets her on course for groundbreaking change in interpersonal relationships on all levels.  This next three months, spurred on by the Uranus/Pluto square and Neptune's influential station infusing her with a transcendent mission, she could very well inspire a ground swell leading to the next chapter in the women's movement.
The Full Moon at 25 degrees Taurus opposing the Sun at 25 degrees Scorpio on November 17th at 7:16 a.m. may bring to light that which we have been digging for since the Scorpio New Moon a couple of weeks ago.  With an emphasis of celestial energies in dramatic Scorpio, the Taurus Full Moon has the potential to mine the mother lode of emotional material ready to be transformed simply through newfound awareness.  The normally calm, stable Taurus Moon will be faced with the intense pull of the Scorpio Sun and passionately held secrets might finally be revealed for which we may be held accountable.  It is the fear of potential consequences that kept our secrets in the dark to begin with.  But any revelations actually could be the best thing that ever happened.  To be able to allow our fears to play out, more often than not leads to the amazing discovery that they were much more trumped up than the light of day proved them to be.   The relief can literally feel like being released from the chains of our self-imposed prison.  What greater gift can we give ourselves than to transform the darkness within?  The Taurus Moon, which knows a thing or two about the power of the soul's beauty and the value of self-worth, has her work cut out for her to persuade the Great Persuader to turn his psychological prowess unto himself to experience a personal transformation.
Another intensity break comes with a pair of sextiles November 19th-20th.  Mars sextile Jupiter at 20 degrees Virgo/Cancer may bring out the Activist in us, with the ability to empower others to a mutual goal that has the potential for beneficial results as long as integrity is maintained.  A sextile between Mercury and Pluto at 10 degrees Scorpio/Capricorn promotes deep thinking that can cut through artifice and is at its best when engaged in important issues.
As noted in the last AstroCast, other than Moon, there is no planet in an air sign until Mars enters Libra on December 7th and Uranus is the lone planet in a fire sign until the Sun enters Sagittarius on November 21st.  With earth and water the predominant elements through the first week December, we'll need to make an extra effort to stay objective and initiate action.  Taking care of practical matters, managing projects already in motion and promoting compassion for our collective emotional sensitivity during this time is more likely how we'll be spending our days.  Additionally, with Mercury, Jupiter and Neptune all changing directions during this period, their archetypal energy of perception, expansion and enlightenment is amped up with a laser like focus as they seemingly stand still in the sky.  Perspectives of hearts and minds will shift between our inner and outer worlds requiring us to remain responsive to highly fluid conditions and be willing to act when inspiration strikes.