---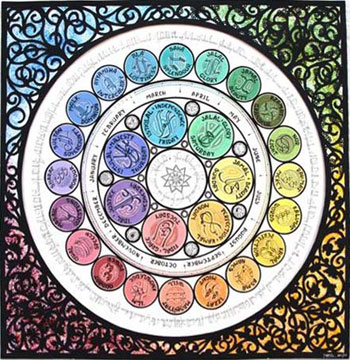 **Times where noted are Pacific Daylight Time.
**Degrees where noted are rounded to the nearest whole degree.
His days of digging through psychic tunnels in emotional Scorpio now concluded, the Sun takes a deep breath of fire as he ventures into Sagittarius on November 21st at 7:48 p.m.  With his newly intensified awareness of self, the Sun becomes the gypsy in Sagittarius, seeking adventure and discovery wherever he goes, the farther out the better.  Taking in panoramas of thought or far away places and the foreign correspondents therein can only lead to great and wonderful experiences that enrich the heart, mind and soul with wisdom.  Always questioning and looking for answers beyond the safe but stagnant walls of home, the Sun in Sagittarius has a seemingly limitless desire to expand in search of the Truth.  Our collective willpower during this period may view anything that blocks our enlightenment expedition as a prison rather than a protectorate.  Not known for settling down, the Sun in Sagittarius has a primal need for freedom and unfettered access to anything that could offer him the meaning of life.  Without restraint or thought of peril as he brushes aside warnings to first look deeper into the details, he'll rush head on into any experience of life or love with the utmost conviction that all in the end will work out.  Regardless of how many bear traps he encounters or sink holes he falls into, the Sagittarian Sun will get up, dust off, slap on a bandage and resume his quest.  Others may see his adventures as folly but he just lets out a big hearted laugh, not caring what anyone thinks because he has the weight and power of his full and complete faith that there is gold at the end of that rainbow… and that one! …and the other one over there!!  And gold he does find indeed.  The highest expression of the Sun in Sagittarius is embodied in the archetype of the philosopher who after many years of studying has finally reached the end of his journey and found universal understanding.  When that happens he becomes the great professor we all flock to for tales of wonder and glory, profound insights and abundant laughs.
Midway through her initial passage through Capricornian space, Venus sextiles the ruler of that space, Saturn in Scorpio, on November 23rd at the 16 degree point, opening the peak period of a provocative four-planet configuration culminating on Thanksgiving Day, November 28th (more on this below).  Venus' mission in Capricorn is to take charge of her life.  Saturn backs her up with his considerable authority bringing a little excitement to her stay in this stable sign, which she was beginning to think a little staid.  Through Scorpio's eyes, Saturn makes responsible seem sexy; sensible becomes stimulating and surprisingly rewarding.
On November 24th, the Sun has his first encounter with another planet since launching his voyage through Sagittarius when he squares Neptune at 3 degrees Pisces.  At first it may seem like Neptune douses the Sun's fiery enthusiasm with confusion but a deeper look will reveal Neptune's aspiration that the Sun shine his bright light on his own unconscious motivations.  Neptune's highly developed sensitivity, most powerfully expressed in his home sign, attempts to dissolve all barriers, particularly the walls of denial we routinely build around our conscious mind to block out the shadow side of our being.  Neptune baits the Sagittarius Sun with visions of the vast expanses of spirit unencumbered by fear.  If he takes the bait, the Sun will experience the most fulfilling sense of freedom he could ever imagine.
While Venus in Capricorn is still in orb of her stirring sextile to Saturn, the ultimate provocateur, Mercury in Scorpio, adds his voice to the energetic exchange when he conjuncts Saturn at 17 degrees Scorpio on November 25th, and on November 27th he sextiles Venus and trines Jupiter in Cancer at the 20 degree mark.  On November 28th, Venus caps the four-planet alliance with an opposition to Jupiter at 20 degrees Capricorn/Cancer.  This is Mercury's third and last conjunction to Saturn during his long stay in Scorpio.  After being in Saturn's tow since the beginning of October, Mercury will finally pull away from this sobering relationship which at least during this time should have brought some clarity to any situation under penetrating examination.  Our thoughts may begin to lighten up considerably, especially as Mercury cooperates with Venus, motivating us to be more loving in our communications and creative in the way we think.  Mercury harmonizing with Jupiter adds philosophical integrity and broadmindedness to the mix, opening a brief window for big ideas and witty humor, or at the very least a buoyant state of mind.  Venus' part in this multi-player league is to confront Jupiter over excesses in the give and take between parties in various types of relationships, including with self.  Jupiter in Cancer may bring family needs to the forefront over a lavish Thanksgiving feast but under Capricorn's influence, Venus is well equipped to apply her good judgment on how much she can give without sacrificing her own truth.  While Saturn and Jupiter are approaching a trine to each other that won't be exact for a couple of weeks, Saturn's ability to contain Jupiter's excesses is in effect now, supporting Venus as she faces Mr. Big to test their love.
The Sun at 9 degrees Sagittarius trines Uranus at 9 degrees Aries on November 30th, just as the "Comet of the Century" will be boomeranging around the Sun.  How apropos for one of the most exciting astronomical events to happen in decades.  According to NASA's website, it has "initiated a Comet ISON Observing Campaign to facilitate a massive global observation campaign incorporating both space-based and ground-based telescopes and encouraging citizen scientists and both professional and amateur astronomers to participate."  This portends great scientific breakthroughs, again very much in line with this aspect.  What no one knows is whether this "sungrazer" comet will survive its maiden voyage around our Sun.  If it does, it will whip around and shoot back out into space, passing closest to Earth on December 26th.  With all starry eyes glued to the celestial event, anything that happens is sure to be spectacular under the unpredictable influence of revolutionary Uranus in Aries, who becomes the Sun's natural ally at this time.  A sudden giant solar flare could very well break the comet up and send a tempest of icy meteorites back out into space, leading conspiracy theorists to speculate everything from a massive disturbance in our fragile electrical grid to Armageddon (theories fittingly spread virally under heavy Scorpionic influences).  Correlating to more personal realities, Uranus and the Sun harmoniously aligning in fire signs has the potential to awaken our will to make radical changes or spark innovative solutions to vexing issues, but it may take more challenging aspects to get us to act.  If nothing else, this is a great time to note any brilliant ideas that come in.
By the time the New Moon occurs on December 2nd at 4:22 p.m., those brilliant ideas should be formulated into a new intention.  New Moons are the best times to launch projects and setting a clear intention at the outset generates the power to achieve solid results.  The Moon makes an exact trine to Uranus just hours before she kisses the Sun at 11 degrees Sagittarius and together the only major aspect in the New Moon's neighborhood is the trine to Uranus.  While the figurative comet of this aspect passes before the moment of the New Moon, its tail still carries significant fire to kindle excitement for adventure.  This annual monthly cycle under the Sagittarian signature could make us all a little impulsive and eager to search for new truths in our lives.  The natural desire to expand our horizons may overwhelm our tendency for self-restraint.  This could be a good thing – as we discover the truth of something, it sets us free.  With the Sagittarius arrow pointing the way, we intuitively know that as genuine truth seekers we will survive the consequences of our actions, which often come from pockets of resistance to anything unfamiliar.  But above all, it is the resilient Sagittarian faith that will keep us moving on in good spirits.  Ironically, while the Sagittarian spirit is difficult to pin down, it has a natural talent for managing things.  Understanding the laws of universal growth is the lifeblood of Sagittarius and that translates into the effective development of any kind of system be it industrial, scientific, philosophical or a group of people united under one grass roots goal.  We would therefore use this cycle well by identifying the resources we need and determine when to apply them to keep our personal systems humming.  Taking it back to intention, even if the goal for this cycle is simply to see life differently we may be in awe of what we discover about ourselves.
Mercury and Mars add mental force to our new intentions when they form a sextile the morning of December 3rd at 28 degrees Scorpio/Virgo, fueling our pursuits with intellectual clarity.  The clearer we are on what we want, the stronger our drive will be to go after it.  Enhanced mind/body cooperation helps us handle all the curves and obstacles we may meet on the road.  We may collectively channel our inner Mario Andretti to thrust our intentions forward.