---
**Times where noted are for the Pacific Time Zone; degrees where noted are rounded to the nearest whole degree.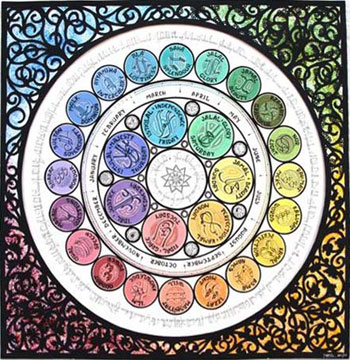 Mercury and Venus steal the show in the week leading up to the New Moon on March 11th.  Acting like two fishermen in the spiritual Piscean waters, throwing out their nets, trolling through the ocean of consciousness to pick up celestial signals from the big fish of the astral sea.  When they meet in the middle of their respective journeys they will have bagged the Sun as well as slower moving planets Jupiter, Saturn and Pluto, and in the process cook up a bouillabaisse of deeply touching messages we may need some time to digest.  Fortunately Pisces isn't interested much in linear time so we can always bypass that route altogether and simply let the celestial truths melt in our proverbial mouths so we can absorb them at a cellular level.
While retrograde Mercury retraces space he previously traveled through Pisces he brings a compassionate aura to the review of recent events.  His first contact on March 4th at 14 degrees Pisces is with the Sun in what is called the Inferior Conjunction, an aspect that is generally met here on Earth with some change of mind, a moment of clarity, but in Pisces information-loving Mercury is not at his most precise level of operation.  Facts and figures get fuzzy as they dissolve in the ocean of consciousness.  Details seem to have little meaning in this emotional and highly imaginary terrain and with so many planets now vested in Pisces the potential for complete empathy is so strong it may be the heart that moves, collectively and unconditionally.  Meanwhile, exalted Venus advances deeper into the realm of mystical love, making divine enhancements to relationships and possibly even transforming what it is we value most. When she squares Jupiter at 8 degrees Pisces/Gemini on the 4th, she is tempted to gorge on anything that tastes like love.  She may appear to be all giving and all taking in her quest to merge with Other or in expressing her tremendous heart for the greater good.
During the period of March 6th-8th, both Mercury and Venus find the anchors they need to keep them within the realm of reality.  Both conjunct at 11 degrees Pisces, they trine Saturn at 11 degrees Scorpio and sextile Pluto at 11 degrees Capricorn.  This however, is not your average reality – a dynamic four-planet configuration that may lead us not only to experience love more deeply but also to be inspired to do what it takes to ensure it endures.  Soul-binding commitments are possible, coming from a united heart and mind magically opened to the truth of what love really is.  Even if that commitment is made to Self alone it could still have a profound effect on how we express unconditional love with those around us.  Saturn sextile Pluto, which is exact at the mid-point of this period on March 7th, is especially powerful in that these planets are in mutual reception – each in the sign ruled by the other.  It plays out as a cooperative melding of purpose, in this case depth integrity.  Whatever it is that we feel is most valuable to us, now is the time to put forth our most genuine and focused efforts to make it real.
Mercury returns to a square with Jupiter at 9 degrees Pisces/Gemini on the evening of March 9th.  Exponentially amping up our mental activity, we'll need to be cognizant of the tendency to overstate in our communications or to confuse what is real with what is illusion.  Surely we will be motivated to talk and if we allow our minds to freely explore the ocean of information available to us, we have the potential to imagine a holograph that contains within it the meaningful and purposeful interconnected knowledge of the universe.  Imagining, with all the little details in view, is the first step to manifestation.
March 11th is about as close as we're going to get to the Summer of Love for this generation with the New Moon at 21 degrees Pisces joining Neptune, Mercury, Venus, Mars and Chiron in the Sign of Love.  While that period back in the 60s was marked, however, by reckless abandon, we've since collectively experienced the Civil Rights Movement, the Women's Movement, the New Age Movement, the Environmental Movement and many other personal movements that involved consciousness raising of many varieties but always with the same intent – to train ourselves to look beyond our mundane daily lives, to become aware of that which confines our thinking – the mind itself – and to begin the process of de-conditioning ourselves from the generational layers of thought forms that insist we act a certain, and certainly conventional, way in the world.  At this amazing Pisces New Moon, with the weight of the astral world merging their individual drops of spirit into the vast sea of Piscean being, we have at our mudra-shaped fingertips a more disciplined, more mature approach to consciousness raising and thus have more power to infuse our day to day activities with heightened awareness.  At the same time that we divest ourselves of the old patterns that no longer serve, we free up the core of our being into its own unique truth.  It is a paradoxical and alchemical process of unbecoming and becoming, apropos for the last sign of the zodiac, which in the cyclical nature of existence leads right back into the first sign, Aries, but always at a more evolved level.  Love is the key, the conduit between our heart and the Divine.  While this New Moon represents a cycle that lasts only a month, it can leave a lasting imprint that may play out for years to come.  In the midst of the sometimes comical, sometimes tragic chaos going on in the world, we can look at it anew, from an observation point that keeps us in the game but as the puppet master rather than the puppet.  As if to give this new way of being a jump start, Mars takes his last deep spiritual breath from Pisces and reincarnates at the next level in Aries, ready for a fresh new start, fully energized and potent in the sign he rules, raring to conquer the world.
Forward motion picks up even more on March 17th when Mercury stations direct on St. Patrick's Day at 6 degrees Pisces.  Log jams and back logs dissolve; communications, already challenged in non-linear Pisces, will flow more easily and have a better chance of being understood – especially if we've read up on some poetry to get us in the mindset that straight talk needn't stick to the sidewalk to get us to the desired destination.