---
I don't know if it's the most wonderful time of the year, but it's most indulgent, and as we all know, sometimes the most stressful.  For one month there's suddenly so much to do on top of normal living – the decorating, the shopping, the social engagements.   But for me, the most frustrating part of the holidays is trying to figure out what presents to give.   We all know what it's like to rush shopping malls in desperation, where they willingly pack the isles with items we would never consider buying for people if we were in our right mind.  (Oh admit it.  Would you really want a cotton candy machine?)
There's one person who I never have to second guess.  Years ago I started a tradition of giving my mechanic Harry a basket of home-baked cookies.  The thing is, be careful which traditions you start, as they will become expectations (and believe me, when you live in Los Angeles, you want to be very, very good to your mechanic).   Now the assorted baked goodies are so anticipated that he starts dropping hints as early as October (I guess, just in case I forget. Ha.)   One year I made a big batch of my grandmother's famous spaghetti sauce, filled some nice mason jars and gave them to friends with fresh pasta and a big colander.   Everyone loved it, and all I heard was how it was the best sauce they've ever tasted.  (Don't thank me – thank Nana!)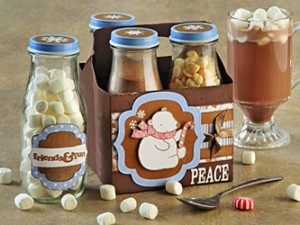 So I'm dedicating one last  Dine Like Your Sign! to a suggestion of homemade gifts from your kitchen for each sign.  Sure, you can pick up a box of assorted chocolates or those boring Danish butter cookies no one likes but will still eat when all the good stuff is gone.  OR you can whip up some magic in your kitchen that is both sentimental and sensational.   Make a tradition of your own.  There are all kinds of wonderful delights you can create – fresh baked cookies, breads or muffins, or mason jars filled with dry mix recipes so they easily whip up their own goodies with a few 'wet' ingredients.  For those with less of a sweet tooth (huh?), what about herb and spice blends or infused oils and vinegars in elegant bottles.   Your creativity will also flourish coming up with ideas to decoratively wrap the gifts.  And it's even more fun (and less work) if you invite a friend over and spend an afternoon creating in the kitchen keeping pace with some classic Christmas tunes.   Not only will it make for a mini-holiday party of your own, but it's a whole lot more fun than spending an afternoon trying to find a parking spot at the mall and wresting the last foot massager away from that little old lady.  (She had it coming.)
And don't forget you-know-who.

(You don't want to end up on the Naughty List again!)
Ho

Ho

Ho-liday

Contest !!!

It looks like Christmas is coming a little early this year, because we're having another Dine Like Your Sign Contest! Everyone has been so supportive in all the issues of DLYS! that I wanted to say a very special thank you.  So here's what I'm going to do…
Send in your name, mailing address and astrological sign to

leeann@sherastrology.com

with the subject line reading DLYS! CONTEST.

We'll have a random drawing to choose not one, but TWO winners!
The First Place Winner will be able to choose one item from any of the twelve editions of DLYS! If the winner happens to live in the Los Angeles Area, I will put on my apron and come to your home to make the recipe for you!  (Or deliver it pre-made, if you prefer.)   If the winner does NOT live in the Los Angeles Area, you can still choose any item from the entire year of DLYS! (as long as it is non-perishable) and I will send it as fast as the reindeer can fly.
The Second Place Winner will receive the corresponding goodie for their astrological sign from this Special Holiday Issue of DLYS!

Note:  Previous winners from DLYS! Cancer Contest are not eligible.  So sorry Barbara & Dee!
The deadline is DECEMBER 27th!
Aries
This is your chance to tell them that they're sweet and OK, a little hot, but they still make everyone nutty!
Spiced Mixed Nuts
2 tablespoons butter, melted
2 tablespoons maple syrup
1 tablespoon Worcestershire sauce
2 teaspoons ancho chile powder
1 teaspoon ground cumin
1/2 teaspoon salt
1/2 teaspoon black pepper
2 cups mixed nuts, such as walnuts, pecans, hazelnuts and almonds
Preheat oven to 375°. Combine maple syrup, Worcestershire, chile powder, cumin, salt, and pepper in a large bowl, stirring well.  Add nuts to syrup mixture; toss well to coat.  Arrange nuts in a single layer on a jelly-roll pan lined with parchment paper.  Bake at 375° for 10 minutes or until lightly browned.  Let rest until cooled and the sugar has hardened, about 10 minutes  Store in an airtight container.
Taurus
Hand mixed jars of savory blends for the special carnivores in your life.
Assorted Meat Rubs
Each rub makes about 1 1/3 cups.  Instructions to include on the gift tag:  Store in airtight containers in a cool, dry place for up to 3 months. Up to 2 hours before cooking, coat 2 pounds of chicken, beef, pork, or seafood with 1 tablespoon of olive oil and sprinkle with 2 to 4 tablespoons of the rub. Cook as desired.
Barbeque Rub
1/2 cup paprika

3 tablespoons brown sugar
3 tablespoons dried oregano
3 tablespoons ground coffee
4 teaspoon kosher salt
1 tablespoons black pepper
Mediteranean Herb Rub
3/4 cup dried basil
1/4 cup dried thyme
2 tablespoons dried sage
2 tablespoons fennel seeds (optional)
1 tablespoon kosher salt
1 tablespoon black pepper
Magic Dust
1/2 cup paprika
1/4 cup kosher salt, finely ground
1/4 cup sugar
2 tablespoons mustard powder
1/4 cup chili powder
1/4 cup ground cumin
2 tablespoons ground black pepper
1/4 cup granulated garlic
2 tablespoons cayenne
Gemini
A tingly citrus surprise. Send with an airy angel food cake, or in a breakfast basket with a lemon poppy seed pancake mix.
Rosemary & Lemon Syrup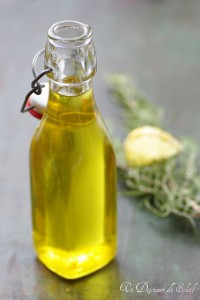 1 cup sugar
1 cup fresh lemon juice
1/4 cup roughly chopped rosemary leaves
In a small saucepan over medium-high heat, bring sugar and fresh lemon juice to a boil.  Add rosemary leaves. Reduce heat to maintain a simmer and cook until slightly thickened, about 10 minutes.  Add the zest of 1 lemon.  Transfer syrup to a small metal bowl and let sit until cool, about 10 minutes. Strain (discard the zest and rosemary) and use warm, let cool to room temperature, or store, covered and chilled, up to six months.
Cancer
Do they make scented candles to smell like freshly baked bread?  If not, they should!   Give them with a loaf of this — and a HUG!  (They'll probably like the hug best of all.)

Cranberry Orange Bread with Grand Marnier Glaze
1 1/2 cups unsalted butter, softened, plus more for buttering pan

1 1/2 cups sugar
4 eggs
1 cup orange juice
1 cup sour cream
2 tablespoons freshly grated orange zest
2 teaspoons vanilla extract
4 cups all-purpose flour
1 tablespoon baking powder
1/2 teaspoon salt
1 1/2 cups dried cranberries
2 cups powdered sugar
7 to 8 tablespoons Grand Marnier or other orange liqueur
Preheat oven to 330° F.   Butter two 6-cup-capacity loaf pans (or, if making the mini loaves, butter six 2-cup-capacity pans).  With an electric or standing mixer on medium speed, cream butter and sugar together in a large bowl until pale and fluffy, about 3 minutes.   Add eggs one at a time, mixing well after each.  Add orange juice, sour cream, orange zest, and vanilla; mix until blended.  In a separate bowl, whisk together flour, baking powder, and salt.   Add flour mixture and cranberries to wet ingredients, and mix just until dry ingredients are absorbed. (Do not overmix.)
Pour batter into prepared loaf pans.  Bake until a toothpick inserted in centers of breads comes out clean, 70 to 75 minutes for large loaves and 60 minutes for mini loaves.  Meanwhile, in a small bowl, whisk together powdered sugar and 7 tablespoons Grand Marnier.  (Glaze should have consistency of thick maple syrup or corn syrup. If it is too thick, thin with an additional tablespoon of liqueur.)  Let loaves cool in pans for 10 minutes, then remove and transfer to a cooling rack set over a large baking sheet.  With a thin skewer or long toothpick, poke deep holes in tops of loaves.  Drizzle with Grand Marnier glaze so that it coats the top, runs down the sides, and seeps through the holes. Let loaves cool completely, then wrap decoratively. Makes 2 regular loaves or 6 mini-loaves.
Leo
Fancy and seasonal. If the gift includes hand feeding them, I'm sure they won't object.
Gingerbread Truffles
8 oz good quality bittersweet chocolate, chopped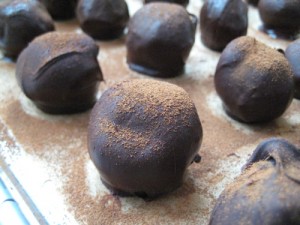 8 oz good quality white chocolate, chopped
1 cup heavy cream
10 whole allspice berries
10 whole cloves
1 tablespoon molasses
1/2 teaspoon cinnamon
1/2 teaspoon sea salt
1 1/2 teaspoons grated fresh ginger root (use micro-plane grater)
16 oz bittersweet chocolate, melted to 115 degrees, for enrobing
Cinnamon, for dusting
Heat the cream with the allspice berries, cloves, molasses, cinnamon, sea salt, and grated ginger in a small saucepan.   When it reaches a boil, turn off the heat and let it steep at room temperature for 1 hour.  Meanwhile, chop the bittersweet and white chocolate and place in a large heatproof bowl.   When the cream has steeped for an hour, briefly heat it back up to a simmer then pour it through a fine-mesh sieve over the chopped chocolate. Let this mixture sit for about 5 minutes, so the chocolate will soften and melt.  Stir with a spatula gently until all the chocolate has melted and the ganache mixture is smooth and glossy. Chill the ganache for 3 hours so it firms up before scooping it.
After 3 hours, scoop the ganache into 1-inch balls, using either a spoon, a spring-loaded cookie dough scoop, or a melon baller.  Place the balls on a parchment-lined sheet pan, and chill overnight.
The next day, melt bittersweet chocolate in a bowl set over a pan of barely simmering water.  Take the bowl off the heat, let the chocolate cool to 115° F, then begin the process of enrobing the truffles: place a ball in the chocolate, use a fork to gently turn it so it gets fully coated, then lift it out of the ganache with the fork, tapping the side of the fork on the edge of the bowl to remove any excess melted chocolate.  Place on a parchment-lined sheet pan.  The chocolate will start to set up pretty quickly, so have your ground cinnamon nearby – sprinkle just a little on the top of each truffle.  Chill the enrobed truffles in the refrigerator for at least 1 hour, to harden fully.   Makes about 32 truffles.
Virgo
For all those health food nuts, here's a little homemade nut butter with a mix for one of my absolute favorite bread recipes – dense and grainy. (If you'd prefer, you can make the bread and give it gift wrapped.)
Toasted Walnut Butter with Dried Cherries & Cacoa Nibs
2 cups raw, organic walnuts

1 tablespoon toasted walnut oil
1 tablespoon pure maple syrup, plus more to taste
1/4 cup unsweetened, unsulphured dried cherries, chopped
Pinch or two of fine Himalayan or sea salt (start with one pinch, blend, taste, and add more if needed)
1-2 tablespoons cacao nibs or finely chopped dark chocolate
Heat oven to 300° F.  Toast walnuts for 20 minutes and then cooled slightly (if you have time to soak your walnuts in water overnight first, go ahead and do so…this can help make them easier to digest; if you do soak them, rinse them in clean water and pay dry before toasting them, or skip the toasting step).  Process walnuts in blender (or food processor).  Add oil, if needed, to help blend them as they start to get sticky.  Keep blending until the mixture smooths out.  Add maple syrup, dried cherries, and salt, and process again.  Taste and add more salt or maple syrup, if necessary.  Using a rubber spatula, scrape the walnut butter into a small bowl and add the cacao nibs.  Mix well, then pack into a decorative one cup glass jar. Store in the refrigerator!  Will keep for a few weeks.
Swope Bread Mix
1 cups all-purpose flour

2 cups whole wheat flour
1/2 cup white sugar
1 teaspoons salt
2 teaspoons baking soda
Mix dry ingredients in bowl and pour into mason jar. Wrap decoratively and include the following instructions.
Gift Card: Preheat oven to 350 degrees F (175 degrees C).  Lightly grease 9×5 inch loaf pan. In a large bowl empty mix. In a separate bowl, dissolve 2 teaspoons baking soda in 2 cups buttermilk.  Stir buttermilk into flour mixture. Beat well. Pour batter into prepared pan. Bake in preheated oven for one hour.
Libra
These cozy beverages will come in handy when company drops in to socialize.  And homemade marshmallows, just as light and sweet as your Libras.

Homemade Hot Chocolate Mix with Bailey's Marshmallows
1 vanilla beans

2 cups granulated sugar
12 oz high-quality semisweet chocolate, coarsely chopped
5 oz dark chocolate, coarsely chopped
1 cups Dutch process cocoa
Split and scrape vanilla beans and place in a large bowl or jar with the sugar.  Work seeds into the sugar with your fingers. Bury the pods under the sugar.   Cover tightly and let stand overnight (or up to months–vanilla sugar keeps forever) at room temperature.
In a food processor fitted with metal blade, process semisweet chocolate and dark chocolate until finely ground, using 4-second pulses.  Process in batches, if necessary.  Remove pod from sugar.  Add ground chocolate and cocoa powder to sugar and whisk to blend, making sure to combine well.   Store mix airtight at room temperature for up to six months.  To serve, heat 2 Tbsp of mix with 8 oz of milk over medium heat. Makes 76 2-Tbsp servings
Bailey's Marshmallows
3 envelopes unflavored gelatin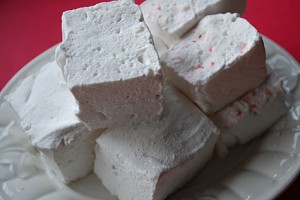 1/2 cup Baileys Irish Creme
1 1/2 cup sugar
1 cup light corn syrup
1/8 tsp salt
1/2 cup water
1 tsp vanilla
Powdered sugar, for coating and dusting
Baking spray
Place Baileys in the bowl of a stand mixer fitted with the whisk attachment and sprinkle gelatin over top.  All of the powder should absorb within a few minutes – you might need to swirl the liquid in the bowl if powder remains on top. In a medium sauce pan, heat sugar, corn syrup, salt, and water over medium heat and stir constantly until the temperature reaches soft ball stage (240°F).    Add the heated sugar mixture in a slow, thin stream to the stand mixer while on low.  Increase speed to high and whip for 15 minutes, until thickened and mostly cooled.
Spray an 8×8 pan with baking spray and coat with powdered sugar.  Pour marshmallow into the prepared pan and let sit at room temperature for at least 4 hours (I always do overnight).   Dust your work surface with powdered sugar and turn the marshmallow out of the pan (pull up one of the corners of the marshmallow, flip, and let gravity do the rest).  Using a greased pizza cutter or knife, cut the marshmallows into 1-inch squares, dusting the cut edges with powdered sugar to prevent sticking.  Makes 64 Marshmallows (minus the casualties along the way. Oh no you didn't….)
Store the marshmallows in a gallon zip-top bag with a few additional spoonfuls of powdered sugar (shake the closed bag to evenly distribute the powdered sugar).
Mexican Hot Chocolate Mix with Maple Marshmallows
3 cups non fat dry milk powder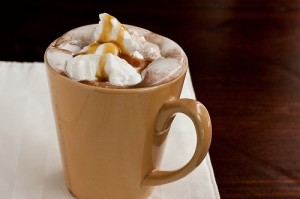 1 3/4 cups powdered sugar
1/4  cup brown sugar
1 1/2 cups cocoa powder
3/4 cup white chocolate chips
3/4 cup semi sweet chocolate chips
1/4 Tsp. salt
2 Tsp. corn starch
1/2  Tsp. cinnamon
1/4 Tsp. cayenne pepper
In a large bowl, whisk together all ingredients.   In batches, pulse mixture in a food processor until smooth and well combined.  Store in a sealed container in a dry and dark place.
To make hot chocolate, put 1/3 cup of mixture into a mug and mix with hot water or milk.   Top with marshmallows and a sprinkle of cinnamon.
Maple Marshmallows
3 Tbsp. unflavoured gelatin powder (3 packets)
1/2 cup and 2 tablespoons of cold water
1 Tbsp. vanilla extract
1 Tsp. maple extract
3/4 cup water
1 1/4 cup dark corn syrup
1 1/2 cups granulated sugar
pinch salt
2 cups powdered sugar, divided
1 cup corn starch, divided
Prepare a 9×13 in baking pan with cooking spray. (Ensure the entire dish is coated, as the marshmallow mixture is very sticky. Combine 1/2 cup of powdered sugar with 1/4 cup cornstarch. Sift mixture into the baking dish and shake so the dish is coated. Set aside.
In a large bowl combine gelatin, vanilla extract, and maple extract with 1/2 cup and 2 tablespoons of cold water.   Gently whisk mixture until well combined and no lumps remain.   Continue to whisk until the gelatin reaches a consistency similar to baby food (about one minute).  Set aside.  In a medium saucepan combine 3/4 cup water, corn syrup, granulated sugar, and salt.  Whisk to combine and bring to a boil over medium high heat.  Cover pot, reduce heat and simmer for about 2 and a half minutes . Remove from heat.   Pour mixture over gelatin and beat on medium with an electric mixer until combined, about one minute.  Increase speed to maximum and beat for 15-20 minutes until the mixture is glossy and makes meringue like peaks.
Pour marshmallow mixture into prepared 9×13 inch dish and spread evenly.  Wet spatula and smooth the top until it's even.   Leave the marshmallow mixture uncovered on a counter for 24 hours to set.  Once the marshmallows have set, prepare your workspace.  Combine remaining powdered sugar and cornstarch in a medium sized bowl.  Dust some of the mixture onto a cutting board.
Wet a sharp knife and drag it along the edges of the 9×13 inch dish to loosen the marshmallow mixture.   Sprinkle some of the powdered sugar onto the top of the marshmallows and flip the dish onto prepared cutting board.  Cut the marshmallows into squares, occasionally wetting the knife to make more precise cuts.  Toss marshmallow squares in the cornstarch sugar mixture until well coated.  Store marshmallows in a sealed container, layered between wax paper until gift wrapping.
Scorpio
That dark exterior is hiding a complex combination of salty and sweet. But you already knew that.
Dark Chocolate Cookies with Sea Salt Caramel Surprise
2 1/2 cups flour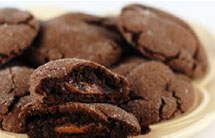 3/4 cup unsweetened dark chocolate cocoa (Hershey's sells it)
1 teaspoon baking soda
1 cup sugar
1 cup brown sugar
1 cup butter, softened
2 teaspoons vanilla
2 eggs
30-36 sea salt caramel candies (Trader Joe's carries them)
2 tablespoons sugar
Preheat oven to 375° F. In a large mixing bowl, add sugar, brown sugar, butter, eggs and vanilla.   Mix together until well blended.  Add flour, cocoa and baking soda and mix well.  Refrigerate and chill dough for 30 minutes.  Roll dough into 1 inch balls and place caramel candy in the center of each dough ball.   Form the dough ball around the majority of the candy.  Roll each dough ball in sugar.  Very important step – do NOT pop in your mouth, but place sugar-side up on a baking sheet, about two inches apart. (It just had to be said.)   Bake for 7-10 minutes.  Let cool on pan for 1 minute then take off and place on cookie cooling rack.  Makes about three dozen cookies (minus whatever dough was 'lost' in the preparation. Hee hee!)
Sagittarius
The classic Italian holiday bread – fruity, but buttery light. After all, there's a reason you see walls of them lining the stores during the holidays.
Panettone
1 cup golden raisins (5 oz)

1/2 cup sweet Marsala
1/2 cup warm milk (105–115°F)
2/3 cup plus 2 teaspoons sugar
4 teaspoons active dry yeast (from two 1/4-oz packages)
3 1/4 cups unbleached all-purpose flour
3 large eggs at room temperature for 30 minutes
1 large egg yolk
1 tablespoon finely grated fresh lemon zest
1 tablespoon fresh lemon juice
3/4 teaspoon salt
1 stick (1/2 cup) unsalted butter, cut into 8 pieces and softened, plus additional for buttering cans
1 cup diced fine-quality candied citron (not a supermarket brand; 6 oz)
1 large egg yolk
1 tablespoon water
**Special equipment: a stand mixer fitted with paddle attachment; 2 (10- to 15-oz) clean coffee cans (paper or plastic labels removed); parchment paper
Simmer raisins in Marsala in a small saucepan 2 minutes.  Remove from heat and let stand until cooled to room temperature.  Meanwhile, stir together warm milk and 2 teaspoons sugar in bowl of mixer.  Sprinkle yeast over mixture and let stand until foamy, about 5 minutes.  (If yeast doesn't foam, discard and start over with new yeast.)  Add 1/4 cup flour and beat at medium speed until combined.  Add whole eggs, yolk, zest, lemon juice, salt, and remaining 2/3 cup sugar and beat until incorporated.  Reduce speed to low, then mix in remaining 3 cups flour, 1/2 cup at a time.  Increase speed to medium-high, then gradually beat in butter, a few pieces at a time, and continue to beat until dough is shiny and forms strands from paddle to bowl, 4 to 6 minutes.  (Dough will be very soft and sticky.)  Drain raisins, discarding Marsala, then add to dough along with candied citron and mix at low speed until incorporated.   Scrape dough into a lightly oiled bowl and cover bowl with plastic wrap.  Let dough rise in a draft-free place at warm room temperature until doubled in bulk, 2 to 3 hours.
While dough rises, generously butter coffee cans and line bottom and side of each with parchment (use a round for bottom and a rectangle for side). Punch down dough with lightly floured hands and turn out onto a lightly floured surface. Halve dough and scoop 1 half into each can, pressing gently to expel any air bubbles.  Loosely cover cans with lightly buttered plastic wrap.  Let dough rise in a draft-free place at warm room temperature until dough reaches top of cans, 2 to 3 hours.  (Alternatively, let dough rise in refrigerator 8 to 12 hours; bring to room temperature, 3 to 4 hours, before baking.)
Put oven rack in lower third of oven and preheat oven to 375°F.   Beat together yolk and water and lightly brush top of dough with egg wash.  Bake until tops are deep golden brown and bottoms sound hollow when tapped (remove from cans first), 35 to 40 minutes.  (Firmly thump bottoms of inverted cans to remove.)  Transfer loaves to a rack and discard parchment.  Cool to room temperature.
Note: Panettone keeps, wrapped tightly in plastic wrap and then foil, frozen 3 weeks.  (Yeah, like it will last that long..)
Capricorn
The mighty goats aren't much into the sweets, so why not go savory? Here's a unigue homemade mustard with apricots steeped in bourbon. It can be paired with some specialty sausages, crackers, soft pretzels, etc.
Apricot-Bourbon Mustard
2/3 cup yellow mustard seeds

1 cup bourbon, such as Maker's Mark
2/3 cup water
2/3 cup packed chopped dried apricots
4 tablespoons cider vinegar
4 tablespoons honey
1 tablespoon kosher or sea salt
Put the mustard seeds in a medium bowl and pour in 2/3 cup of the bourbon and the water.  Soak the mustard seeds overnight or for up to 24 hours.
At least 1 hour before you plan to make the mustard, put the apricots in a bowl and pour in the remaining 1/3 cup bourbon.  Macerate the apricots until most of the bourbon is absorbed. (The apricots need to soak for a minimum of 1 hour, or you can start soaking them at the same time you prepare the mustard seeds.)
Before making the mustard, wash the jars and lids in hot, soapy water and dry thoroughly.  Alternatively, run the jars through the regular cycle of your dishwasher.
To make the mustard, first strain the mustard seeds, reserving the soaking liquid.  Set aside the mustard seeds.  In a food processor fitted with the metal blade, combine the apricots, any unabsorbed bourbon remaining in the bowl, cider vinegar, honey, and salt.  Purée until almost smooth.  Add the mustard seed soaking liquid and continue to purée until smooth.  Add the mustard seeds and process until about half of the seeds are cracked and the others are incorporated but still whole.  Evenly divide the mustard among the prepared condiment jars, leaving 1/2 inch headspace.  Wipe the rims clean and secure the lids.  Label and refrigerate for at least 2 weeks to allow the flavors to develop and mature.  Makes enough to fill four (6-ounce) condiment jars.  Refrigerate for a minimum of 2 weeks for full flavor and up to 3 months.
Gift Card: This Apricot-Bourbon Mustard was made on [give date] and can be enjoyed for up to 3 months, kept in the refrigerator.
Aquarius
Someone has to get the fudge.  It's tradition!  Best to give to the Aquarians, because they're all about communal property.

Peppermint Pistachio Fudge
2 tablespoons unsalted butter

6 oz. semi-sweet chocolate chips
6 oz. bitter-sweet, or dark chocolate chips
14 oz. can organic condensed milk
1 cup roughly chopped pistachios
1 teaspoon concentrated peppermint extract (my addition for a holiday flavor, vary this based on the strength of the extract you find – taste test before pouring into the pan to set!)
Over a double boiler, melt the butter on low heat.  Add the chocolate and stir till it all melts smoothly.   Add the condensed milk and peppermint extract, and mix.   Add the nuts, mix, then take it off the heat and pour it into a big, shallow foil pan.  A bigger pan means more pieces, and shallow means not as large a piece.   Let the whole thing cool to room temperature, then refrigerate till the fudge sets.  Slice the fudge into little squares of varying size, so you can decide just how Nice or Naughty the recipients are(!).  Keep stored in a container lined with parchment in the fridge.
Egg Nog Fudge
(Featured from CatzintheKitchen.com)
2 cups granulated sugar
1/2 cup butter
3/4 cup dairy eggnog
10.5 ounces white chocolate bars, chopped into small pieces
1/2 tsp freshly grated nutmeg, plus a little more for the top of the fudge
7 ounce jar marshmallow creme
1 teaspoon rum extract
Line a 8 or 9-inch square pan with foil and let it hang over the sides.  Butter the foil. In a heavy, 3-qt saucepan combine sugar, butter, and eggnog.  Bring to a rolling boil, stirring constantly.  Continue boiling 8-10 minutes over medium heat or until a candy thermometer reaches 234°F, stirring constantly to prevent scorching.  Remove from heat.  Using a wooden spoon, work quickly to stir in chopped white chocolate and nutmeg until chocolate is melted and smooth.  Stir in marshmallow creme and rum extract.  Beat until well blended and then pour into prepared pan.  Sprinkle with a little freshly ground nutmeg on top.  Let stand at room temperature until cooled.  Refrigerate if you'd like to speed up the process.  When completely cool, cut into squares.  Store in covered container.
Pisces
Enough of these magic balls, and you'll be transported to a very dreamy place. Just make sure those sugar plum fairies don't get you! They're wicked.
Spiced Bourbon Balls
1/2 cup chopped raisins

1/4 cup bourbon
2 cups chocolate wafer crumbs (about 18 ounce package)
1/2 cup firmly packed dark brown sugar
1/2 teaspoons cinnamon
1/2 teaspoon ground ginger
1/4 teaspoon ground cloves
1/2 cup finely chopped pecans
1/4 cup unsulfured molasses
Finely chopped pecans or cocoa powder for coating
In the small bowl macerate (soak) the chopped raisins in the bourbon for 15 minutes.  In the large bowl stir well the chocolate wafer crumbs, dark brown sugar, pecans, cinnamon, ginger, and cloves.  Add the raisin mixture and molasses and stir until the mixture clumps together.  Shape the mixture into 1-inch balls (we made them smaller) . If the balls are a little dry and crumble, sprinkle some more bourbon over the mixture and stir again.  Roll the balls in the chopped pecans or the cocoa powder.  Store the bourbon balls in an airtight container in a cool dark place for at least 1 week before serving.   (Time is what makes them extra boozie.)  Makes about 36 balls.
Espresso Grand Marnier Balls
1 package (9 ounces) chocolate wafers
1 cup skinned toasted hazelnuts
1-1/2 cups confectioners' sugar
1 Tablespoon instant espresso powder
1/2 cup Grand Marnier or other orange liqueur
2-1/2 Tablespoons light corn syrup
1/2 cup granulated sugar
Pulverize the chocolate wafers and hazelnuts together in a food processor.  Add the confectioners' sugar and process to combine.  Dissolve the espresso in the Grand Marnier and add to the chocolate crumbs along with the corn syrup.  Process until the mixture forms a moist mass.  Break off small pieces of the dough and roll them into 1-inch balls. Place the granulated sugar in a shallow bowl and roll each ball in the sugar to coat. Store loosely packed between layers of waxed paper in a cookie tin.  Let age 1 week before serving.  Makes 4 to 4-1/2 dozen cookies.