---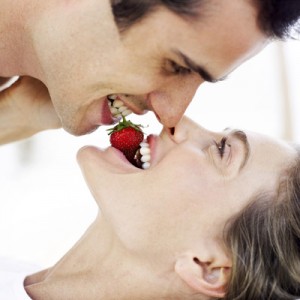 We've had a lot of fun throughout this journey of Dine Like Your Sign!  So many parties, so many people, so many tasty, indulgent nibbles.  But as we all know, sometimes food isn't the only thing you want to nibble.  You know what I mean?  No?  OK, well sometimes three really is a crowd.  Ahhhh …that's right.  We've entered the lair of sexy Scorpio so this month there will be a special invitation for only one – the one who sets your heart racing and makes you wish you were a master in the art of seduction.  Yes, reservations at a fancy restaurant can be sexy, but what's even sexier is dining in – no distractions, no audience, just the two of you in a steamy, edible world of your own.  Is it me or did it just get hot in here?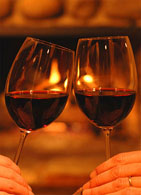 Hmmm… how would a Scorpio invite their beloved prey to dinner?  Just a standard invitation won't do.  Evite?  How adorable.  Think of something enticing, mysterious.  Perhaps a suggestive riddle only they will understand attached to a single rose?  What about a personalized fortune cookie with the dinner details instead of a fortune?  What about a scavenger hunt of erotic items leading to the tantalizing final destination?  YOU.  That's it – make them work for it, not to mention they'll build up an appetite.  Grrr!  For the meal, mood is key-  candlelight, or even better, eating in front of a roaring fire.   Pick your favorite selection of mood music, be it Barry White or Barry Manilow.  (Hey, no judgement – whatever gets your engine humming.)  Instead of eating in the dining room, try tossing some pillows on the floor and turning the coffee table into a makeshift dinner table.  It's very relaxed, and you're already lounging comfortably, so you can wear whatever you want, or not.   Together you can nurse a special vintage of wine, the magical elixir the Romans dedicated to Bacchus, the god of ecstasy.  There is evidence that as far back as Ancient Egypt, man has been transforming grapes into wine, one of the world's finest symbols of romance.  But a word of caution – you may want to be careful with the amount of alcohol consumed, as it can interfere with certain post-dinner activities.  As written by Shakespeare in Macbeth, alcohol "provokes the desire, but takes away the performance."   And kids think they can't learn anything from Shakespeare.  Grrrrr-eth, m'lady!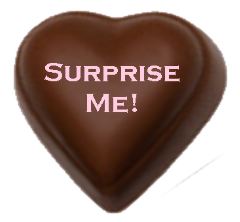 As always with company, do as much prep work in advance as possible, but even the meal itself should be simple.  It should really go without saying, but this is the one time you'll want to spend as little time in the kitchen as possible! You don't want to leave your one and only guest alone – unless you invite them in so  the two of you can cook together (see Risotto recipe!). Choose foods that you can eat with your hands, or feed another.  Something warm and dripping you lick off your fingers.  Aromatic foods that stimulate all the senses.  Spicy foods that open up the capillaries, turn your skin a flushed red and set the stage for desire.  Many foods are thought to be aphrodisiacs, foods with the potential to raise sexual hormone levels and increase fertility.  In ancient Greece it was believed that all seafoods were, essentially, the playthings of the goddess of love.  But particularly shellfish, like mussels and oysters, which provide lean protein for sustained energy.  They're also rich in iron, selenium and zinc – all essential for a healthy libido.   Dark Chocolate (SOLD!) contains phenyl ethylamine (PEA), which triggers the release of feel-good dopamine in the brain and is released naturally during sex. The higher the percentage of cocoa, the better.  And then there are avocados, which have a silky, smooth texture that just slithers in your mouth like velvet.  You get the idea.  Is there any evidence supporting the effects of aphrodisiacs?  Not much, but wouldn't it be noble of you to do some research of your own?  Strictly in the name of science, of course.  Nobel Prize here you come!
Everyone has their own idea of what's sexy.  (It's possible George Clooney is the only thing on which we all agree.)  But what I find ultimately sexy is someone who can really cook.  Take out?  Not sexy.  Can openers?  Not sexy.  Frozen dinners?  So not sexy.   Modern conveniences have made it so easy for us to eat without partaking in the preparation.   But when we do that, we lose touch with our own sensual nature.  We miss out on the smells lingering as they meld into one dish.  We forgo the taste of the creation dancing on our tongue, searching for what more needs to be caressed into the flavor.  We miss out on getting our hands dirty; molding and working dough or pasta.  Are we crazy?  Would we skip over foreplay because it's faster and more convenient to have it microwaved?  The greatest of lovers know, speed is not a virtue.  Cooking, like many things in life, is more than just a precursor to sensual activities; it's one of the most sensual acts you can do.  Even better when you invite a tall dark stranger in to be your sous chef.   I beg of you, don't let the fire go out of your kitchen!  You might discover it's the most passionate room in the house.  Just don't set it on fire.  Kitchen fires?  Not sexy.  Then again, they do bring firemen who are very sexy; not to mention it's widely known that firemen can cook.  See what I'm saying?   Grrrrr!
PLEASE NOTE!  Sorry, but the recipes below are meant to serve more than one, so don't anybody call me kinky!  If you're cooking for only two, you may have to scale them down, or you'll have leftovers.  (Leftovers = an excuse to invite them back.  Oh my, what will I do with all this leftover risotto…Wink wink!)
Gruyère Fondue with Caramelized Shallots
I think cheese alone is a sexual experience and I'm not ashamed to say it.  Melt it down, toast some baguette cubes, add one lover, and you have a recipe for dripping sensuality.  Just be sure to remember hot cheese can burn!  A trip to the ER for second degree burns?  Not sexy.
1 Tbsp butter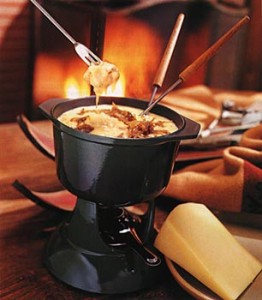 1 1/4 cups thinly sliced shallots (about 6 ounces)
1 tsp. sugar
1 1/2 cups (or more) dry white wine
14 oz. grated Gruyère cheese (about 3 1/2 cups packed)
2  Tbsp all purpose flour
Generous pinch of ground nutmeg
1 sourdough baguette, cut into 1-inch cubes
Melt butter in heavy medium skillet over medium heat. Add thinly sliced shallots and sauté 3 minutes. Reduce heat to low; sprinkle shallots with sugar, salt and pepper. Sauté until shallots are caramelized, about 15 minutes. Transfer shallots to small bowl. Add 1 1/2 cups wine to skillet; boil 1 minute.  Pour wine into heavy medium saucepan; set over medium-low heat. Toss cheese with flour in medium bowl to coat. Add half of caramelized shallots to wine; add cheese mixture by handfuls, stirring until cheese melts and is smooth before adding more. Thin with more wine if mixture is too thick. Season with nutmeg, salt and pepper.   Transfer cheese mixture to fondue pot. Set pot over candle or canned heat burner. Top fondue with remaining caramelized shallots. Serve with bread cubes.  (Serves 4)
Poached Oysters in Fennel-Saffron Soup
Oysters, fennel and saffron are all known for their traditional aphrodisiac properties.  If you've never tasted saffron and this will be your first time (sniff!) tasting the pungent and expensive spice, you're in for a treat.  In Egypt, Cleopatra used saffron in her baths so that lovemaking would be more pleasurable.   So, if there's any leftover from the soup…. Grrr!
2 Tbsp (1/4 stick) unsalted butter

2 medium fennel bulbs, trimmed, each cut lengthwise into 6 wedges
1 cup water
1 Tbsp olive oil
3 garlic cloves, chopped
1/8 tsp. crumbled saffron threads
4 8-ounce bottles clam juice
1 cup whipping cream
3 Tbsp Pernod or other anise-flavored liqueur
3 cups freshly shucked oysters or three 8-ounce jars shucked oysters
Melt butter in heavy medium skillet over medium heat. Add fennel and sauté until golden, about 10 minutes. Add 1 cup water; cover and cook until fennel is very tender, about 20 minutes. Puree fennel mixture in processor. Set aside.  Heat oil in heavy large saucepan over medium heat. Add garlic and saffron; sauté 1 minute. Add clam juice, cream, and Pernod and bring to simmer. Add fennel puree and bring to simmer. (Can be made 1 day ahead. Refrigerate uncovered until cold. Cover and keep refrigerated. Simmer before continuing.) Add oysters with their liquor to cream mixture and stir to heat through. Ladle soup into bowls.  (Makes 8 servings)
Pear, Arugula, and Pancetta Salad
Arugula, also known as 'rocket lettuce', was quite often associated with Priapus, a minor Roman god of fertility.  It's a spicy little green that will hurt your palate in all the right ways.  Ouch, oooh, mercy..

For vinaigrette:
1 Tbsp Champagne vinegar
1 Tbsp mild honey
1/2 Tbsp fresh lemon juice
1/8 tsp. salt
1/8 tsp. coarsely ground black pepper
3 Tbsp olive oil
For salad:
2 oz thinly sliced pancetta (4 to 5 slices)
1 Tbsp olive oil
2 firm-ripe pears
4 cups baby arugula or torn larger arugula (1 1/4 lb)
3 oz ricotta salata, thinly shaved with a vegetable peeler
Whisk together vinegar, honey, lemon juice, salt, and pepper in a salad bowl. Add oil in a slow stream, whisking until combined well.  Cook pancetta in oil in a 10-inch heavy skillet over moderate heat, turning frequently, until just crisp, about 5 minutes. Transfer to paper towels to drain (pancetta will crisp as it cools). Tear into bite-size pieces. Halve pears lengthwise, core, and cut lengthwise into 1/4-inch-thick slices.   Add pears to dressing along with arugula, cheese, and pancetta, tossing to coat.
Risotto with Leeks, Shiitake Mushrooms, and Truffles
Truffles are sexy because they're succulent, rich and so rare they're like buried treasures rooted out by wild hogs.  OK, that killed the moment.  Risotto is very sexy because it takes attention through frequent stirring to get the smooth texture just right.  You might need some help stirring in the kitchen, and my it's so hot it here… Grrrr!
2 large leeks (white & pale green parts), halved, thinly sliced crosswise (about 2 cups)
3/4 cup whipping cream
1 pound shiitake mushrooms, stemmed, cut into 1/4- to 1/3-inch-thick slices
1 large onion, halved, thinly sliced lengthwise

1/4 cup (1/2 stick) butter, melted
1 Tbsp white truffle oil
1 tsp. minced fresh thyme leaves
4 Tbsp (1/2 stick) butter, divided
1 large onion, chopped
1 1/2 cups arborio rice
1/2 cup dry white wine
5 cups (or more) hot vegetable broth
1/2 cup grated Parmesan cheese
2 tsp. shaved or chopped black truffle (optional)
Chopped fresh parsley
Bring leeks and cream to boil in heavy medium saucepan. Reduce heat to medium and simmer until leeks are tender and cream is thick, stirring often, about 15 minutes. Season with salt and pepper. DO AHEAD: Can be made 1 day ahead. Cover and chill. Rewarm before continuing.
Preheat oven to 400°F. Toss all ingredients on rimmed baking sheet. Sprinkle with salt and pepper. Roast until mushrooms are tender and light brown around edges, stirring occasionally, about 45 minutes. DO AHEAD: Can be made 2 hours ahead. Let stand at room temperature.
Melt 2 tablespoons butter in heavy large saucepan over medium heat. Add onion and cook until beginning to soften, about 5 minutes. Add rice; stir 1 minute. Add wine and stir until almost all liquid is absorbed, about 1 minute. Add 1 cup hot broth. Simmer until broth is almost absorbed, stirring often, about 4 minutes. Add more broth, 1 cup at a time, allowing each addition to be absorbed before adding next and stirring often, until rice is tender and mixture is creamy, about 20 minutes longer. Stir in leek mixture, mushroom mixture, remaining 2 tablespoons butter, cheese, and truffle. Transfer to large bowl, sprinkle with parsley, and serve.  (Makes 6-8 first-course servings)
Beet Ravioli with Poppy Seed Butter Sauce
You know what isn't sexy?  Chef Boyardee.  Homemade ravioli?  Veeery sexy.  Especially when these pillows are filled with blood red roasted beets, milky ricotta all swimming in a sea of butter sauce.  Have you ever heard anyone called margarine sexy?  Neither have I.

2 large red or golden beets (about 14 ounces)

1/2 cup fresh whole-milk ricotta cheese
2 Tbsp dried breadcrumbs
1 1/4 pounds Fresh Egg Pasta
1/2 cup (1 stick) butter
1 Tbsp poppy seeds
Freshly grated Parmesan cheese
Tip:  You can use won ton wrappers instead of egg pasta.  They're pre-cut for the perfect size.
Preheat oven to 400°F. Wrap beets individually in foil; place on baking sheet. Roast until tender when pierced with knife, about 1 hour. Open foil carefully (steam will escape). Cool. Peel beets; finely grate into medium bowl. Add ricotta cheese and season to taste with salt and pepper. Stir in breadcrumbs. Roll Fresh Egg Pasta dough into sheets according to recipe. Place 1 dough sheet on work surface. Using 3-inch round biscuit cutter, cut sheet into 7 rounds. Transfer rounds to lightly floured baking sheet; cover with plastic wrap. Repeat with remaining dough for total of 56 rounds.
Sprinkle 2 smooth kitchen towels with flour. Place 8 pasta rounds on work surface, keeping remaining dough covered with plastic. Place small bowl of water next to work surface. Spoon 1 teaspoon beet filling onto half of each round. Dip fingertip into water and dampen edge of 1 round. Fold dough over filling, pushing out as much air as possible and pressing edges firmly to seal. Transfer to prepared towels. Repeat with remaining rounds. (Can be prepared 1 week ahead. Transfer to rimmed baking sheet and place in freezer until frozen solid, about 6 hours. Transfer ravioli to resealable plastic bags.)
Melt butter in large skillet over medium heat and stir in poppy seeds; keep warm. Working in batches, cook ravioli in large pot of boiling salted water until cooked through, stirring often, about 2 minutes. Using slotted spoon, transfer to skillet with melted butter; toss to coat. Divide ravioli among 8 plates; sprinkle with Parmesan.   (Makes 8 first-course servings)
Sea Scallops with Cilantro Gremolata and Ginger Lime Beurre Blanc
Yes, even more seafood, now with ginger and lime to make a spicy and sweet concoction.  Scallops are quick and easy to make, leaving more time for, you know, other recreational activities.  Not to mention you can impress your lover with fancy culinary terms like 'beurre blanc'.  Why it practically purrs when you say it.  See – chefs are soooo sexy.
1 1/2 Tbsp finely chopped fresh cilantro
1 small garlic clove, minced
Finely grated zest of 1 small lime (3/4 teaspoon)
2 Tbsp minced shallot
1 Tbsp finely grated peeled fresh ginger
3 Tbsp fresh lime juice
1/4 cup dry white wine
1 stick (1/2 cup) cold unsalted butter, cut into tablespoon pieces
White pepper
24 sea scallops (1 1/2pounds), tough muscle removed from side of each if necessary
1 tablespoon olive oil
For gremolata:  Stir together cilantro, garlic, and zest in a small bowl.
For beurre blanc:  Simmer shallot and ginger in lime juice and wine in a small heavy saucepan until liquid is reduced to about 2 tablespoons. Whisk in butter 1 tablespoon at a time, adding each new piece before previous one has completely melted and occasionally lifting pan from heat to cool mixture. (Sauce must not get too hot or it will separate.) Pour sauce through a fine sieve into a bowl (discard solids), then return to cleaned pan. Season with salt and white pepper and keep warm while cooking scallops.
Sauté scallops:  Pat scallops dry and season with salt and pepper. Heat oil in a 12-inch nonstick skillet over moderately high heat until hot but not smoking, then sauté scallops, turning once, until golden and just cooked through, 4 to 5 minutes total.   Sprinkle scallops with gremolata and serve with sauce.
Motlen Chocolate Lava Cakes with Mint Fudge Sauce
You think it's just a boring little cake, but then your fork unleashes a flood of oozing fudge, like the violent river of passion surging toward your lover.
Sauce:
4 1/2 oz bittersweet (not unsweetened) or semisweet chocolate, chopped
2 oz unsweetened chocolate, chopped

1/3 cup hot water
1/4 cup light corn syrup
3/4 tsp. peppermint extract
Cakes:
5 oz bittersweet (not unsweetened) or semisweet chocolate, chopped
10 Tbsp unsalted butter
3 large eggs
3 large egg yolks
1 1/2 cups powdered sugar
1/2 cup all purpose flour
For sauce:  Stir both chocolates in top of double boiler over barely simmering water until melted. Add 1/3 cup hot water, corn syrup and extract; whisk until smooth. Remove from over water. Cool slightly. (Can be made 2 days ahead. Cover; chill. Before serving, rewarm in saucepan over low heat, stirring constantly.)
For cakes:
Preheat oven to 450°F. Butter six 3/4-cup soufflé dishes or custard cups. Stir chocolate and butter in heavy medium saucepan over low heat until melted. Cool slightly. Whisk eggs and egg yolks in large bowl to blend. Whisk in sugar, then chocolate mixture and flour. Pour batter into dishes, dividing equally. (Can be made 1 day ahead. Cover; chill.)
Bake cakes until sides are set but center remains soft and runny, about 11 minutes or up to 14 minutes for batter that was refrigerated. Run small knife around cakes to loosen. Immediately turn cakes out onto plates. Spoon sauce around cakes.
Chocolate Chile Bread Pudding
This one's for Carol!   Rich dark chocolate with a spicy kick to get the blood flow moving in the right direction, if you know what I mean.  Grrrr….
1 Tblsp unsalted butter plus additional for greasing ramekin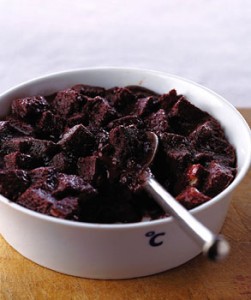 1/3 cup heavy cream
2 oz fine-quality bittersweet chocolate (not unsweetened or extra-bitter), chopped
1 1/2 tsp. sugar
1/2 tsp. vanilla
1/4 tsp. cinnamon
1/8 tsp. cayenne
1 large egg, lightly beaten
3/4 cup cubes (1/2 inch) firm white sandwich bread (from about 2 slices)
Special equipment: an 8-ounce ramekin or a muffin tin with 1-cup muffin cups
Accompaniment: vanilla ice cream (optional)
Put oven rack in middle position and preheat oven to 350°F. Generously butter ramekin or 1 muffin cup.   Cook butter (1 tablespoon), cream, chocolate, sugar, vanilla, cinnamon, cayenne, and a pinch of salt in a 1- to 1 1/2-quart heavy saucepan over low heat, stirring constantly, until chocolate is melted and mixture is smooth, 1 to 2 minutes. Remove from heat and whisk in egg until combined. Fold in bread cubes and let stand 5 minutes.  Fill ramekin with bread mixture and bake until puffed and set around edge but still moist in center, 15 to 20 minutes. Cool 5 minutes before serving.
Goat Cheese-Stuffed Roasted Figs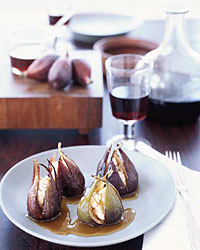 For the non-chocoholics.  (Rumor has it they do exist…like Big Foot!)  These are very simple, and dripping with warm honey.  Oops, did some of that drip on your lover?  You can take care of that.   And if you're feeling particularly naughty you can find some fig leaves for a little Adam & Eve roll playing.  Grrr…
12 figs
Goat Cheese
Warmed honey
Quarter 12 figs, cutting three-quarters of the way down. Stuff the figs with goat cheese. Roast in an oiled pan at 425° for 12 minutes, until softened. Serve drizzled with warmed honey.
And last but not least, I must give you something to make for breakfast, assuming the evening goes as well as it should. 
You can thank me later.

Crêpes with Strawberries and Muscat-Yogurt Sauce
1/2 cup all-purpose flour

1/2 tsp. salt
3/4 cup skim milk
1 large egg
Vegetable oil
1 cup plain low-fat yogurt
2 Tbsp honey
1 Tbsp Muscat dessert wine
1/4 tsp. grated orange zest
24 strawberries, sliced
Confectioners' sugar, for dusting
In a small bowl, whisk the flour with the salt. Add the milk, egg and 1 tablespoon of oil and whisk until smooth. Cover and let rest for 20 minutes. In another small bowl, whisk the yogurt, honey, Muscat and zest.
Preheat the oven to 350°. Heat an 8-inch nonstick skillet. Rub the pan with an oiled paper towel. Add about 3 tablespoons of the crêpe batter, swirling the pan to coat evenly; pour off any excess. Cook the crêpe over moderate heat until the bottom is brown in spots and the sides are crisp, about 2 minutes. Flip the crêpe and cook for 1 minute longer. Transfer to a baking sheet; repeat to make 7 more crêpes.  Fold the crêpes into quarters and bake until hot, 4 minutes. Place 2 crêpes on each plate. Top with the yogurt sauce and garnish with the strawberries. Dust with confectioners' sugar and serve immediately.
Smoked Salmon Benedict
3 Tbsp minced shallots

2 tsp. dry mustard
1 1/2 cups dry white wine
3/4 cup whipping cream
3 Tbsp white wine vinegar
12 large eggs
6 3/4-inch-thick slices brioche loaf or egg bread, lightly toasted, each slice cut in half on diagonal
8 oz thinly sliced smoked salmon (not lox)
3 large egg yolks
3 Tbsp chopped fresh dill
Fresh dill sprigs (optional)
Combine shallots and mustard in medium saucepan. Gradually whisk in wine. Boil over high heat until mixture is reduced to 1/2 cup, whisking often, about 10 minutes. Whisk in cream. Season with salt and pepper. (Can be made 1 day ahead. Cover; chill.)
Fill large bowl with cold water. Bring large skillet of water to boil; add vinegar. Reduce heat to medium-low. Working with 6 whole eggs at a time, crack eggs open and add to simmering water. Cook until whites are set, about 3 minutes. Using slotted spoon, transfer 1 egg at a time to cold water. Reserve skillet with vinegar water. (Can be prepared 1 hour ahead. Let stand at room temperature.)
Place 2 toast triangles on each of 6 plates. Top with salmon. Bring vinegar water to simmer. Transfer cream sauce to top of double boiler over simmering water. Whisk 3 raw egg yolks into cream sauce. Whisk constantly until sauce thickens and instant-read thermometer inserted into sauce registers 160°F, about 4 minutes. Remove from heat. Add chopped dill and whisk 1 minute. Using slotted spoon, gently transfer poached eggs, 1 at a time, from bowl of cold water to skillet of simmering vinegar water. Cook eggs until warm, about 30 seconds. Using slotted spoon, transfer 1 poached egg to each toast triangle. Spoon sauce over. Garnish with dill sprigs, if desired.