---
"Invite someone dangerous to tea."
– SARK
One of my favorite indulgences is a tradition celebrated for centuries known as 'high tea'.  Frequently one must seek them out in fine hotels or tea rooms.  It is a light meal customarily consisting of an assortment of finger sandwiches, scones with clotted cream and jam, cakes, pastries and fresh fruit with, of course, one's own pot of tea of choice.   I can think of nothing more suited for Libra, as the ritual oozes artistic appreciation and social grace – everything from delicate china cups to the delicately decorated petit fours.  They are the perfect opportunity to lounge in a lovely garden setting to the sound of chirping birds harmonizing with some lilting chamber music.  Why, such a setting seems to magically send us back to a time when all women were beautiful, all men were gallant and life seemed to burst with an agonizing romanticism.   It's a great excuse to wear something frilly and silly, like a hat!   (Oh whatever happened to that long lost accessory?  I miss them so…)   This month I've collected a potpourri of delightful bites to serve to your beloveds while you celebrate the beauty of the arts or simply each other.  After all, there's a reason children throw so many tea parties.  Don't let them have all the fun.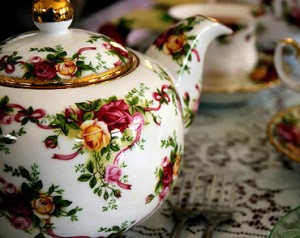 Note on Making Sandwiches Ahead of Time:
To keep them from drying out, cover them loosely with a sheet of wax paper and then place a damp kitchen towel over the wax paper (never place a damp towel directly on top of the bread because the sandwiches will become soggy). Refrigerate.   When ready to serve, remove from refrigerator. Uncover sandwiches just before serving.
Blue Cheese Walnut Finger Sandwiches
3/4 cup chopped walnuts or pecans

1 (8 oz.) package cream cheese, softened
5 ounces creamy blue cheese, rind removed
1 tablespoon chopped fresh parsley
2 (14 oz.) whole grain bread loaves (22 slices)
1/4 cup fig, cherry, or apricot preserves
Preheat oven to 350°. Bake walnuts in a single layer in a shallow pan 6 to 8 minutes or until toasted and fragrant, stirring after 5 minutes. Cool completely (about 20 minutes).  Stir together walnuts and next 3 ingredients. Spread on 1 side of each bread slice. Spread fig preserves on half of bread slices; top with remaining bread slices, cheese sides down. Chill sandwiches in airtight zip-top plastic bags up to 24 hours, if desired. Cut crusts from sandwiches. Cut each sandwich into 8 pieces.
Cucumber Mint Tea Sandwiches
1/2 seedless cucumber, peeled and very thinly sliced (about 32 slices)

1/4 cup loosely packed fresh mint leaves, rinsed, spun dry, and chopped fine
1/4 cup unsalted butter, room temperature
1/4 cup cream cheese, room temperature
16 slices best-quality white bread*
Salt to taste
*Choose the best-quality white or wheat bread as possible. Never serve end slices. Freezing the bread before cutting and then spreading makes for easier handling.
Place cucumber slices between layers of paper towels to remove excess moisture.   In a small bowl, combine mint, butter, and cream cheese; spread on one side of each slice of bread. Lay cucumber slices onto the buttered side of 8 slices of bread. Sprinkle with salt. Top with the remaining slices of bread, buttered side down.   Carefully cut the crusts from each sandwich with a long, sharp knife. Cut the sandwiches in half diagonally and then cut in half again. Decorative shapes can be made with cookie cutters.  Yields 8 whole sandwiches or 16 halves or 32 fourths.
Radish Poppy Seed Tea Sandwiches
1 cup minced radishes

1 teaspoon poppy seeds
1 cup cream cheese, softened
8 slices best-quality white bread*
1/2 cup unsalted butter, room temperature
3/4 teaspoon salt
24 leaves of young arugula, spinach, or radicchio
*  Choose the best-quality white or wheat bread as possible. Never serve end slices. Freezing the bread before cutting and then spreading makes for easier handling.
In a medium bowl, combine minced radishes, poppy seeds, cream cheese, and salt; blend well.
Spread one side of each piece of bread lightly with butter. Top the buttered side of 4 slices of bread with radish mixture (about 1/4-inch thick). Top with arugula, spinach, or radicchio leaves and top with the remaining bread slices, buttered side down.  Carefully cut the crusts from each sandwich with a long, sharp knife. Cut the sandwiches in half diagonally and then cut in half again. If desired, decorative shapes can be made with cookie cutters.  Yields 4 whole sandwiches or 8 halves or 16 fourths.
Smoked Salmon Sandwiches on Pumpernickel
1/4 cup good-quality mayonnaise


1 tablespoon minced green onion
1 tablespoon minced fresh dill weed
1 tablespoon capers, drained
1 teaspoon prepared horseradish
Pepper to taste
2 teaspoons butter, room temperature
8 slices pumpernickel bread
4 to 6 pieces (slices) smoked salmon (depending on size of salmon slices)
12 cucumber slices, sliced thin
In a small bowl, combine mayonnaise, green onion, dill weed, capers, horseradish, and pepper; set aside.
Spread butter thinly over pumpernickel bread slices; spread mayonnaise mixture on each bread slice. Divide salmon and cucumber slices evenly over 4 slices of bread; top with remaining bread slices.
Cut each sandwich in half diagonally. NOTE: May also cut in quarters or small rounds (your choice)
Transfer to individual serving plate and serve.   Makes 4 sandwiches.

Blissini
1 1/2 cups Prosecco, chilled
1 1/2 cups orange juice, chilled
1 1/2 cups pomegranate juice, chilled
Mint leaves, for garnish
Combine the Prosecco, orange juice, and pomegranate juice and pour into 6 Champagne glasses. Garnish with mint leaves and serve.
Lavender Walnut Scones with Lavender Honey Glaze
1 tablespoon dried edible lavender

1/2 cup walnut pieces
3 cups all-purpose flour
3 tablespoons granulated sugar
4 1/2 tsp. baking powder
3/4 tsp. salt
12 tablespoons unsalted butter, cold
1 large egg
3/4 cup buttermilk, cold, plus more for brushing
Preheat oven to 425 degrees F. Line baking sheet with parchment paper and spread walnuts on sheet evenly. Toast in oven for 4-5 minutes. Remove and allow to cool completely.  While the walnuts are cooling, measure lavender into a small prep bowl and use the back of your tablespoon to gently smush the lavender flowers to release fragrance and oils. (You can also use a mortar and pestle if you are fancy enough to own one!) Set aside.
Whisk together the flour, sugar, baking powder, and salt, then whisk in the lavender. Cut your butter into large blocks, then place into the flour mixture. Use a pastry cutter to cut the butter into the flour mixture until butter is in pebble to pea sized bits.   At this point, your walnuts should be cooled, so coarsely chop them and then add to the flour mixture, using a fork to mix them in.
Whisk together the egg and buttermilk in a separate bowl. Make a well in the center of the flour mixture and pour in the buttermilk mixture. Use a fork to gradually stir the two together; you may need to use your hands in the end to get everything incorporated.   Knead it a few times in the bowl, then turn out onto a floured surface and pat into a circle 1 inch thick. Cut into 8 pie slices. (You may want to cut the larger slices into two smaller triangles so they aren't too big.)
Place slices onto cooled baking pan and brush tops with buttermilk. Bake for 12-15 minutes until lightly golden on top and firm in the middle. Remove and allow to cool completely before glazing.
Lavender Honey Glaze
1 cup powdered sugar, sifted
1 tablespoon lavender-infused honey, or regular local honey
1 tablespoon milk
Whisk together sugar, honey, and milk. Mixture will be thick, but don't add too much extra milk or it will turn runny quickly.  Spoon glaze over scones and sprinkle top with a few extra lavender flowers.
Rose Petal Jam
1/2 pound pink or red edible rose petals*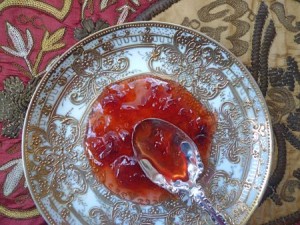 2 cups granulated sugar, divided
4 1/2 cups water
Juice of 2 freshly-squeezed lemons (approximately 1/2 cup)
*All roses that you intend to eat must be free of pesticides. Do not eat flowers from florists, nurseries, or garden centers. In many cases these flowers have been treated with pesticides not labeled for food crops. The tastiest roses are usually the most fragrant.
Clip and discard bitter white bases from the rose petals; rinse petals thoroughly and drain.
Place rose petals in a bowl and sprinkle enough sugar to coat each petal. Let set overnight.
In a saucepan over low heat, place remaining sugar, water, and lemon juice; stirring to dissolve sugar. Stir in rose petals and let simmer 20 minutes. Increase heat to medium-high and bring to a boil; continue boiling for approximately 5 minutes until mixture thickens and the temperature on a candy thermometer reaches 221 degrees F. or until a spoonful dropped onto a cold plate jells and holds its shape. Remove from heat.
After boiling, transfer the jam into hot sterilized jars. Fill them to within 1/4-inch of the top. Wipe any spilled jam off the top, seat the lid, and tighten the ring around them. Cover, label, and store in a cool place.  Makes 1 pound of jam.
Nutella & Pear Pinwheel Scones
3 cups of flour
3 teaspoons of baking powder
1 tablespoon of milk powder
A pinch of salt
3 oz. butter
¼ cup white sugar
2 oz. plain yogurt
1 egg, lightly beaten
¼ cup of cream
¼ cup of milk
¾ cup of Nutella
1 large pear, peeled and grated
Preheat the oven to 400°F.  In a large bowl sift together the flour, baking powder, milk powder and salt. Sift the dry ingredients twice more to ensure they are well mixed. Rub the butter in until the mixture resembles fine breadcrumbs. Toss through the sugar.
In another bowl, whisk together the egg, yoghurt, cream and milk. Make a well in the dry ingredients and add the liquid mixture. Mix together lightly and quickly to make a soft dough, do not over mix or the scones may be tough. On a lightly floured board or bench carefully roll out the dough to form a rectangle.
Spread the rectangle with a generous amount of Nutella and grate over the pear.  Taking up the edge closest to you gently roll the dough up to form a tight spiraled log.  Slice the log into 10 even portions and place on a baking tray leaving room for the scones to spread. Bake for 15 to 20 minutes or until golden.  Makes 10.
Heart Shaped Cherry and Chocolate Chip Muffins
2 cups all-purpose flour

1/3 cup sugar
1 teaspoon baking powder
1/2 teaspoon baking soda
1/2 teaspoon salt
1/4 cup vegetable oil
1 teaspoon grated orange peel
2/3 cup buttermilk
1 large egg
1 teaspoon vanilla extract
3/4 cup miniature semisweet chocolate chips
3/4 cup coarsely chopped dried tart cherries
Mix flour, sugar, baking powder, baking soda, and salt together in a large bowl. In another bowl blend vegetable oil, orange peel, buttermilk, egg and vanilla. Combine the dry with the wet ingredients 1/3 at a time till just blended. Add in chocolate chips and dried cherries and mix till just blended. Spoon into heart shaped pan (use spray oil if pan is not a non-stick surface). Bake at 400 degrees F for 25 minutes or until browned on top and toothpick can be removed cleanly. Cool completely and frost with your favorite pink icing and decorative sprinkles.
Chocolate Cherry Cream Puffs
Pastry: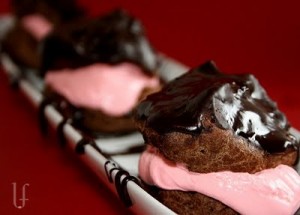 1/2 cup butter
1 cup water
1 cup flour
3 Tbsp. unsweetened cocoa powder
1/4 tsp. salt
2 Tbsp. sugar
4 eggs
Filling:
4 oz.  cream cheese, softened
1/2 tsp. vanilla
1/4 cup cherry syrup, such as Torani, DaVinci
1 cup heavy whipping cream, whipped with 1 tablespoon sugar
Ganache:
4 oz. 70% cacao chocolate
1/2 cup whipping cream
1/3 cup cherry syrup
Preheat oven to 400 degrees. Grease a baking sheet with vegetable cooking spray and set aside.
In a medium saucepan heat the water and butter to boiling. Reduce heat; with a wooden spoon stir in flour, cocoa powder, salt, and sugar. Cook, stirring constantly until the mixture forms a ball. Remove from heat and allow to cool for 10 minutes. With the wooden spoon beat in eggs, one at a time, until no longer glossy. Place 2 tablespoons of dough onto greased baking sheet about 2 inches apart. (May need to do in two batches.) Bake for 15-20 minutes or until puffed and dry to the touch. (Pierce one of the puffs with a sharp knife and make sure it is dry on the inside. If gummy, return to oven for 1 more minute.) Remove puffs to a wire rack to cool completely.
In a medium bowl beat the softened cream cheese until fluffy. Beat in the vanilla and cherry syrup. Fold in whipped cream. Cover with plastic wrap and allow to chill.
In a microwave safe bowl place the chocolate and whipping cream. On 50% power heat for 1 minute. Stir and heat for another minute. Repeat until chocolate is soft, but not completely melted. Add cherry syrup and, with a whisk, incorporate the cream and syrup into the chocolate until it is very smooth. Set aside. (May need to gently reheat when ready to use.)
When puffs are cool, cut in half with a serrated knife. Remove any moist dough in the middle. Place on a plate and fill the bottom with 2 tablespoons cherry filling. Dip the tops of the puffs into the warm ganache. Serve. Makes 14 mini puffs.
Tiramisu in a Martini Glass
2/3 cup Mascarpone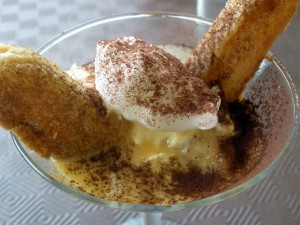 3 Tbsp. powdered sugar
1/2 cup espresso or strong reduced coffee
2 Tbsp. Kahlua liqueur
1 (4.75 ounce) box Soft Lady Fingers
2 tsp. semi-sweet chocolate chopped fine
2 mint leaves for garnish
Place the mascarpone and powdered sugar in a mixing bowl and beat several minutes until very smooth and creamy, set aside.
Pour the coffee and Kahlua into a shallow bowl. Dip both sides of the lady fingers briefly into the coffee mixture, (use as many lady fingers as you like according to the size of your martini glass).
Place the lady fingers vertically in the martini glass; (when they are soft they can be adjusted to fit in the center of the glass).   Spoon the mascarpone mixture in the center of each glass, garnish with the chopped chocolate pieces, and mint leaves. Serve.   Makes 2 servings.
Cherry Lemonade
Simple Syrup (see recipe below)*

Juice of 5 to 6 freshly-squeezed lemons (approximately 1 cup)
1/2 cup Maraschino Cherry Juice
4 cups cold water
Ice cubes
Prepare Simple Syrup in advance and refrigerate until ready to use.
In a large pitcher, combine freshly-squeezed lemon juice and prepared cold Simple Syrup.
Add Maraschino Cherry Juice, water, and ice cubes; stir until well blended. Refrigerate approximately 50 to 60 minutes before servings.  Serve in tall glasses over ice.   Yields approximately 6 cups.
Basic Simple Syrup Recipe:
1 cup granulated sugar*
1 cup water
You can reduce the sugar to 3/4 cup, if desired.
In a medium saucepan, combine sugar and water. Boil for 5 minutes, without stirring. Remove from heat and let cool before using.   Store in the refrigerator.
Goat Cheese & Wine Chocolate Truffles
6 1/2 oz. bittersweet dark chocolate, chopped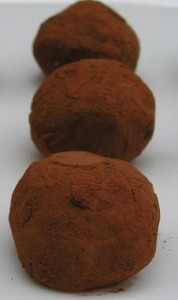 5 oz. fresh goat cheese, brought to room temperature
3 Tbsp.  heavy cream
2 Tbsp. honey (or other sweetener you like)
2 Tbsp. of red wine (I used a Cabernet Sauvignon which goes well with chocolate)
1/3 cup cocoa powder, for dusting.
Heat the heavy cream and chocolate together over a double boiler (or in the microwave, in 20 seconds intervals as I did) but don't over heat, just enough to melt the chocolate. Add the goat cheese and honey at this point and turn off the heat (or, heat for 20 more seconds, might take a little more of the cheese is cold) and stir vigorously with a whisk, When everything is blended, take off the stove  and add the wine, whisk again until everything is smooth and shiny.
Let the ganache cool down before sticking it in the fridge for at least an hour and a half. You can also make this the night before and leave them overnight, covering it with plastic wrap.
When you are ready to make them, roll heaped teaspoons of the refrigerated mixture into small balls with your hands (yum, chocolate!), then roll the balls in the cocoa powder. Either eat right away or let chill on a sheet pan until ready to serve. Truffles will keep for 3 to 4 days in the refrigerator.
Sweet Orange Cherry Poppy Seed Loaf  (Vegan)
1 1/4 cups Spelt or Wheat Flour

1/2 cup sugar
2 Tbsp. agave syrup
1/3 cup plain soy milk
1/4 cup plain soy yogurt
1/4 cup poppy seeds
1 1/2 Tbsp. baking powder
1/4 cup canola or coconut oil
1 tsp. Xantham Gum
1 tsp. vanilla extract
1 cup fresh cherries, pitted, halved and quartered
2 Tbsp. pulpy orange juice, fresh
1 1/2 Tbsp. orange zest
1 tsp. salt
1 tsp. cinnamon
Preheat oven to 350 degrees.  Combine soy milk, oil, agave syrup, sugar, poppy seeds, vanilla extract and orange juice in a large bowl.  In a separate bowl, combine flour, baking powder, xantham gum, salt, orange zest and cinnamon.   Stir dry ingredients into liquid ingredients.  Stir until you have a well-blended thick batter.  Fold in the cherries.  Pour into a greased loaf pan.  Top with a few leftover cherries.  Sprinkle with sugar.  Bake at 350 degrees for 40 minutes.  Serve warm or store at room temp for a few days.  Freeze slices for prolonged tea cake enjoyment.