---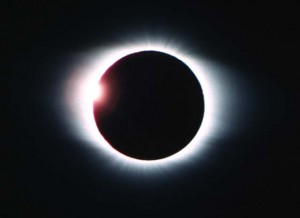 Although eclipses are not rare, this particular one is extremely so. In fact, this type of eclipse will not occur for another 1,200 years. This is the first of 72 eclipses in a new Saros Series called 13 New South. I am not going to go into the details of what a Saros cycle is for that discussion is too long, but it is one of the longest cycles that we have in astrology. A new Saros Series begins at the South Pole which is exactly where this one has just occurred. The birth chart for this series which will be active every time it repeats, which is every 18 years or so, includes a Grand Cross involving the New Moon in Cancer, Uranus in Aries, Saturn in Libra and Pluto in Capricorn. The closest midpoints are Pluto on the midpoint of Mars/Jupiter and Jupiter on the midpoint of The Sun/Neptune.
This Solar Eclipse occurred on July 1, 2011 at 9° of Cancer at 1:54am PDT. It is a very high tension chart since a configuration known as a cardinal grand cross highlights this dynamic set of aspects. The fact that it is a cardinal cross means that there is strong need for conscious action in order to handle the stresses inherit in this chart. If this doesn't occur, the stresses can cause damage with one's relationships. Why? Because a grand cross means that there are 4 squares and two oppositions which bring forth long-lasting issues in such a powerful way that they can no longer be ignored. The truth, whatever it might be, must be faced, acknowledged and some sort of actions must be taken. With Pluto involved a transformation is possible, but for that to be successful, one must recognize the fact that material from the depths of one's unconscious is coming to the surface. Pluto transits are never easy because the material is in the unconscious for a reason. The material I am referring to is often called 'shadow' material. We can think of this as aspects of our psyche that we do not approve of, such as guilt, shame, or fear which comes from events in our lives that have wounded or shamed us in some way and which we are afraid to see. This is the time to face these issues so that they no longer control us and create needless havoc in our lives.
This eclipse has two very potent mid-points. The first is Pluto is on the Mars/Jupiter mid-point. It will push us to engage in some project or issue with great intensity and effort. One will want to expend great energy as one senses that this might be the beginning of an important endeavor that one has desired for a very long time. In other words it could signify the ending of a stalemate or blocked period of time when it seemed impossible to move ahead in the way one wants. While obstacles still remain, there is a good chance that with great effort, the logjam can be brought to an end.
For those of you who are sports fans, we see that there are lockouts in two sports, football and basketball. One is rumored to be coming to an end, while the other is seen as so intractable that an entire season may be lost. Pluto rules the super wealthy and they will want to keep and even increase that wealth and power. Obviously, the hot issue of Washington right now is whether or not to extend the debt ceiling. Both sides are dug in with one wanting to raise taxes on the very wealthy and the other refusing to do so in any manner. It is likely to be a huge battle with severe outcomes for the nation if the nation is not able to pay its debts.
As many of my readers know, my view of astrology is that it is important to make a distinction between how a nation or culture responds to astrological forces as compared with individuals. The reason is that individuals have freedoms that a nation as a whole does not have. Individuals can choose to become more conscious and aware, but a nation is a composite of multiple forces, beliefs, opinions, and generally acts in an unconscious manner. It seems that nations, states, etc. must act out the drama in front of the entire citizenry, whereas each person is allowed the freedom and wisdom to work things out before a huge crisis has to be enacted. In our country right now, politics is as much theater as anything else. The problem is that the consequences are not just acted out on stage.
The second very important mid-point is that Jupiter is aligned with the Sun/Neptune planetary pair. This has the potential of bringing long and tough issues to a gentle conclusion due to Neptune's ability to bring compassion and understanding of other people into the arena. It can also bring confusion and deception, but we can hope for better, can't we? The biggest problem for Neptune is being unrealistic. When it is involved in a transit, we can imagine something as being true, which isn't. Our perceptions could be confused and one can imagine that things are either worse or better than they really are. It is helpful to ask people we can trust to verify whether or not we perceiving things accurately for there is a real chance for misjudgments.
As always, we love replies to our newsletter articles, but especially during potentially big events such as eclipses.
We wish you a happy and safe holiday.