---
Cancer is the sign that has perhaps the strongest relationship to food of all.  But you can keep your fancy dinner reservations and your dog-eared issues of Bon Appétit.  Your truffled this and foie gras that will barely get a rise out of them.  No, they've tasted the best cooking in the world and all those hoity-toity dishes pale in comparison to the ones with that special three lettered ingredient.  No, not MSG.  I'm talking about TLC.  Nothing tastes as good as ol' fashioned comfort food!  Made, of course,  with love by MOM – that spatula-wielding home cooking goddess in an apron.  And look, she's made you favorite — just how you like it and all for you!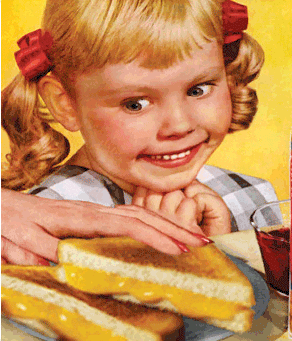 Ask any Cancer their favorite dish and it will likely come wrapped in a lovely story – a loose thread to pull, unraveling a tapestry of childhood memories.  The right dish is like discovering your old security blanket – so warm and soothing, nurturing you through skinned knees and broken hearts.  Familiarity is king with the Cancer palate.  They're particularly fond of nostalgic dishes, the kind that bring memories wafting back.  I was raised Italian, which meant the kitchen (not the living room) was where we lived.  I'm sure we're not the only culture to understand the universal truth of the equation 'Food = Love'.   Every Sunday afternoon was spent crowded around the Formica table in my grandmother's tiny kitchen, eating spaghetti smothered in her gloriously rich, meaty sauce packed with slow roasted beef short ribs, dotted with meatballs the size of baseballs.  Even better were Saturday mornings — me and my sister in our footie pajamas, devouring Dad's waffles while glued to our beloved Looney Tunes cartoons; fervently rooting for Wile E. Coyote to get that stupid bird.  (And tell me why have they censored them for 'violence'?  Why?  WHY?!).  It all comes rushing back with the aroma of baking bread or a slow roasting pot roast, or the sound of a sizzling pan of hot oil with chicken frying on the stove.  (Mom never complained about how messy it was to clean up, now did she..)  Everyone has their story, the food that warms and soothes like no other.
So if you want to cook for a Cancer, don't worry about impressing them with a seven course meal (save that for a Leo!)  And don't sweat those complicated recipes.  All you need to do is a  little covert research.  Discover that special dish that pulls at their heart strings and shows them how much you care.   While you're cooking infuse it with your fondest of thoughts.  Believe it or not, you might be able to taste the difference.  (I mean, I'm a good cook, but I'm always amazed at how much better my meals taste when I'm cooking for people I care about.   Everything just turns out super-duper yummy. )  So put out a nice, clean table cloth, some vintage salt and pepper shakers.  Invite them over to a house filled with the scent of home cooked goodness and serve them up family style, passing bowls and serving plates while telling fond childhood stories.  At the end of the evening you'll find your stomach wasn't the only thing filled with goodness.  This month's recipes will take us for a stroll down memory lane for some good old fashioned heartwarming standards (with a bit of a twist –because I just can't help myself).

Look, Ma!  It's a CONTEST !!!
That's right — Step right up!  A good old fashioned contest where you get to WIN something!
Send in your favorite comfort food recipe AND  a story of why it's so meaningful for you.
The favorite entry will be featured in an upcoming edition of Dine Like Your Sign!
But wait, there's MORE!
It just wouldn't be a contest without a PRIZE! So here's what I'm going to do.
**  If the winner lives in the Los Angeles area, I will deliver them a homemade batch of my grandmother's (Best in the World) spaghetti and meatballs.
**  If the winner is NOT a local resident (insert sad face here) I'll send a home baked goodie (to be determined, but no less astonishing!)
To make the contest fair (since I do know some of you),  I will have the entries anonymously judged by a panel of my peers. The deadline to send in your entry is August 10th.   E-mail them to leeann@sherastrology.com (Do NOT post them in the comments section below!)

Now dazzle me with your nostalgia!
Roasted Tomato Soup with Grilled Cheese Croutons
6 cups (3 pints) cherry tomatoes

3 tablespoons olive oil
1 teaspoon salt
1/2 teaspoon pepper
2 tablespoons unsalted butter
2 garlic cloves, minced
1 cup chopped onion
1 (28-ounce) can diced tomatoes
4 cups chicken broth
1/2 teaspoon thyme
1 cup whipping cream
Heat the oven to 400°. On a baking sheet, combine the cherry tomatoes, 2 tablespoons of the olive oil, and the salt and pepper. Toss the ingredients to coat evenly and spread them in a single layer. Roast the tomatoes until they are shriveled with brown spots, about 35 to 45 minutes.
In a large pot, heat the butter and the remaining tablespoon of oil over medium heat. Add the garlic and onion and sauté until softened, about 6 minutes. Add the canned tomatoes with their juice, the broth, the thyme, and the roasted tomatoes, including any liquid on the baking sheet. Bring the mixture to a boil, then reduce the heat and simmer, partially covered, for 40 minutes.
Using a food processor or blender, puree the soup until it's smooth. Return it to the pot and stir in the cream. Without letting the soup boil, warm it over medium heat, stirring often, until steaming. Add salt and pepper, if necessary.
Grilled cheese croutons
1/4 cup unsalted butter, softened
1/4 teaspoon thyme
6 thin slices of bread
3 ounces Cheddar, thinly sliced
Heat a large skillet over medium-high heat. In a small bowl, combine the butter and thyme. Spread one side of each bread slice with the butter mixture. Place 3 slices in the pan, buttered side down. Top with the cheese, then with the remaining 3 bread slices, buttered side up. Cook, turning once, until toasted on both sides, 3 to 5 minutes per side. Remove the sandwiches from the pan. Let them cool slightly, then cut them into 1-inch squares. Makes about 60 croutons.
Red White and Blue Mac 'n Cheese
3 tablespoons butter
1/4 cup all purpose flour
1 1/2 cup heavy whipping cream
1 1/2 cup half and half
2 cloves garlic, finely grated
1/4 teaspoon cayenne pepper
1 teaspoon Worcestershire sauce
1 teaspoon salt and pepper (more or less to taste)
1 3/4 cups grated Wisconsin White Cheddar Cheese(reserve 1/2 cup)
1 3/4 cups grated Wisconsin Monterey Jack Cheese (reserve 1/2 cup)
1 1/2 cups crumbled Wisconsin Blue Cheese (reserve 1/2 cup)
1 8-ounce jar (1 cup) sun dried tomato slivers, drained
1 pound cavatappi pasta, cooked al dente, drained, cooled
Paprika, optional
Preheat oven to 350°F
In a medium sized pot over medium heat, melt butter. Add flour and whisk for 3 minutes until lightly browned. Add heavy whipping cream, half and half, garlic, cayenne, Worcestershire sauce, salt and pepper. Stir for about 3 minutes over medium heat until slightly thick. Remove from heat and add cheeses (except for reserved ½ cup White Cheddar, ½ cup Monterey Jack and ½ cup Blue Cheese) and sun dried tomatoes. Stir until cheese is melted into the sauce.
Butter a 13×9 baking dish. In a large pot (the one you cooked the pasta in), add sauce to the pasta. Stir until pasta is evenly coated. Pour into 13×9 baking dish and level out the top. Sprinkle the reserved cheese over top. Sprinkle with paprika if desired. Bake until bubbly, about 25-30 minutes. Let sit 5-10 minutes before serving.   Makes 8 servings.
Slow Cooked Pot Roast
Screwed up with a loved one?   Not after this… all is forgiven.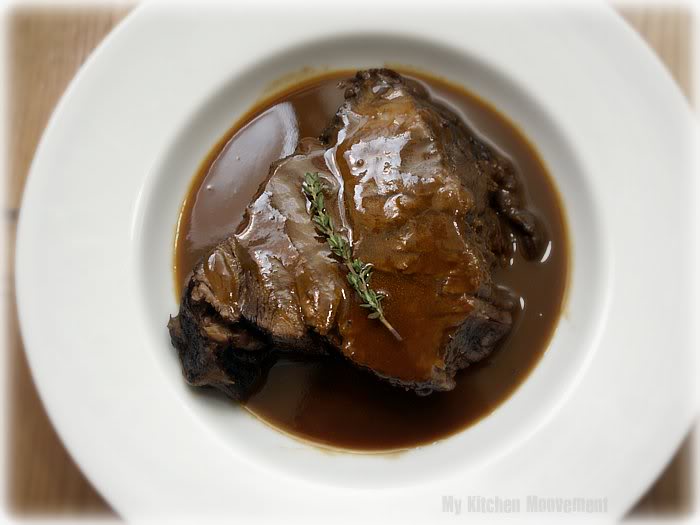 1 (4 to 5 lb.) prime boneless beef chuck roast, tied
Kosher salt and freshly ground black pepper
½ cup flour for dredging plus 2 tablespoon for roux
4 tablespoons  olive oil
2 cups chopped carrot
2 cups chopped yellow onion
2 cups chopped celery
5 large garlic cloves, peeled and crushed
½ bottle of good red wine, such as Burgundy
4 tablespoons tomato paste
1 cup chicken stock, preferably homemade
3 branches fresh thyme
2 tablespoon unsalted butter for roux
Preheat the oven to 300 degrees F.
Pat the beef dry with a paper towel. Truss the beef into a somewhat tubular form and liberally season the roast with salt and pepper. Dredge the whole roast in flour, including the ends.
In a large Dutch oven, heat 2 tablespoons olive oil over medium heat. Add the roast and sear for 4 to 5 minutes, until nicely browned. Turn and sear the other side and then turn and sear the ends. This should take 15 to 20 minutes to complete. Remove the roast to a large plate.
Add 2 tablespoons olive oil to the Dutch oven. Add the carrots, onions, celery, garlic, tomato paste, salt, pepper and cook over medium heat for 10 to 15 minutes, stirring occasionally, until tender but not browned. Add the wine and pour yourself a glass. Bring it to a boil.  Add chicken stock, thyme and bay leaf and season again.
Put the roast back into the pot, and cover. Place in the oven for 2 1/2 hours, until the meat is fork tender. Remove the roast to a cutting board. Pour the remaining vegetables and sauce through a strainer. Discard the vegetables. Pour the sauce into a gravy separator and let it rest for 15 minutes.
Meanwhile, whisk the butter and flour in the Dutch oven to form a roux. Cook for 2 minutes before slowly adding the sauce to the pot and whisk vigorously.  Cook and let it reduce for 5-10 minutes. Taste for seasonings and adjust. At this point I would add 2 teaspoons of kitchen bouquet to give the sauce a deeper color (thanks, Carol).
Remove the strings from the roast, and slice the meat. Serve warm with the red wine jus spooned over it.
Beef Stroganoff
1 lb top sirloin, trimmed of fat and sliced into thin strips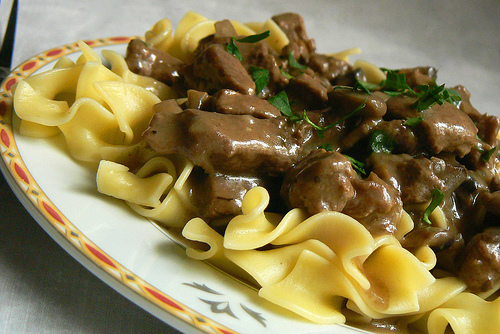 6 tbsp butter, divided
8 oz mushroom, sliced
1/2 onion, diced
2 cloves garlic, minced
1/4 cup dry white wine (or brandy, Marsala, etc)
1 cup beef broth
1 cup sour cream
1 tbsp flour (if needed)
1 tbsp flat leaf parsley, chopped
salt and pepper
12 oz extra wide egg noodles, cooked
Heat a heavy skillet over medium high heat until hot.  Add 1 tbsp of butter and as soon as it melts and before it starts to brown add half of steak slices.  Toss, then cook without stirring for a minute or two or until well browned on one side.  Sprinkle with salt and pepper.  Flip steak pieces over and brown the other side, about one minute.  Remove steak to a plate.  Repeat with another tablespoon of butter and the remaining steak. Reserve seared steak.
Repeat with 1 tbsp of butter and half of sliced mushrooms. Sprinkle mushrooms with salt and pepper.  Reserve to the plate with the steak.  Repeat with another table spoon of butter and remaining mushrooms.
Turn heat down to medium and the last 2 tbsp of butter.  Add onions and garlic and sauté until soft.  Add white wine to deglaze the pan, scraping up the browned bits in the pan.  You can also use a small amount of beef broth if you don't want to use alcohol.  Once wine has cooked off add sour cream and beef broth, stir and heat until smooth.  If the sauce seems too thin you can thicken it by removing a 1/4 cup of sauce and stirring in 1 tbsp of flour and adding it back in.
Add steak and mushrooms back into sauce. Stir and simmer until hot. Boiling the sauce heavily will result in the sour cream curdling but it isn't so fragile that you can't bring it to a nice simmer.
Taste and add salt and pepper.  Stir in chopped parsley.  Serve over egg noodles.
Four Corn Pie
Cooking spray

1 cup chopped onion
2 (8 3/4 oz.) cans no-salt-added whole-kernel corn, drained
1 (8.5 oz.) can no-salt-added cream-style corn
1 (15.5 oz.) can white hominy, drained
1 (4.5 oz.) can chopped green chiles, drained
1/4 cup chopped fresh cilantro
3/4 cup (3 oz.) shredded colby-Jack cheese, divided
3/4 cup egg substitute
1 cup cornflakes, finely crushed
4 tablespoons fat-free sour cream
Preheat oven to 400°.
Place a small nonstick skillet coated with cooking spray over medium heat until hot. Add onion; sauté 5 minutes or until lightly browned. Combine onion, whole-kernel corn, cream-style corn, hominy, chiles, and cilantro in a large bowl; stir in 1/2 cup cheese and egg substitute. Spoon mixture into a 9-inch pie plate coated with cooking spray. Combine 1/4 cup cheese and cornflakes; toss well. Sprinkle over corn mixture.
Bake at 400° for 50 minutes or until top is browned and mixture is set. Serve with 1 tablespoon sour cream.  Serves 4.
Rosemary Gruyere Beer Bread
For those intimidated by homemade bread recipes, try this.  It's sooooo easy, and within an hour you'll have a dense, steaming loaf of savory bread – perfect with a nice soup or stew.
3 cups all purpose flour
1 1/2 teaspoons salt
1 1/2 Tablespoons baking powder
3 Tablespoons sugar
1 cup shredded Gruyere Cheese
1 Tablespoon fresh Rosemary or 2 teaspoons dried Rosemary
12 ounce beer, room temperature
Preheat oven to 350 degrees F. Spray a loaf pan with non-stick spray.  In a large bowl, combine flour, salt, baking powder, sugar, and rosemary. Stir in gruyere cheese. Add beer and stir to combine.  Evenly spread dough in prepared loaf pan. Bake for 50-60 minutes.  Once done, immediately remove bread from loaf pan and place on a cooling rack. Serve with melted butter.
Lasagn-o-my Heart
My friend Tom says his mom makes the best lasagna ever.   I'm too polite to correct him, since MY mom's lasagna is the best.  Ever.  You know how it goes.   You won't care who made it when you get lost descending through the rich, saucy layers in search of those oozing pillows of ricotta cheese.  Eureka!!!
1/4 cup olive oil

1 onion, diced
4 cloves garlic, minced
a pinch kosher salt and freshly ground black pepper
1/2 lb ground veal
1/2 lb spicy chicken sausage, casings removed
1/2 cup dry white wine
1 28 oz can San Marzano tomatoes
3 bay leaves
1/2 lb no-boil lasagna noodles
1 lb fresh local ricotta cheese
1/8 cup chopped fresh parsley
1/8 cup chopped fresh basil
1 large egg
1/4 cup grated parmesan cheese
1 cup fresh mozzarella cheese
In a heavy pot, heat the olive oil.  Add in the onion, garlic and a pinch of salt, until translucent, about 2-3 minutes.  Add the ground veal and sausage, stirring and breaking into crumbles until browned, about 10 minutes.  Stir in the white wine, tomatoes, and their juice.  Stir in the bay leaves.  Scrape the bottom of the pan with a wooden spoon to get all the browned bits up.  Season to taste with salt and simmer for 2 hours over medium heat.  Remove the bay leaves and let cool.  Skim any fat that rises to the surface.  In a medium bowl, mix together the ricotta, basil, parsley, eggs, and parmesan with a pinch of salt.
Preheat the oven to 350.  Put a layer of sauce on the bottom of an 8×8 inch pan.  Add a layer of lasagna noodles.  Cover with another layer of sauce and then all of the ricotta mixture.  Add a final layer of noodles, a final layer of sauce, and cover with grated mozzarella and a sprinkle of parmesan cheese.  Cover with aluminum foil and bake for 30 minutes.  Then, remove foil and bake, uncovered for another 30 minutes.  Let cool for about 20 minutes before cutting and serving.
Almond Poppy Seed Waffles
My dad never wavered from his standby Bisquick recipe.
He was not an adventurous cook.  He would not approve of these.
Good thing I take after mom.
3 tablespoons almond paste

2 cups whole milk
1 cup sour cream
1 tablespoon almond extract
4 large eggs
3 cups all-purpose flour
1/2 cup granulated sugar
1 tablespoon baking powder
1-1/2 teaspoons kosher salt
1/2 cup poppy seeds
1/2 stick unsalted butter, melted
1 cup sliced almonds, toasted
Whipped butter, for serving
Maple syrup, for serving
Heat the oven to 200°F.
In a dry skillet, toast almonds over medium heat, tossing often to evenly brown.  Remove from heat immediately and place on a plate for serving.  Place the almond paste in the bowl of an electric mixer fitted with the whisk attachment. Add the milk, sour cream, almond extract, and eggs.  Whisk until well-blended and smooth.  In a separate large mixing bowl, add the flour, sugar, baking powder, salt, and poppy seeds. Whisk well to thoroughly combine.
Slowly pour the liquid ingredients into the dry ingredients while gently stirring, and mix just until combined. (Don't overmix or the waffles will be tough and chewy). The mixture will be a little lumpy (and that's OK; if you have pockets of flour bigger than a dime, smash them against the side of the bowl to break them apart without having to stir the batter more).   Pour in the melted butter and gently mix with a spoon just until incorporated.
If using an electric griddle or waffle maker, set the heat to 350°F.  Spray griddle or waffle maker with cooking spray.  Ladle batter onto waffle maker and cook until golden brown.  Repeat with the remaining batter.  Keep the waffles warm on a heatproof platter or baking sheet in the oven.
Roasted Banana Cinnamon Rolls
Every year we'd head to the Fresno County Fair.  The only thing stronger than the smell of livestock was the powerful wave of hot cinnamon coming from the tent where they baked fresh, hot cinnamon rolls.  My sister and I made a bee line for it, like an annual homing signal.
1 tube of Pillsbury French Bread Roll (or cinnamon roll dough)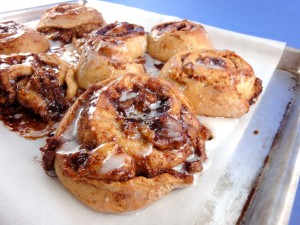 3 ripe bananas cut into 1/4 inch slices
2 tablespoons butter, cut into small pieces
2 tablespoons brown sugar
4 tablespoons softened butter
1/2 cup brown sugar
1-1/2 tablespoons ground cinnamon
1 cup powdered sugar
2 tablespoons milk

Preheat oven to 425 degrees F.  Place banana slices and cut up pieces of butter into a small baking dish.  Sprinkle with brown sugar and bake for 25 minutes or until golden and bubbly.  Remove and let cool for 10 minutes.  Next, use a fork to smash roasted bananas until well combined.
Reduce heat to 350 degrees F.  Unroll dough into rectangle.  Spread with softened butter and sprinkle with brown sugar and cinnamon.  Place dollops of roasted banana mixture evenly over top.  Starting from long end, roll up into log shape.  Using a sharp knife, cut 1 inch slices and place onto a parchment lined baking sheet.  Bake for 25-30 minutes or until just turning golden brown.  Remove and let cool for 10 minutes.  Whisk powdered sugar and heavy cream until combined; drizzle over top of warm rolls. Makes  12 rolls.
S'mores Cupcakes
Campfire goodness in a cupcake.  Let's turn off the lights and tell some scary stories!
1 cup PLUS 2 Tbsp graham cracker crumbs (from 16 to 18 squares)

3 Tbsp sugar
5 Tbsp unsalted butter, melted
6 ounces bittersweet chocolate, roughly chopped
1 cup PLUS 1 Tbsp sugar
3/4 cup PLUS 2 Tbsp flour
7 Tbsp cocoa powder (not Dutch-processed)
3/4 tsp baking powder
3/4 tsp baking soda
1/2 tsp salt
1 large egg, room temperature
1/2 cup milk
1/4 cup vegetable oil
1 tsp pure vanilla extract
1/2 cup boiling water
Marshmallow Frosting (Recipe below)
Extra chocolate or graham cracker pieces, to garnish
Preheat oven to 350 degrees F. Line 2 standard muffin pans with 18 cupcake liners; set aside. Place the graham cracker crumbs, 2 tablespoons sugar, and melted butter in a large bowl; stir until well combined. Place 1 tablespoon of the graham cracker mixture prepared earlier into the bottom of each prepared muffin cup. Use the bottom of a small glass to pack crumbs into the bottom of each cupcake liner. Reserve remaining graham cracker mixture for topping. Place 2 teaspoons of chocolate in each muffin cup. Set pan aside.
Sift the sugar, flour, cocoa powder, baking powder, baking soda, and salt together into a large bowl. Mix these together until evenly combined. In a separate large bowl, mix together the egg, milk, oil, and vanilla. Add the liquid mixture into the flour mixture and beat on medium speed for 30 seconds. Scrape down the sides of the bowl and continue mixing on medium speed for 1 to 2 minutes. Add boiling water and stir to combine; set cake batter aside.
Transfer the muffin pans prepared earlier to oven and bake until the edges of the graham cracker mixture is golden, about 5 minutes. Remove from oven and fill each cupcake liner three-quarters full with cake batter. Sprinkle each with the remaining chocolate and graham cracker mixture. Return to oven and bake until tops are firm and a cake tester inserted in the center comes out clean, 18 to 20 minutes. Transfer muffin pans to a wire rack and let cupcakes cool in pan for 10 minutes. Remove cupcakes from pan and let cool completely.
Transfer marshmallow frosting to a large pastry bag fitted with a large plain round, star, or French tip. Transfer cupcakes to a baking sheet or other heatproof surface. Pipe frosting in a spiral motion onto each cupcake. Using a kitchen torch, lightly brown the frosting, taking care not to burn the cupcake liners. Top each cupcake with a piece of chocolate or graham cracker, if desired. Serve immediately or store in an airtight container for up to 2 days.  Makes 18 cupcakes.
Marshmallow Frosting
5 large egg whites
1 1/4 cup sugar
1/2 tsp cream of tartar
1 tsp pure vanilla extract
Place egg whites, sugar, and cream of tartar in the heatproof bowl of an electric mixer. Set over a saucepan with simmering water, making sure the water is not high enough to touch the bowl. Whisk constantly until sugar is dissolved and whites are warm to the touch, 3 to 4 minutes.
Transfer bowl to electric mixer fitted with the whisk attachment, and beat, starting on low speed, gradually increasing to high, until stiff, glossy peaks form, 5 to 7 minutes. Add vanilla, and mix until combined. Use immediately as the frosting tends to firm up rather quickly.