---
As you can probably tell from DLYS! it's perfectly clear that I love food.  Love to eat.  Love to cook. (I know, not exactly breaking news..) You might ima
gine me gliding around my kitchen, wearing a sassy apron with a portrait of Julia Child above the stove, stirring sauces in tempo with an Edith Piaf tune. Yeah, and George Clooney is my sous-chef. In my dreams, maybe. The truth is, and I hate to confess this, but I rarely cook. I have more cookbooks than should be legally allowed, all with dog-eared pages marking the Must Try! recipes. My pantry is impressively stocked, even for a civilian. I even have menus planned for the week;  ingredients all waiting fresh and perky in the fridge. But when I get home I somehow end up breaking open a box of crackers and a tub of hummus, and eat them standing at the counter. I tell myself, it's just something to tide me over while I'm prepping the meal, but I eventually shrug and say, 'Ah screw it, this is dinner.'
If there ever was a sign to keep the fast food industry in business, it's Aries. It's not that they all like junk food, they just like their food (like everything) NOW. Why spend time in the kitchen when one can scan a neon menu, talk into the clown's mouth and drive around to the window to pick up a warm bag containing exactly what you want! That's like MAGIC. Aries are far too impatient to spend too much time in the kitchen, so they will frequently end up stocking up on instant this and that, frozen dinners, canned foods. Thank goodness so many grocery stores have finally caught on, and provide prepackaged meals. Most stores have deli sections, salad bars (with soups), sometimes even sushi chefs. If civilization didn't provide all these pre-made, instant options, why they just might starve.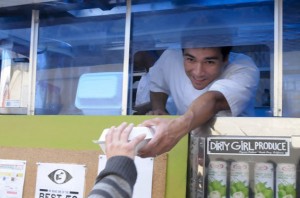 A current trend you may have noticed that is Aries inspired is food trucks. It used to be that these catering trucks popped up around campuses, construction sites and movie sets for necessity. The food wasn't very good, earning them the nickname 'roach coaches'. Boy, have times changed! Now these mobile restaurants are all the craze with loyal, hungry followers who scan their Twitter feed searching for the next locale of these vagabonds wielding spatulas. Perhaps the food really is that good, but I think part of the appeal is that it becomes like a scavenger hunt. Chase the grilled cheese truck and beat the other patrons in line. Winning and eating! If you're lucky, you might even find a Food Truck Festival, where you can walk around, noshing on a variety of bites. The only problem is that festivals mean crowds, and crowds mean lines, and lines mean waiting.  Oh no, screw that….
Another thing about Aries they're full of fire, passion and intensity. They like their food to make them feel alive, as in SPICY! Some good Cajun cuisine (Sorry, that's redundant), intense Indian curries, anything with chili peppers or jalapenos, sushi with tons of wasabi – you know, the kind of food guaranteed to clear the sinuses and get your blood moving. Too hot? They'll take that as a challenge. You can buy yourself a whole evening of cheap entertainment daring an Aries to eat Chinese spicy mustard or Dave's Insanity Sauce (yeah, I tried it, and if you want to keep your taste buds functional, I would advise against it.  It's crazy hot!)
So you want some recipes for an Aries?   Make it fast, easy and mobile. Here's a few to keep you moving.  Some to blend and go, some to wrap and dash, and some to just perk up your mouth with a kick. And they're OFF!  Go Speed Racer, go Speed Racer….
Green Smoothie
Smoothies comprise at least one of my daily meals. Am I lazy or efficient? Who needs labels. Believe it or not, 'green' smoothies are a great way to get tons of vitamins and minerals. Pulverizing the ingredients in a blender makes them not only easy to consume, but also to digest.  Not only that, it's a great way to eat your vegetables since you won't even taste them!  Finally a way to get your kids to eat their spinach.

3/4 cup water
1 heaping tablespoon protein powder
1 large handful of spinach leaves
1 small banana (frozen)
3/4 cup frozen pineapple chunks
1 small orange, peeled and quartered
2 Tablespoon ground chia seed
Put the ingredients in a blender in the order listed. Blend until smooth and drink immediately. (You may need to add more water depending on your blender)
Cherry Almond Smoothie
1 small container plain Greek yogurt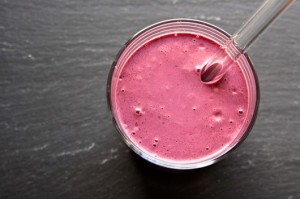 1/3c water
3/4c frozen cherries
1/8t almond extract
1/2t vanilla extract
3T raw almonds
1T chia seeds
Combine everything in a blender, and blend away until smooth. Let sit for about 3min to thicken, if desired. If you'd like, add a banana or 1/4 avocado for more creaminess and healthy fats.
*If you want to veganize this, you can just use about 3/4c almond milk and omit the yogurt + water. Add vanilla protein powder if you're looking for a protein boost or 2T chia seeds, instead of 1T.
Spicy Hummus & Edamame Wrap
2-3 Tbsp Roasted Red Pepper Hummus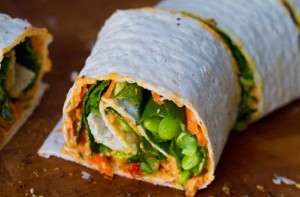 Handful of shredded carrots
Handful of baby spinach
Splash of lemon juice/olive oil
Fresh ground pepper
Edamame soy beans
Avocado slices
Lavash bread or flour tortilla (like whole wheat?)
Spread the hummus. Add the ingredients in a thinly spread layer – distribute evenly. Roll up your lavash bread wrap – tightly. Slice into 1 inch thick rounds. Serve.
Thai Chicken Curry Wraps
1/4 cup mayonnaise
2 tablespoons plain yogurt
2 tablespoons honey
1 tablespoon fresh lime juice
1 1/2 cups cooked chicken, cubed
1/3 cup pineapple, dices
1/4 cup red onion, minced
2 tablespoons chopped parsley (or cilantro)
1/4 cup slivered almonds
2 tablespoons minced ginger
1 teaspoon Thai red curry paste
2 1/2 cups fresh baby spinach
4 flavored burrito-size (10-12") flour tortillas, such as tomato or spinach
Cooking spray
Combine mayo, yogurt, honey, and lime juice in a bowl. Fold in the chicken, pineapple, onion, and parsley. Set aside.
In a large skillet, over medium heat, sauté almonds in 1 tablespoon of oil until golden, stirring often so they don't burn, about 1 minute. Add the ginger and curry paste; cooking for 30 seconds until fragrant. Add spinach and cook until wilted. Remove from heat and fold into the chicken mixture.
Wipe out skillet and return to the burner over low heat; warm tortillas until pliable. Place 1/2 cup of the chicken mixture on each tortilla, then roll to enclose, folding in the sides like a burrito.
Coat skillet with cooking spray and toast wraps over medium-high heat until golden on both sides, about 30-45 seconds per side. Cut in half and serve warm.
Raw Kale Salad
Don't let the long list of ingredients discourage you! The time spent gathering all the ingredients will be saved by not cooking anything. Fast food can be good for you, when it's raw. It retains all of the nutrients and cuts down on prep time which means faster to your table. This is also a festive and colorful side dish. People will think you spent hours in the kitchen.  Don't worry -your secret is safe with me.
4 cups kale, destemmed and cut in a chiffonade
1 teaspoon best quality sea salt
2 Tablespoons freshly squeezed orange juice
1 Tablespoon balsamic vinegar
½ teaspoon garlic powder
½ teaspoon orange zest
2 cups shredded carrots
1 cup chopped red cabbage
½ cup chopped sun dried tomatoes
2 Tablespoons minced red onion
½ cup chopped green olives
1 cup toasted sunflower seeds
½ teaspoon cumin seeds
Pinch nutmeg
½ cup raisins
4 cup cilantro, chopped
1 Tablespoon soy sauce
3 Tablespoon best quality extra virgin olive oil
Salt/pepper to taste if needed
In a large mixing bowl, add the kale, salt, orange juice, vinegar and garlic powder. Massage well with your hands for several minutes. Add the rest of the ingredients and massage well. Let salad sit for 10 minutes; taste and adjust seasonings and enjoy!
'Dump It Cake'
This recipe is a little nostalgic for me, as my mom used to make it when I was a kid. It is bar none, the easiest cake recipe EVER. You don't even need to blend the cake mix. Just spread the canned fruits over the bottom of a large rectangular baking dish, sprinkle with DRY cake mix and nuts, dot with butter and bake! It serves up more like a cobbler, but it's moist, fruity and delicious. Easy peasy.
1 (20 ounces) can crushed pineapple, undrained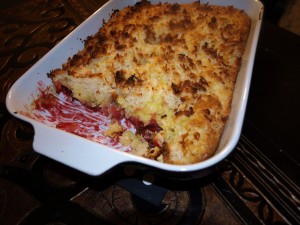 1 (21 ounces) can prepared more fruit cherry pie filling
1 (18.25 ounces) box yellow cake mix
2 sticks of butter or margarine, each cut into 12 slices
1/4 cup chopped nuts (your choice – optional)
Preheat oven to 350 degrees F (325 for glass baking dish). Have a 9 by 13-inch baking pan ready.
Dump undrained pineapple in the baking dish or pan and spread it out evenly. Using a spoon, dump globs of cherry pie filling evenly on top of the pineapple. Sprinkle the cake mix evenly over the fruit layer. Cut butter into slices with a butter knife and place slices evenly over cake mix. Sprinkle nuts on top if you're using them. Bake for one hour. Can be served warm or cold – or with ice cream! Yield: about 10 to 12 servings