Students that have taken Levels 1 thru 3 will have learned the basics of astrology as well as other important aspects of astrology that will help them better understand themselves and others.  They may also have begun to recognize that when practiced and made alive in their daily lives, astrology, the way we teach it, can be used as a path and tool for transformation. Please do read our Teaching method page if you haven't done so already.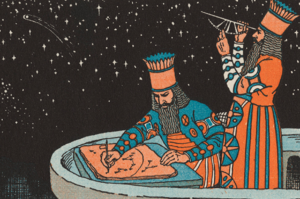 As mentioned earlier, with  levels 1 thru 3 there is a progressive and deepening of the learning process that enables the student to have a wider perspective and understanding of who they are and how they fit into the larger 'Whole' of Life itself. In the Advanced level, we go into more complex layers such as progressed declinations, progressions, mid-points, harmonics, etc., that will further support that understanding. Often times we hear from astrologers that they find it difficult to interpret their own chart. We will teach how to interpret not only your own chart but charts of others as well.
Some students at this level may choose to practice astrology as a profession or use it to enhance other disciplines they are currently using but that is totally at the discretion of the student. Below is an example of some of the topics that may be covered at this level depending on the needs and interest of the students.
(Some of these topics will take more than one class.)
Chart Interpretation
Eclipses
Planetary Nodes
Immutable Archetype
Progressions
Progressed Declinations
Synastry
Solar Arc
Mid-point
Harmonics
Astrology Counseling
Homework will be required from time to time in order to be able to apply what is being taught, as this reinforces and accelerates one's ability to learn.  Our classes are highly interactive and we ask all students to be willing to participate fully in sharing their experiences as openly and as best they can when appropriate.  Astrology comes alive only to the degree a student is willing to express, share and interact with one another because it relates to learning about themselves and others through each of their natal charts.
For more information on Level 1 Astrology click here.
For more information on Level 2 Astrology click here.
For more information on Level 3 Astrology click here.