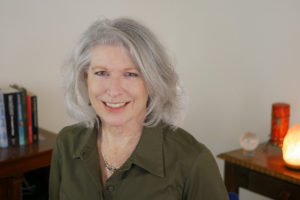 Kimberly Maxwell joined the Sher Institute of Astrology & Metaphysics in 2008, participating in both astrology and meditation courses. She began writing for the school's website in 2011 and has written the recurring AstroCast articles about current transits since 2012. Kimberly also writes content for the Sher Astrology Facebook page, services various research and editorial needs and is a teacher in training. In 2019, she became an Associate of the School and is one of several graduates of the master astrology courses who provide astrological counseling services under the aegis of Jim Sher.
A student of the esoteric mysteries since early adulthood, Kimberly has dedicated her life to following an evolutionary path that leads to greater self-awareness, a sense of connectedness with others and experience of unconditional love. She has grown to view astrology as an integral part of her spiritual growth and considers the birth chart a blueprint of one's potentials. "Astrology, in the evolutionary way I learned it," says Kimberly, "taught me not only how to manage my life and my relationships better, but it gave me a sense of what my purpose is. Astrology over time became a spiritual path for me. I regard the celestial spheres as 'intelligences' that embed their symbolic cosmic guidance into the birth chart, revealing the nature of our being and our root participation in the universal process of the evolution of consciousness. They also show us what we can achieve if we live the cosmic law of our being.
For those seeking an astrological consultation, sessions are available with Kimberly Maxwell, an experienced astrology graduate of our School. Each astrological consultation focuses on a holistic approach and is aligned with the mission of the Sher Institute to help individuals move towards deeper Self-awareness. To set your appointment with Kimberly contact Carol Pilkington at 818-975-0587 or admin@sherastrology.com.