---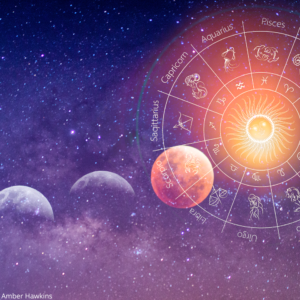 The Full Moon occurs on Wednesday, April 5 at 9:34 pm PT, with the Sun at 16° Aries and the Moon at 16° Libra. The culmination phase of this lunar cycle provides an atmosphere of aspiration, opportunity and clarity that enables us to create a stable foundation. When we embrace possibilities aligning with our nature, we can achieve fulfilling outcomes that reflect our fullest potential. To stay on course towards our true north amidst an abundance of ideas, it is best to take time to reflect and evaluate which opportunities resonate most deeply with our values and vision for the future.
The Sun/Moon opposition emphasizes the polarity between the focus on self (Sun in Aires) and focus on others (Moon in Libra). It asks us to integrate the two seemingly opposing concerns by validating our unique nature while also collaborating with others, forming partnerships, and maintaining inclusive thinking. The New Moon at 0° Aries on March 21 commenced a powerful Cardinal cycle bursting with new ideas spurred by a semi-square with Uranus and trine to Mars. The Full Moon now offers a wider perspective due to its alignment with Jupiter and a readiness to act on what has been developing over the past two action-packed weeks by virtue of a productive trine between Mars and Saturn.
The Sun's conjunction with Jupiter in Aries is strengthening and peaks on April 11. As the planet of growth and expansion, Jupiter encourages us to remain open to new ideas that broaden our awareness but at the same time we must be mindful not to be swept up in the activities of life. Adopting a relaxed yet alert attitude allows us to take in the fullness of each moment while being able to discern the most viable paths forward. The Sun/Jupiter conjunction represents the beginning of a new annual cycle, making it a powerful time to pursue new ventures that broaden our world view.
Mars, the ruler of Aries, is at 5° Cancer, and its trine to Saturn at 3° Pisces suggests many of the new ideas coming in now have practical value, while emphasizing it is best to to take action that recognizes the current reality and respects boundaries and rules. Additionally, Mercury at 3° Taurus sextiles both Mars and Saturn, allowing us to see more clearly than we have in quite a while, and to think in grounded and practical ways.
Mercury enters its "shadow" on April 7 indicating there may be a need to revisit or rework ideas during its upcoming retrograde commencing on April 21. Between April 7 and May 31, Mercury will traverse the degree space of 5° to 15° Taurus three times, intensifying our perceptions of current situations and our approach to communicating with others. Mercury in Taurus archetypally correlates to a methodical, slow-paced manner of thinking and processing information, preferring poignant silence as it attunes to the subtle rhythms of nature. Mercury in this reverent sign offers an opportunity to share our deeper values with others and as the Messenger of Gods, encourages us to make space for contemplation and being open to receive divine guidance.
The presence of Venus in its home sign of Taurus is a reminder to value and cultivate the things in life that bring a sense of stability and groundedness. If progress is rooted in practicality, it can positively impact our personal security, home environment, and partnerships. Venus' sextile to Neptune in Pisces further encourages reliability in relationships as it stimulates our sense of compassion and connectedness with something greater than ourselves.