---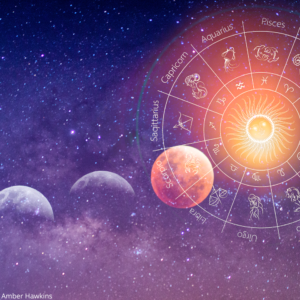 Significant pivotal moments in two planetary cycles unfolded in sync with each other on December 7, so we are presenting an extended newsletter article to break them both down.
The Full Moon unfolded on December 7 with the Sun at 16° Sagittarius opposing an exact Moon/Mars conjunction at 16° Gemini. The Full Moon always represents a time of revelation or fulfillment of what was initiated during the New Moon. To further emphasize its revelatory nature, the Full Moon occurs simultaneously with the Sun/Mars opposition, which similar to a Full Moon, brings clarity or resolution to what began with the Sun/Mars conjunction on October 7, 2021 at 15° Libra. With the Full Moon of this Soli-Lunar cycle linked to the much larger Sun/Mars cycle, their combined influence delivers greater potency and significance.
Under the predominance of mutable signs, communication and information exchanges have increased in all areas of activity and this will continue for some time. During this period, communication effectiveness and our ability to express our individuality may be at the forefront of our minds. A greater willingness to try new solutions and learn from others may also be present. As the Mars retrograde in Gemini stresses the importance of staying flexible and fluid while maintaining effective communication, this mutable Full Moon also requires a high level of adaptability.
Full Moons often correlate to increased intensity and amplified emotions, but this is even more true with the Moon/Mars pairing. The enhanced intensity can be used to observe any emotional triggers that arise to understand the nature of our feelings and thoughts. As a result of the interplay between Mars Retrograde and the Full Moon, we can better understand our fundamental needs, thereby increasing joy and fulfillment.
More on Mars Retrograde
During its current retrograde cycle, Mars will traverse the territory of 8° to 25° Gemini, the "shadow zone," three times during the period September 4, 2022 through March 15, 2023, a total of 192 days – over six months. Mars retrograde represents a potent period for exploration and reflection as it helps us examine how we can best approach life as it strengthens our will and desire to make necessary changes.
Mars represents our motivations and how we go after what we want. It is the principle of self-assertion and action. Mars is considered the archetypal warrior associated with courage, competitiveness, and even aggressiveness and anger. Conversely, it might indicate a reluctance to assert oneself. Mars shows how we approach self-assertion, including dealing with conflict and physical aggression. However, we need to be objective when discussing Mars and not reduce it to anger or aggression. A person can display courage in many ways, for example, through a bold expression of art or sharing a controversial viewpoint honestly and truthfully, despite possible repercussions.
Mars in Gemini emphasizes the need for effective communication and the imperative to develop an understanding of why we process, express, and absorb information the way we do. There may be increased engagement in strategic communication-related matters at this time. But with Mars retrograde in a mutable sign, it is important to remain in an open state of adaptability, as plans may undergo multiple changes and significantly evolve as new information comes to light.
There may also be a recurring theme of efforts being made to improve the efficiency of information exchange and determine what works and what doesn't.  For example, we spoke with a business owner who, after trying various solutions for managing big projects, finally found one just as the Sun/Mars opposition approached. Further examples include the Walt Disney Company firing Bob Chapek and bringing back Robert A. Iger to run the company more effectively. Or in the case of CNN's acquisition, which is leading to massive staff cuts and other cost-saving measures.
It is helpful to know where any transit occurs in our personal horoscope. You can see how this Mars Retrograde cycle affects you personally by looking at where 8° to 25° Gemini falls in your natal chart as well as any alignments with significant natal points Mars may be making.
As with any retrograde, each cycle progresses from one phase to another, and every ending can also be seen as a new beginning.
Important Phase Markers in the Mars retrograde cycle:
October 7, 2021 
Sun/Mars conjunction | 15° Libra 
Conjunctions mark the beginning of all cycles, including this Sun/Mars one. The areas of focus for this cycle will be determined by the house this transit falls in one's natal chart and the aspects it makes therein.
September 4, 2022
Mars enters the Shadow | 8° Gemini
This is when Mars first touches 8° Gemini before it goes retrograde. It may appear that everything is moving forward and going smoothly since we are not yet feeling the retrograde. However, we may need to rethink the actions we are taking at this time. We won't know what needs to be re-examined until after Mars turns retrograde.
October 30, 2022
Mars turns Retrograde | 25° Gemini 
The initial half of the retrograde period before the Sun/Mars opposition will involve confronting areas of activity that require shifts, restructuring, or adaptation. It may be necessary to improve the way we process, express, and share information. Efforts are being made to improve communication effectiveness and identify what works and doesn't.
December 7, 2022
Sun/Mars Rx opposition | 16° Gemini 
Sun/Mars opposition, akin to the Full Moon, represents a time of realization and culmination concerning whatever plans and actions were initiated during the Sun/Mars conjunction. This can be a time of great activity and energy. However, since Mars is still retrograde, unexpected delays can still occur. While we may know where we wish to go, there may be obstacles or delays along the way. We should avoid arguments and disagreements with others through self-discipline because emotions can run high now.
In the second half of the Mars Retrograde cycle, we can begin to implement our plans. It's time to work toward whatever goals have been determined, but we should maintain patience. It's important to remember that no person is an island, and during our journey we will encounter other people and their processes. Whatever other people are experiencing right now can be challenging to plan around. During this time, remember to communicate with care and to take other people into consideration.
January 12, 2022 
Mars goes direct | 8° Gemini 
New activities will begin to take shape more easily as Mars moves forward towards 25° Gemini.
March 15, 2023
Mars returns to 25° Gemini 
Mars is moving at its usual speed and entering new territory. Having completed our review and devised goals and strategies, we are moving forward full steam. Taking action now is easier, and all is returning to a more normal pace.