---
**Times where noted are Pacific Daylight Time.  Degrees where noted are rounded to the nearest whole degree.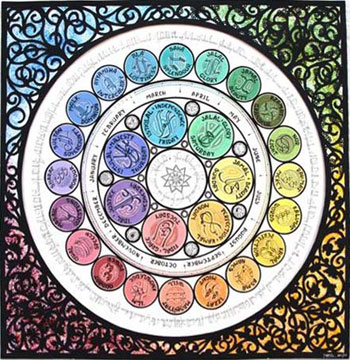 Busy cross currents continue with the planets dispersed across the zodiac, each pulling focus in their direction as alignments among them apply and wane, their voices creating a multi-layered chant that, depending on how we individually respond, could seem discordant or harmonic, irregular or rhythmic, and manifest in chaos or dreams come true.  As the richocheting energies play out in our lives here on earth, with many of us concerned about the deep unrest and war manifesting across the Middle East, the paradigm shifts happening in our personal realms, and everything inbetween, it may be time to take a step back.  Focus, as we traditionally practice it on singular details, will definitely be challenging under these influences, so switch to that wide angle lens to get the full panorama.  There is a type of seeing called "diffused vision" where one's field of vision spans 180 degrees.  This serves to keep the mind from paying attention to any one detail.  It is a way of seeing in a broad, rather than a narrow way, to look at everything at once from front and center to the far reaches of peripheral vision. If we can take it all in from this more neutral stance no single area or event will be able to divert our attention away from the whole and thus keep us grounded in the face of so much active outer stimuli.  The personal planets, Mercury, Venus and Mars, are the primary activators during this period, aspecting the broader-principled outer planets in sometimes harmonious and supportive, sometimes fractious and challenging ways.  As the multitude of sign changes and angular relationships unfold during this next two weeks, may we keep the 180 in view (or 360 if you have psychic eyes in the back of your head) and stretch beyond our myopic comfort zones to reach for new levels of knowledge and awareness in this school of life.
Setting an optimistic tone on September 7th, a happy, smart and big-hearted sextile occurs between the Sun at 15 degrees Virgo and Jupiter at 15 Cancer.  Opportunities for service in family affairs may present themselves and open the way for wisdom and/or a little luck to give an assist.  This is the last major aspect the Sun makes (other than to the Moon) until he enters Libra on September 22nd.  This keeps the solar principle acting through Virgo in an appropriately pure state with little outside influence.  The Jupiter boost will keep spirits high and therefore make it easier to maintain order as we navigate through the complex energy terrain ahead.
Mercury enters Libra shortly after midnight on September 9th to act as a go-between in all communications.  The great talker in the sign of the diplomat will always want to be a peacemaker juggling the multi-faceted thoughts and opinions of others to find common threads where they converge.  While he facilitates the perspectives of others, his challenge is to know his own position and take a firm stand or risk losing his influence as a broker who can deliver win-win solutions.  Obstacles to forward movement will probably be experienced as Mars squares Saturn at 8 degrees Leo/Scorpio.  If Mars in Leo asserts with arrogance, Saturn in Scorpio will most certainly set up road blocks, demanding that level-headed planning and preparation prevail over impetuosity.  Do-it-my-way brute force will probably garner unwanted results.  The best strategy under this influence would be to work with others to get things done.
Venus sashays into Scorpio at 11:16 pm on September 10th, transforming from high priestess of society to bonafide sex goddess.  Relations with others her specialty, Venus in Scorpio will seek to merge at the deepest, most intimate level to experience a true love union that can be life changing.  Her unique balancing abilities go underground and gain a powerful intensity that shows up in all interactions.  Whether operating in the bedroom or the boardroom, what turns her on is depth.  For us mere mortals, we could journey with her as our hidden persuader to look beyond the skin to the heart within.  If we find a willingness to acknowledge our deepest feelings, passions and fears – in other words be authentic – it could be transformational.  If we unearth unhealed emotional wounds, we may find obsession and manipulation – instead of being respected, the goddess becomes an object.  Hopefully, we may catch a glimpse of how to harness the ultimate in joint resources – a life long partnership – during this transit which lasts through October 7th.
Relations with others take on a transpersonal nature when Venus trines Neptune at 3 degrees Scorpio/Pisces on September 13th.  Creative endeavors are also enhanced by a more direct link to the imagination and heightened sensitivity.  The sex goddess could be put on a pedestal, with affairs of the flesh so intrinsic to Scorpio only dreamt of but never experienced for fear of not living up to a quixotic fantasy – or perhaps because the fantasy is enjoyed so much there is little motivation to attempt it in reality!
Once Mars assembles his team under Saturn's guidance, he can then turn on the visionary gas when he trines Uranus on September 14th at 11 degrees Leo/Aries.  This duo in bold fire signs could manifest in innovative leadership potential.  A surprising boost of energy to assert our own uniqueness will blow by any hesitation to fit in.
Mercury passes through Libra in 20 days but he won't go quietly as he quickly traverses this intellectual air sign.  Between September 14th through 19th, he will create a potentially combustive Grand Cross configuration with Pluto at 9 degrees Capricorn, Uranus at 11 degrees Aries and Jupiter at 17 Cancer.  His square with Pluto sets the stage with profound thoughts that deliver a deep understanding of the inner workings of life.  Access to underlying motivations could also breed powerful mind games so maintaining legitimacy of purpose will ensure we support rather than exploit in our dealings with others.  Mercury leaps into the fire when he opposes Uranus, challenging us to not just see alternative points of view, but to be willing to venture into unknown territory, the more far out the better.  The insistence on bucking the prevailing winds of thought risks alienting those we need most to accomplish our goals.  Pulling in Pluto's power gives us the tools to persuade others that breaking new ground will lead to positive change.  Engaging the Uranian gift for brilliance, ample resources can be tapped to present a sound basis for reasoning.  If we haven't yet mastered the art of diffused vision, perhaps when Mercury squares Jupiter we will get the picture.  Stitch the photos of all the preceding aspects together and you get a panorama reflecting the manifestation of humanity's thought.  Each individual adds a unique filter to the lens of perception that colors what is seen with subjective hues.  The amount of information taken in with this wide focus is so much that it could be overwhelming and resist articulate expression.  If we can resist the temptation to focus on any one thing through which to funnel the broadband download we may imprint our minds with a new way of seeing.
Uniting the respective cross currents Mercury and Mars create with the outer planets, the pair form a sextile on September 17th at 13 degrees Libra/Leo, archetypally representing a mind/body melding to help us more deftly navigate the choppy tides of change.  Our movements will be mentally directed and our communications will trend to lively, witty banter.  Words can easily be put into action now to woo and cajole even the most steadfast hardliner.
On September 18th, Venus activates the sextile between Saturn and Pluto that has been in effect for nearly a year.  Talk about shared resources!  Venus has the grand opportunity to tap Saturn's staying power and detonate Pluto's depth charge to wake up her heart.  When she conjuncts Saturn at 9 degrees Scorpio, she may come to understand that in order to have an enduring relationship the participating parties must be willing to work at it.  Playtime is earned by learning how to love deeply and selflessly, and by respecting each other's unique expressions. It is all too easy to see this aspect as a restriction on love, withholding of love, or simply of being alone with no way to express love.  If this is all we see out of the multitudes of reality this aspect could manifest, then indeed we have much work to do to more fully understand the true nature of love, which begins with ourselves.  Pluto at 9 degrees Capricorn brings to Venus the conduit for a richer understanding of the heart.  If she is willing to make the deep dive she knows she will never be the same again.
The Harvest Full Moon on September 19th at 4:13 am is the apex of the monthly lunar cycle.  Whatever was set in motion at the Virgo New Moon on September 5th should now show signs of fruition.  The theme of preparation is Virgo's hallmark, so this cycle is about getting ready for another leap, in whatever arena of life is currently active for each of us. The nature of the Full Moon is for the two luminaries to come to terms with their differences so that each can express their strengths in partnership and thus ensure a broader approach to development.  The Sun at 27 degrees Virgo encounters an imperative in opposing the Moon at 27 degrees Pisces to allow her refined sensitivity and deep compassion to soften his distinctly rational nature.  The Pisces Moon teaches the Virgo Sun to be more accepting of self and others, barnacles and all.  She also helps the Sun pull back from his micro vision in order to see the macro and thus become more aware of the environment around him.  While the Pisces Moon may prefer to live in an imaginative world rather than Virgo's seeming cold, hard practical reality, the detailed and ordered Virgo Sun can help the Moon manage her delicate inner state using all practical means at her disposal.  He can show her how to put her feelings into service, to give them purpose by giving anchor to their diffuse nature via attention to detail.  This Full Moon represents Virgo's individual light adding to the Pisces sum of light.  Both signs are the end of phases – Virgo ends the self-development phase of the first half of the zodiac and Pisces ends the collective development phase of the second half.  Both in their own way are preparing for the leap into the next phase, the next cycle of growth and both have an inherent awareness of the transitional nature of their existence.  This Full Moon brings all that to light.
The third and final pass of the year long Saturn/Pluto sextile becomes exact on September 20th at 9 degrees Capricorn.  This planetary pair in a harmonious relationship and also in mutual reception – in the sign each other rules – has been teaching us about power and how to use it.  This would be a good time to look back over the last year to see how we have been developing our own personal inner strength.  The more we work that authority muscle, the more weight it can handle.  Use it or lose it truly applies here.  Mutual reception acts like a conjunction bringing the affinities of both planets in closer alignment regardless of whether they are in aspect to each other.  Saturn's sense of mastery, responsibility and structure apply to Pluto's profound awareness of the transformational principle inherent between life and death as a gateway to that which exists beyond life as we know it.  Intensifying the atomic forces at work, Pluto also stations retrograde this day.  The significant planetary vibrational effect of the Saturn/Pluto sextile and Pluto's station probably won't result in a directly related event but does have the potential to reveal that which has been quietly evolving throughout this long transit.  Use the force!