---
**Times where noted are Pacific Daylight Time; degrees where noted are rounded to the nearest whole degree.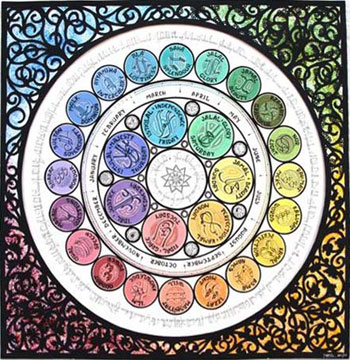 Thinking of life as a musical is a definite possibility over the next couple of weeks as Mercury and Venus travel in tandem, inspiring us to put our lyrical thoughts to song.  Averaging seven degrees of separation this entire period, they encounter the same astral characters from the same perspective, but Venus follows Mercury's lead and shifts the message from how we think to how we love.  With a brief respite from the dissonant outer planet configurations, Mercury and Venus have their moment in the spotlight to sing their duet.  Adding countermelodies in the chorus, Neptune, Uranus and Jupiter pipe in to remind them what is behind the scrim.
 With both Mercury and Venus currently in Scorpio, their song may be operatic in nature but by December 10th, The Sound of Music comes to mind when Mercury leaves behind brooding Scorpio to soar over the mountains in Sagittarian thought.  He may not be great with detail and have a tendency to gloss over facts, but Mercury in Sagittarius will stretch our contemplations into new territory in the search for the significance of existence.  The influence of this fire sign on the planet of perception brings great enthusiasm and optimism to the picture.  Joining the Sun here in the midst of the holiday season, Mercury will enhance to the Archer's expressions of faith and generosity.
 Our beliefs will be put to the test on December 11th when Mercury squares Neptune at 1 degree Sagittarius/Pisces.  Logic may take a back seat on this magical mystery tour if we allow ourselves the freedom to explore using the imaginative sensitivity of this aspect as our guide.  The challenge presented by the square is whether or not we inhibit the energies of one or the other, which could result in an intentional bending of truth or complete confusion.  If we successfully manage this opportunity, rational perception and dreams can embrace in a clear vision of the path to take.
 In the wee hours of December 13th, the New Moon at 22 degrees Sagittarius imprints this next monthly cycle with the impulse to turn experiences into abstract ideas.  What is it we believe in?  What is important in life?  To Sagittarius, life is the grand opportunity to figure that out and then tell the world the truth of what we've discovered, sometimes rather bluntly but usually with a great deal of humor (this is the season to be jolly!).  With the Sun and Moon merging under the starry Sagittarius sky, this cycle will fire up our core and expand our comfort zones with a zest for exploration.  Sagittarius walks the spiral of growth with gusto and eagerly returns to a certain point to re-focalize on any unresolved problem contained therein, but this time from a higher perspective.  Her penchant for a vast array of worldly experiences, either lived directly or gleaned from voracious reading (do you know any Sag who doesn't have a ton of books?), also includes an ability to assimilate knowledge and grasp the essence of its wholeness.  She has a knack for tuning into the currents of time, seeing the systems and trends at work, and then appears absolutely brilliant when she arrives at a meaningful solution rooted in the fundamental laws of the universe.  No matter that other, more practical signs will need to find a way to translate the solution into a reality based step-by-step process!  Around 4:00 a.m. Uranus stations direct at 5 degrees Aries to awaken this New Moon with synchronistic innovation.
Mercury's trine to Uranus on December 14th at 5 degrees Sagittarius/Aries liberates the mind from prevailing beliefs and other limitations to clear the way for truly spontaneous awareness.  Thoughts will come at lightening speed and bring flashes of brilliance during this short-lived but fiery transit.  Pay attention and take notes!
The Venusian shift begins the evening of December 15th when Venus enters Sagittarius where she will probably take the opportunity to express her bounteous love.  Too restless to settle down, Venus in Sagittarius will want to stay on the move, seeking all things foreign to expand her awareness of the countless ways to make love and art.  Fascinated with the collective experience, she will also endeavor to seek out humanitarian causes, finding ways to strengthen weak links in the social fabric.
Venus is challenged by a square to Neptune on December 16th at 1 degree Sagittarius/Pisces.  Neptune is strong in his home sign and while he confronted Mercury's beliefs, with Venus he will insist she operate at a higher level with everything she values.  She will need to anchor her Sagittarian idealism with some form of spiritual philosophy in order to avoid disillusionment in her relationships or superficiality in her art.  Connecting with others becomes the gateway to transcendence.
On December 17th, communicative Mercury connects with enterprising Jupiter when they oppose each other at 9 degrees Sagittarius/Gemini.  The lone planet in an intellectual air sign and the only one retrograde until he turns direct on January 30th, Jupiter offers a counterpoint of inner retrospection to the current heavenly atmosphere.  With Jupiter being the ruler of Sagittarius and Mercury the ruler of Gemini, they are in "mutual reception" and thus have a natural affinity for each other that alleviates the normal confrontational manner of an opposition.  The gatherer of facts and the assimilator of knowledge combine to become the ultimate professor who asks us to step up, turn out and tap into the galactic mind for an experience that is out of this world.
Fire meets fire when Venus trines Uranus on December 19th at 5 degrees Sagittarius/Aries, making independence and originality highly valued attributes. If we dare to unleash our way of relating to each other from societal inhibitions and conditioning, we will allow our true light to emanate in a shower of sparks that is sure to excite and inspire others to do the same.  What a gift that would be.